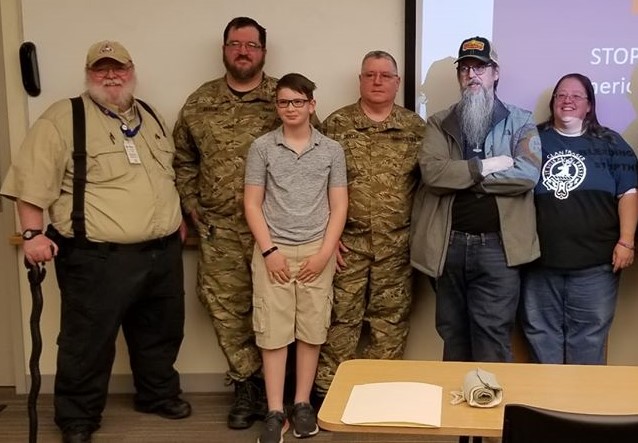 2020.05.31 CE / 349.11.16 AL (MNB)
A bleeding injury can happen anywhere, and even on one of Her Majesty's ships, there's not always a Corpsman available to immediately respond to an emergency. Which is why Commander Brian Lee Gnad, commanding HMS Bravery (CL-21), decided to take advantage of the Defense Health Agency's "Stop the Bleed" classes that they've been offering in their operating area of Tulsa, Oklahoma. Heading out to grid reference Broken Arrow on 6 March 2020, Gnad and four of his crew arrived to learn how to recognize life-threatening bleeding, and active quickly and effectively to control that bleeding using three quick techniques.
The class was free and taught by two licensed paramedics from the Defense Health Agency's command staff (who did not wish to be identified). This first aid procedure involved first, calling 911 to get assistance quickly, applying pressure with your hands, packing the wound and pressing down, and then finally, applying the tourniquet. They got into greater detail, which involved teaching the students how to use of the combat tourniquet, hemostatic agents, and various forms of dressings and techniques to stop life threatening bleeding.
Obergefraiter Joy Wandrey, proudly wearing her Clan Fraser shirt, said, "Learned a lot…, many thanks to Paul and to Brian, as well as the whole Devlin clan. Then spent today learning a little about stormspotting including how and what to report! Very educational weekend indeed!" Even those who couldn't be there, such as Senior Chief Petty Officer Benjamin Koch, said, "Awesome opportunity! This is some real useful knowledge to have. If you are on the fence I recommend you go for it!"