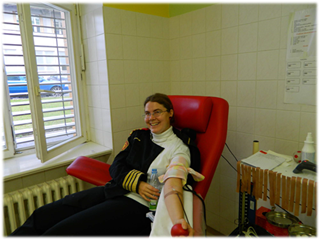 by Flight Operations Chief Petty Officer Dominika Janečková, HMS Ishtar (BC-487)
03.10.2021 CE / 350.01.17 AL — Eleven years ago, the tradition of donating blood in Honorverse uniform emerged. The first ever Bloodcon took place in Prague in September 2009 and was organized by Johnak (Jan) Kotouč, our chief commander at that time. First, "sessions" were quite jolly, as the staff in the hospital had not only never heard of the Honorverse, but certainly never met several people dressed in costumes and wanting to help!
Back in January 2014, ten people arrived, six of them in uniforms… including Captain Blanca – who, as per tradition, arrived earlier as the vanguard, and whose blood was separated for plasma. Since then, the tradition has grown – more than 40 events have been held. They are no longer thing "just" for Prague or one organizational group, as our fanbase itself has expanded in numbers. Bloodcons now take place every three or four months in bigger cities across Czech Republic.
We are honored that several members of our Fleet have been awarded medals for donating blood – so called "Jan Jánský" medal. Jan Kotouč, who started this Bloodcon tradition, was awarded the golden medal in 2019. In the rest of the fleet, the wound stripe has been authorized for those who document that they've given blood to assist their communities in need. With the COVID epidemic, blood donation has been down, due to the added difficulties with the precautions. So I encourage everyone to get out and donate today!