<![if !vml]>

<![endif]>
A group picture of your crazy family. (Photo: Zach Perkins)
Is Fandom a Way of Life?
Spacers reflect on their relationship to the sci-fi community.
<![if !supportLineBreakNewLine]>
<![endif]>
It's a cute saying: "Fandom is a Way of Life" or FIAWOL. It's catchy, fits great on the bottom of a con badge, but do people actually believe it? "That is a loaded question," remarked Commodore Michael Garcia, Deputy 3rd Space Lord, but it's one that we put to a lot of spacers at HonorCon 2015.
Cosplayers would be the most obvious ones to embrace the fandom lifestyle. Captain (JG) Alice Fawcett, commanding HMS Rigel, was dressed as a treecat when she admitted, "All different fandoms, but yes, mostly." Lieutenant Colonel Heather Selbe, Deputy COS for Operations, RMA, agreed while wearing her own immaculate uniform. "Yeah, because I do a lot of this, I also do a lot of cosplay, so I spend a lot of time doing RMA and planning costumes." "Fandom and costuming, yes, pretty much," nodded Command Sergeant Major Neil Swadling, the Sergeant Major of the RMA. "I would say yes," argued Rear Admiral Eric Schulman, BuTrain Board Member, who took a different tack. "It affects who I hang out with. I'm also a member of other fandoms and I get to meet a bunch of interesting people. For example, I try to go to World Con. As for TRMN, it's a LARP in and of itself!"
<![if !vml]>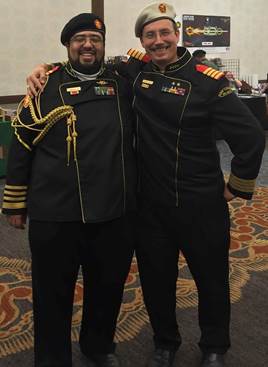 <![endif]>
Michael Garcia and Marcus Johnston. (Photo: Michael Garcia)
Others agreed with the statement, but qualified their remarks; this was especially true with our newer members. Missile Tech 2nd Class Andrew Ervin from HMS Hector, noted that "I'm getting much more into it. I've relatively recently joined – started in May this year. Less decked out than most. It's been interesting, [but] I've been enjoying it." 2nd Lieutenant Jamison Silinsky, commanding MARDET HMS Spectre, explained "It's getting to that point. I only recently joined TRMN back in January. But the people in my chapter have become like family, as much as the people I've known for the past 18 years." Commander Sonja Theide, executive officer of HMS Wolf, pointed out that it was "Only recently. Always been kinda interested in seeing it, places in my life where I rejected it, but I've always been a closet geek. In the RMN, finally I'm in."
Some spacers had to admit that it was more often true than not. Captain Chaos, better known as Lieutenant Commander Candice Casas, argued that "I would have to say mostly, geekdom especially… My work is not geeky, but my life is geeky." Her husband, Lieutenant (SG) Jonathan Casas, executive officer on the Chaos, said that "Fandom is a big part of what I do. My job is geeky, working at the Grinning Gamer, a gaming store, handing online sales, [so] fandom is what I do. We hang out with a lot of organizations, even if only tangentially. We are most active in RMN because they are the most responsive."
      <![if !vml]>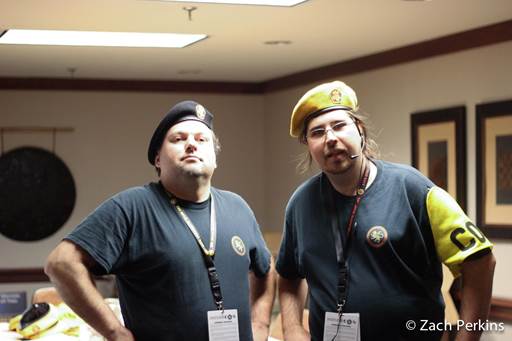 <![endif]>
A triumphant James Jones and an exhausted Mark Polanis. (Photo: Zach Perkins)
A popular response was that "It is a facet of my life, I don't think it is a way," explained Commodore Garcia. "It's definitely part of who I am. I have to find a way to express certain things, but it doesn't start or stop with Honor Harrington. As far as involvement and participation, it has been TRMN and STARFLEET International... I love these [other fandoms,] but I don't join those groups." Captain (JG) Dave Hurley, commanding HMS Beowulf, agreed that "It's an outlet of expressing for [whatever you find] fun. You're not making a living at it. It's an entire universe and everyone's creation gets blessed in the canon. If you don't like something, do [something else]! Join the Marines! Join whatever!"
"It's not a way of life, it's an aspect of my life," echoed Commander Adam Strickland, executive officer HMS Snow Leopard. "It's not all consuming, but it is certainly a large part." "You know, that's an interesting thing," Commodore Zach Perkins, the 1st Space Lord's Staff Intel Officer, pointed out. "Fandom is a huge part of my life… There's my professional life, my immediate social life, and my fandom life. It's one of my three lives."
However, many spacers gave a very clear "No," such as Captain (SG) Carl Christensen, flag captain on board HMS Werewolf. "I would say not really, Commander Jackie Snedden, executive officer of HMS Ajax, replied. "It's something I got into a few years ago when I retired. Basically, I got into this by going to the first HonorCon, because I had a big fan of David Weber. When I saw they were going to celebrate the 20th anniversary of On Basilisk Station, I went for it! After I signed up for the con, I found out more about TRMN, and signed up for that."
<![if !vml]>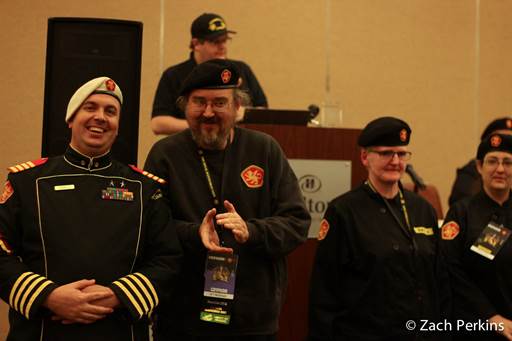 <![endif]>
Tom McDonald (center) smiles with glee. (Photo: Zach Perkins)
The main emphasis on those who rejected the concept was that "It's a way to get away from real life… I can go away [in fandom] and rest for a little bit," stated Chief Warrant Officer TJ Allen, HMS Werewolf. "Fandom is play, like the SCA is for me," explained Commander Thomas McDonald, executive officer, HMS Agamemnon. "It's a place to break from the mundane. To get to react to people in a fun way, and not constantly doing business… I don't live and breathe fandom." Commodore James Jones, commanding Task Force 91.1, commented that "Fandom is my way of relaxing from life. I work in the medical field, a high stress job, and fandom is my release value. With some of the medical stuff in the TRMN, I avoid that… it's crossing the streams! My fan life and real life are two separate things."
Captain Martyn Griffiths, Steadholder Pittman, stated "Fandom is a hobby. It's not something that's OTT, if you know what I mean." Other members get taken along for the ride. Sara Kate Lessem, Duchess New Scania, smiled and said, "No. This is Martin's thing. [But] I always loved sci-fi. My mother had us watch Red Dwarf, Doctor Who, all the classics. We only watched PBS growing up. I've been to one or two Star Trek conventions."
Whether it's a way of life or not, it's the people that seem to get people involved more in our particular brand of fandom. "With these people, I would say yes," Captain (SG) Mark Polanis, commanding HMS Kraken, smiled. "It's a different atmosphere than I've seen other places, and I've really taken hold." "As a lifestyle," Commander McDonald added, "I wouldn't say so, although most of my friends came to be in fandom one way or another… it has something to do with playing outside of time. In that sense, maybe there is some lifestyle element to it." Commodore Garcia agrees. "It depends on the people. If the members of the organization are warm and inviting and inspire others to join, then I will gravitate towards those groups."
<![if !vml]>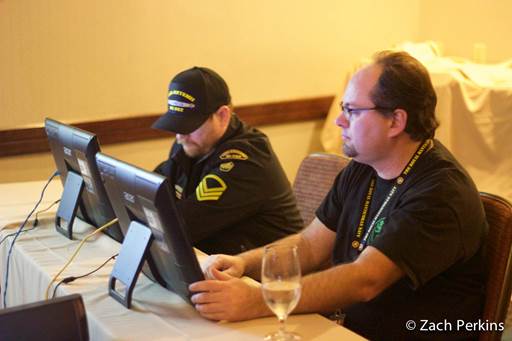 <![endif]>
Shon Elliott and James Jones set a course for home. (Photo: Zach Perkins)
Article Copyright © 2015, Bureau of Communications, The Royal Manticoran Navy: The Official Honor Harrington Fan Association, Inc.
CAPT (JG) Marcus Johnston, OC, CGM, Director of Publications, BuComm. All pictures used with permission or used in a way that qualifies as fair use under US copyright law.