<![if !vml]>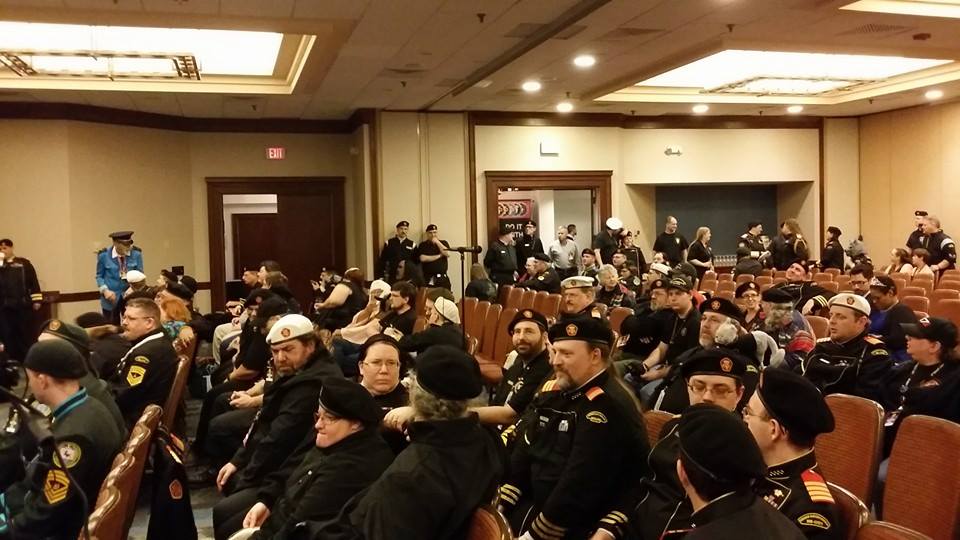 <![endif]>
More berets per square foot than any other sci-fi convention.
Let the Circle Be Unbroken
2014.11.19 CE / 346.07.37 AL (MNB) – After the success of last year's annual meeting, Third Fleet made sure to bring back HonorCon, celebrating Honor Harrington's (and David Weber's) birthday. This year, they shifted the event north from the Duchy of Leutzen Vale (Greenville, SC) up the space lanes to the fleet Admiral's headquarters in Raleigh, North Carolina. "Had a great time at Honor Con," Steward's Mate 3/c  Rayanne Staubly, HMS Saladin, exclaimed, "loved the hotel… thought it was better than last yr, but I haven't had to deal with set ups, downs and all arounds. Got to see my favorite people Sharon Rice-Weber and kids, all my ship mates (many that I don't often see) and those on other ships scattered all over the place."
Friday brought in the volunteers. Fleet Admiral Martin Lessem and Commander Allison Gahrmann served as the co-chairs of the con. Captain Zach White, Commander Misty Edwards, and Petty Officer Jack Warren spent most of the convention in registration, Sarah Mills planned and Commander Joel Lyons commanded the Con Suite, with Captain Jason Cordova serving as Volunteer Coordinator, and Chief Gerry Martin handling all the AV work for the recording and podcasting of the events. Captain Mark Polanis was the Head of Security; "handed to him without notice before he even docked his locker in his quarters," according to Captain Joseph Morgan, HMS Helen Zilwicki. He made sure to add that "Commander Cindy Jenkins kept us all well supplied with everything from the BuSup Cornucopia."
<![if !vml]>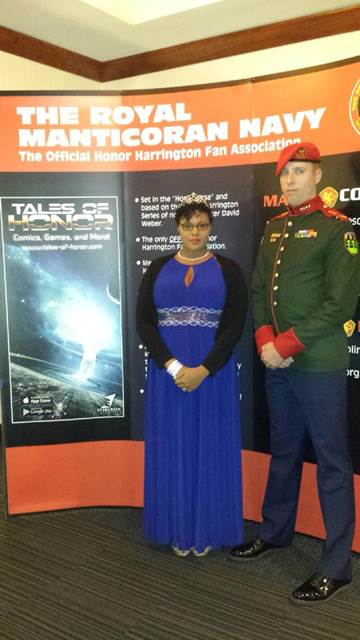 <![endif]>
Even Queen Elizabeth III couldn't stay away from HonorCon.
Then came the guests. Of course, the Prime Minister and the Duchess were there, along with Timothy Zahn (co-author of the new Manticore Ascending series), Keith R.A. DeCandido ("the best Klingon writer ever"), and Joelle Presby (BuNine member and Honorverse writer). They provided a great variety of experience to bring to the panels. "All of the panels I saw were very packed with people," reported Chief Gerry Martin, HMS Wolverine, "the biggest complaint I heard was that people wanted to go to multiple panels at the same time because of how awesome the themes were."
Well in advance, crew of the HMS Saladin began planning a special activity for Friday, after the panels were done. After the slow accumulation of a foam-based armory their current Bosun, CPO Arasin Staubly, brought it all to a ship's Game Day several months ago. The crew enjoyed it so much that plotting began almost immediately to bring it to Honorcon for a Boarding Action. Permission coordinated through (recently promoted) Rear Admiral Stephanie Taylor, a trial run on Columbus Day, and the careful recruitment of a pair of 'State Sec' OPFOR all came together as the "Word of Dibs" kicked off a delightful rain of foam in Panel Room E. To quote our friendly volunteer OPFOR from StateSec, Sue Arnie, "Please thank the rest of the Saladin's crew for me! That Boarding Action was *awesome* and probably the most fun thing in which I participated at the convention." Almost before it was over, various folk from across TRMN were discussing 'next time'. Chief Staubly will soon get Saladin's Marines 'deeply' involved in planning for Honorcon Boarding Action 2015.
<![if !vml]>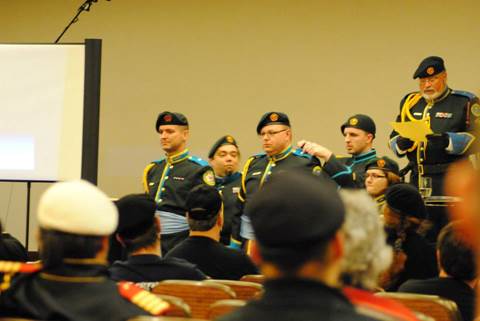 <![endif]>
Honoring the Royal Manticoran Army High Command.
However, no convention is complete without a lengthy awards ceremony, but most notable was that most of the Army High Command got promoted, and Captain Martyn Griffiths, the senior GSN officer in Britain, was named the new steadholder of Pittman Steading. However, that was only the appetizer. In proper Grayson fashion, Marshal of the Army Robert Jackson officiated at the marriage of Rear Admiral Daniel Walker, to his second wife Admiral of the Red Brandi Hinson. Walked up the aisle by her daughter, Victoria, she was given her ring by her sister wife Senior Master Chief Petty Officer Tammy Walker, and then hand-fasted together to close the ceremony. Presents were warranted, and Her Grace Sharon Rice-Weber offered some moving words and a hand-crocheted blanket, which brought everyone to tears. Fleet Admiral Lessem, not be outdone, gave command of HMS Unconquered to Rear Admiral Walker and raised Admiral Hinson to the peerage, making her the First Baroness, Nya Östergötland. Surgeon Lieutenant Niki Rece, HMS Excalibur, said it was the "Most beautiful ceremony ever....all future happiness to you and yours!"
However, the night was not over yet. There was an auction held for Big Cat Rescue, which raised over $900; David Weber's first reader list placement brought in the most money in at $725. Then the dancing began, with Chief Martin being the auctioneer and the DJ. "I used to be a DJ in college with my own radio show and it was awesome to be able to bring that persona back out to play."
<![if !vml]>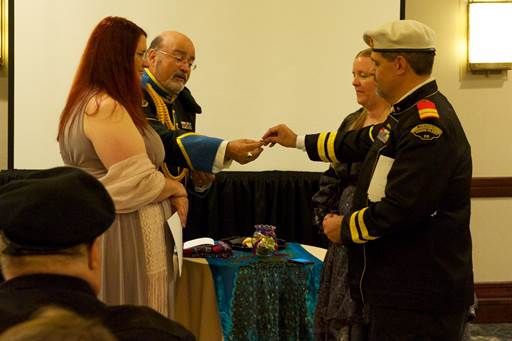 <![endif]>
The Marriage of the Walkers
Sunday morning is usually a calmer day at most conventions, but that was before Sharon held her "Tea with the Duchess." Her Grace didn't think anyone would show up, but soon it was standing room only. "She seemed to take great pleasure in the experience," Fleet Senior Master Chief Michael Romero explained, "and made it a point to give everyone in attendance her own personal attention. When she… found out I wasn't much of a tea drinker, they had a mutual friend help me find a blend I'd enjoy…this friend turned out to be Joelle Presby herself."
"Closing ceremonies and the TRMN meeting went well," Chief Martin explained. "HonorCon was an absolute blast from both a working and enjoying perspective" even though from a technical perspective, "the cables were only held together with gaffer's tape and sheer willpower, not chewing gum and bailing twine." Chief Romero concluded that "HonorCon had a most welcoming, fun-loving, and generally relaxing dynamic that made for one of the best weekends I've had in a long time."
<![if !vml]>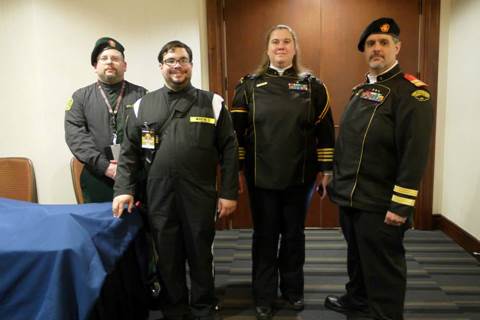 <![endif]>
Saying hello and goodbye.
Article Copyright © 2014, Bureau of Communications, The Royal Manticoran Navy: The Official Honor Harrington Fan Association, Inc.
CPO Caitlyn Miller, Manager, Manticoran News Bureau, BuComm. All pictures used with permission or used in a way that qualifies as fair use under US copyright law.