<![if !vml]>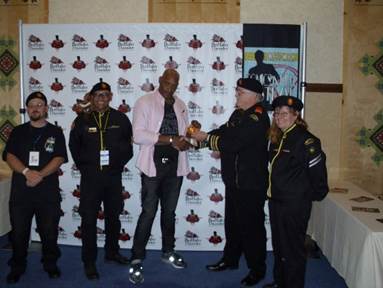 <![endif]>
Tony Todd joins the crew of the Avalon.
Buffalo Thunder
by Lieutenant Commander Bill Knight, HMS Avalon
There's nothing like a "comic-con" to draw in the crowds—which turned out to be the perfect opportunity for HMS Avalon and Anasazi to "attack" the waiting fans. So on Friday afternoon, LCDR Bill Knight and Coxswain 2/C Rob Clevenger arrived on station at the Santa Fe Comic Con, held at the Buffalo Thunder Casino, and began manning the convention area weapons check tables. This was quickly followed by CDRE Dan Brandow of HMS Avalon and ADM John Roberts and SP2/C Dave Reustle of HMS Anasazi arrived and set up the fan table with recruiting information, charity drive advertisements, and other Honorverse specific items. 
While personnel were engaged in bag check and weapons check throughout the remainder of the day, off watch personnel manned the recruiting stations, and two new recruits were added on Friday: SP3/C Wesley Stubbs and SP3/C Sara Smith.   The Bag and Weapons check station was secured at 2000 hours, and ships personnel were granted shore leave until the following morning.
<![if !vml]>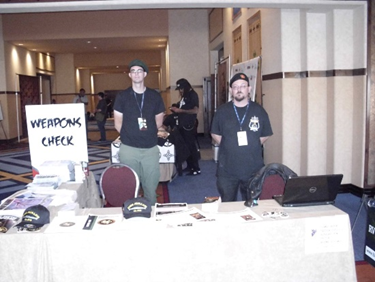 <![endif]>
The dreaded Weapons Check table.
The next day, the ship and crew, namely CMDE Dan Brandow, LCDR Bill Knight, SCPO Jake Sandoval, Coxswain 2/C Rob Clevenger, Steward 2/C Kat Brandow, SP3/C Amrit Khalsa, PVT Josh Fritz, SP3/C Jenny Valentine, and MIDN Sara Brandow, as well as ADM John Roberts and SP2/C Dave Reustle of the HMS Anasazi assembled on site and reestablished the watch schedule. While doing so, in the finest traditions of the RMN, they did perform Bag inspections and Weapons checks at both convention entry points in a manner that enhanced the safety and enjoyment of all convention goers. Those crewmember not on watch manned the recruiting stations located at each entry point, and informed interested individuals about the Royal Manticoran Navy and our community and charity activities as well as distributed tRMN flyers and buttons to convention goers.
Recruiting activities resulted in the signup of SP3/C Kristi Kai, a professional CosPlayer, and PVT Jonathan Ortiz, who took a voluntary demotion from his previous assignment as Halo's "Master Chief." The Bag and Weapons check stations were secured at 2200 hours, and the crew stood down for the remainder of the evening.  Commodore Brandow invited the ships company to join him in the officer's wardroom, where he revealed that the crew of the Avalon would soon transfer to a superdreadnought.
      <![if !vml]>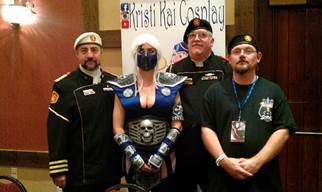 <![endif]>   <![if !vml]>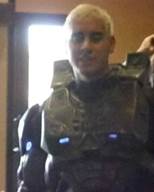 <![endif]>
Two of our new recruits: Kristi Kai and Jonathon Ortiz
The diligent and professionalism of the crews activity was noted and commented on by several of the Convention Guests.  Further discussions with those guests on Sunday resulted in the signing up of Mr. Tony Todd, known for his roles in Platoon, The Rock, Star Trek: TNG, and Mr. Erick Avari, known for his roles in Stargate, Independence Day, The Mummy, and Star Trek: DS9.  In addition, Franchesco Artist, one of the vendors, as well as Victoria Glaeser, one of the SFCC staff signed up.
At the request of SP3/C Avari, the HMS Avalon named "Ben's Bells (https://bensbells.org/) as one of its official charities. The mission of Ben's Bells is "to inspire, educate, and motivate people to realize the impact of intentional kindness, and to empower individuals to act according to that awareness, thereby strengthening ourselves, our relationships and our communities."
<![if !vml]>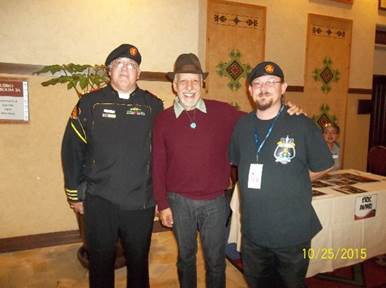 <![endif]>
The crew pose with Erick Avari.
Mention was given to the actions and activities of SP3/C Amrit Khalsa, who upon seeing the need, took the on duties and responsibilities of an Officer Candidate Training Officer, providing the direction and care of MIDN Brandow, as well as ensuring that ships personnel were provided with food and drink in a timely and consistent manner. Coxswain 2/C Robert Clevenger was also mentioned, who not only stood multiple back to back watches at the bag inspection / weapons check table, but also acted above and beyond in his recruiting activities.  More than fifty percent of the signups at this convention were initiated by or assisted by him.
The convention closed at 1800 hours, and all personnel secured from stations.  After all equipment was secured and packed up, and personnel returned to their normal stations and watch schedules, everyone gave a sigh of relief. We have enquired into obtaining a separate recruiting table in the vendor's area for next year.  This was an enjoyable and successful convention, both for recruiting and exposure, and we'll love to go back again.
<![if !vml]>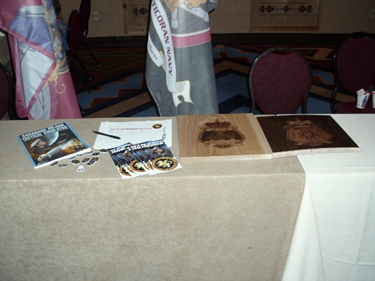 <![endif]>
And a little decoration never hurt anyone...
Article Copyright © 2015, Bureau of Communications, The Royal Manticoran Navy: The Official Honor Harrington Fan Association, Inc.
CAPT (JG) Marcus Johnston, OC, CGM, Director of Publications, BuComm. All pictures used with permission or used in a way that qualifies as fair use under US copyright law.