<![if !vml]>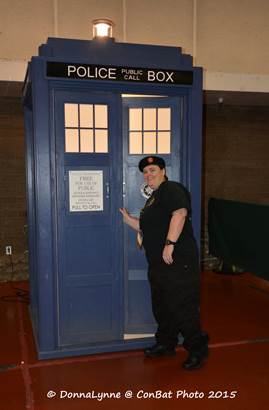 <![endif]>
"It's bigger on the inside!"
Zapped!
10th Fleet Takes on Fresno
Most people think of Californians as skiing in the morning and swimming in the ocean in the evening. However, there's a lot of land in between one and the other, and that land is called the Central Valley. The thriving metropolis of Fresno which straddles this region just happens to be in the center of Task Group 91.1's sphere of operations. So when ZappCon was announced for October 17th and 18th—sponsored by the local comic book store, Crazy Squirrel Games, run by Ensign Jennifer Ward—The Royal Manticoran Navy was ready to converge on the event.
<![if !vml]>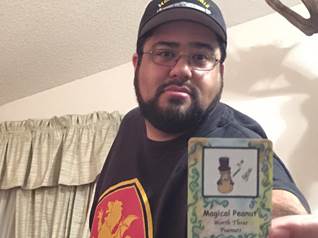 <![endif]>
Commodore Garcia wins the "Magic Peanut."
The soldiers and sailors of the Fleet immediately went to work, setting up the obligatory recruiting table, and then sallying forth through the two thousand attendees who came to this self-proclaimed "hybrid of gaming and comic book conventions." To celebrate this fusion of genres, the con brought in to this remote outpost the voice of Pinkie Pie from My Little Pony (Andrea Libman), a gaming book illustrator (RK Post),  game developers (David Carl, Mike Olson, Eric Vogel), and a list of comic book artists which is too long to fit in this paragraph. And, of course, GAMING—D&D Expeditions, Pathfinder Society, Savage Worlds, HeroQuest Glorantha… the options were amazing!
<![if !vml]>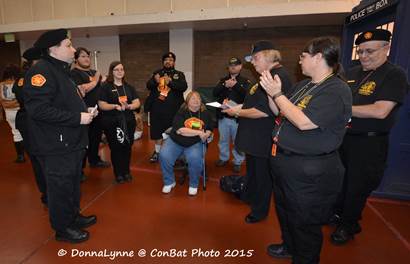 <![endif]>
Admiral Fontana Flats is about to launch into a happy jig.
With any pomp, however, must come ceremony. Admiral of the Green Lady Chrissy Killian, Baroness Fontana Flats, in her role as commander of the 10th Fleet, conducted the Change of Command ceremony for HMS Cerberus, finally bestowing Captain (SG) Katherine Teixeira with the dreaded "ghost beret" that has driven away many an officer from the command console. The captain was very thankful and made sure to thank "Commodore [James] Jones for staying later than he planned… Admiral Killian for conducting the ceremony, and Commander [Cindy] Davis for making this possible by agreeing to assume the XO position for HMS Cerberus. I am looking forward to working with everyone in the months ahead.".
<![if !vml]>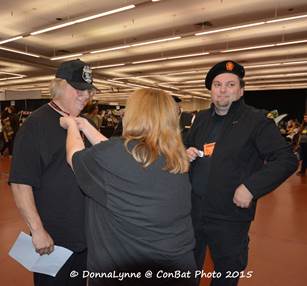 <![endif]>
Your two happiest days: When you get your white beret, and when you give it to someone else.
Of course, our spacers can't take themselves too seriously. The steward of HMS Cerberus managed to get a bottle of Romulan Ale from the 1701st Fleet's USS Saroyan. Chief Kathy Rau laughed, "I asked them if I could borrow it and they said sure....so I did!" Commodore Michael Garcia was awarded the Magic Peanut… for reasons that even baffle the flag officer. The baroness even had her own personalized chair (with a paper sign taped on) when she at the recruiting table. But since it was such a comfy chair, Donnalynne Helton couldn't help stealing her "throne" when the admiral was away!
      <![if !vml]>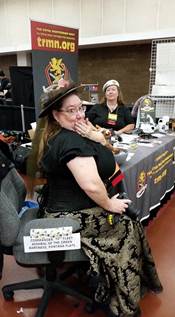 <![endif]>
Donnalynne caught on the baronial "throne."
However, Her Excellency was not too miffed, saying "I want to thanks the crews of the HMS Wolf, HMS Cerberus and HMS Artemis for the great time I had a ZappCon. You are a great group of people (as are almost everyone I met through TRMN) and I'm very proud to call you friends. Thank you!"
<![if !vml]>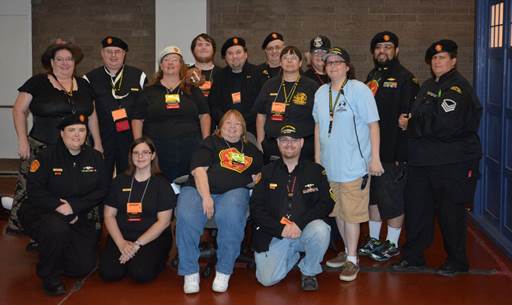 <![endif]>
Task Force 91.1 lined up and shot (with a camera).
Article Copyright © 2015, Bureau of Communications, The Royal Manticoran Navy: The Official Honor Harrington Fan Association, Inc.
CAPT (JG) Marcus Johnston, OC, CGM, Director of Publications, BuComm. All pictures used with permission or used in a way that qualifies as fair use under US copyright law.