<![if !vml]>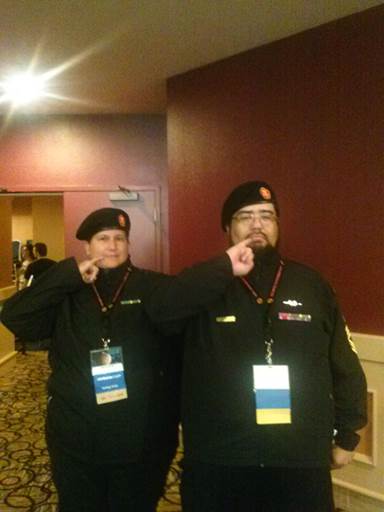 <![endif]>
PO3 Kathy Rau and FSMCPO Michael Garcia are "so evil."
Halfway Home
2014.10.08 CE / 346.06.35 AL (MNB) – South of San Francisco, near the crowded and often fogged-in airport, the sci-fi fans of the Bay Area were offered a chance to investigate our vision of the future and where we are today.  Unfortunately, some of those visions involved ball pits, Texas Hold-'Em, and Big Cats… which only goes to show that wherever in space and time we find ourselves, we're only human.
Tenth Fleet converged on Convolution 2014, held at the Hyatt Regency SFO in Burlingame, California, on the weekend of September 24th-26th. HMS Artemis, HMS Roland, HMS Wolf, and the Muir Point Bivouac soon docked and began to occupy the F Squared concourse (Fan-to-Fan). As they set up their fan table, they soon dazzled the locals with their descriptions of life with the Fleet. They also had a donation box for Big Cat Rescue and managed to raise $65.
As always, where HMS Artemis goes, the Artemis Spaceship Combat Simulator is sure to follow. Corporal Scott Taggart, commanding Muir Point Bivouac, admired their skills greatly and publicly. PO3 Kathy Rau "is credited with six kills in the Artemis simulator by talking those ships into flying into a black hole by taunting them. No shots, six kills." However, Fleet Senior Master Chief Michael Garcia was now slouch either. "[He] is a decidedly wicked captain whose coordinated efforts clobbered a level 14 difficulty scenario. Don't let the black beret fool you. It should be white."
<![if !vml]>
<![endif]>
Erik Roberts being returned to the Tenth Fleet recruitment table after being captured by USS Loma Prieta.
Unfortunately, all those many fan groups lead to bad blood. Right after CAPT (SG) Sir Thomas Marrone, HMS Artemis, promoted Shon Elliott to Communications Mate 3rd Class (PO3), two of Artemis' shipmates were beamed aboard and captured by USS Loma Prieta, the Federation vessel cruising in the area. S3/C Jon Sung and PFC Erik Roberts may have been forced to wear Starfleet uniforms, but they refused to take off their berets. When the signal came through from their captors, the first response was more amusement than shock. "He really should be wearing a Red shirt if he's truly a RMMC," SGT David Moser quipped, only to be corrected by S3/C Edward O'Connor.  "24th Century security wears gold—so he's wearing the right TNG unit for an RMMC."
Once the appropriate amount of Swedish Fish were paid, their crewmen were returned, and they went off to see the panels. Michael A Stackpole was the guest of honor, the author of I, Jedi and Rogue Squadron, as well as Author Tanya Huff (Valor/Conference series) and science adviser (Big Bang Theory, Defiance, Falling Skies) Dr. Kevin Grazier. PFC Roberts and Chief Garcia attended his "Hollyweird Science" panel where he held a 90 minute discussion on the compromise of science versus storytelling.  Also, Pern author Todd McCaffrey commanded an Artemis bridge several times while the RMN spacers were in there playing, though he was handling the ship on the other side of the room from them with his friends/entourage. Guest Carrie Sessarego, allowed for an interesting take as she dished on her favorite trashy books. As the reviewer of Geek Girl In Love and Smart Bitches, Trashy Books, she's a fascinating person to dissect the romance genre.  Of course, they were sure to sit down for the Silicon Valley Science Fiction Short Film Festival, and the Mother Writers panel cleverly titled, "If this is a room of my own, then why is it covered in Lego?"
<![if !vml]>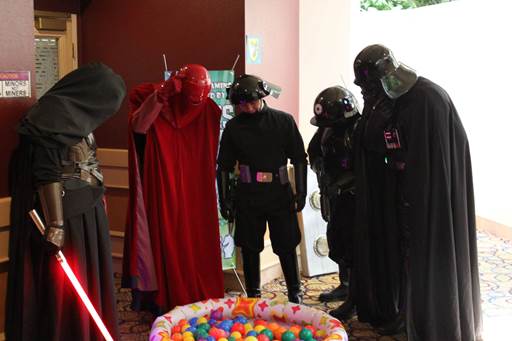 <![endif]>
The ball pit has caused a great disturbance in the Force
However, after the Imperial Guard jumped in the ball pit, and everyone felt a disturbance in the Force, it was time to disembark. CPL Taggart put it best when he took a look at the group photo. "Crews of Artemis, Wolf, and Roland... Oh, and one lone, terribly contrasting green guy. Trust the army to crash the party. I look like I'm in front going "Yes, I'm here to make sure they all behave..." when in reality, that's Kathy Rau's job."
So although Convolution investigated the future, there was no true vision shared at the end. Regardless of whatever the future holds for humanity, men and women will still need to come together and celebrate their shared loves.
<![if !vml]>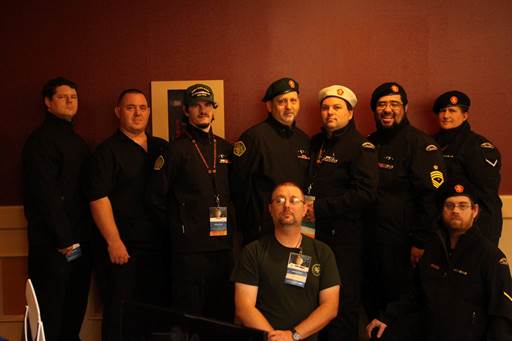 <![endif]>
Tenth Fleet at the con: (In back) Erik Roberts, Chris Shoff, Jeremy Henry, Joe Cahill, James Jones, Michael Garcia, Kathy Rau. (In front) Scott Taggart and Shon Elliott.
Article Copyright © 2014, Bureau of Communications, The Royal Manticoran Navy: The Official Honor Harrington Fan Association, Inc.
CPO Caitlyn Miller, Manager, Manticoran News Bureau, BuComm. All pictures used with permission or used in a way that qualifies as fair use under US copyright law.