<![if !vml]>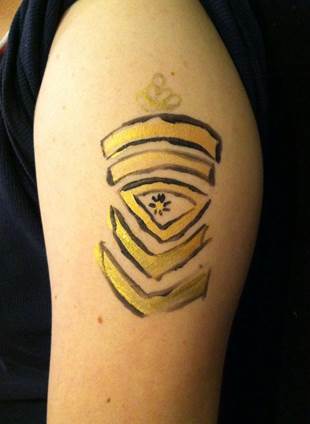 <![endif]> 
The stripes are more than skin deep.
Three Up, Three Down
2014.10.01 CE / 346.06.28 AL (MNB) – When someone joins the Fleet, you never have to explain what the captain does. However, unlike most science fiction franchises, officers are only a small part of what makes up the Honorverse. However, when people transition to TRMN, we often have to educate them on how a military organization works. In an actual navy, enlisted personnel make up the majority of people on a ship… yet in fandom, there seems to be a plethora of shoulder boards, and very few stripes. It becomes the role of the chiefs to create 'the enlisted experience,' a chance for Weber fans to understand and appreciate the importance of every part of the RMN.
'Just because a member chooses to remain enlisted does not mean they do not work very hard to make a fun environment for every member and are deserving of respect as well,' explained Tom Coonradt, Senior Master Chief Petty Officer of the Navy. 'Don't let a person's "Mere Enlisted Rank" fool you. There is nothing wrong in remaining enlisted.'
Those members who are active and participate, but wish to remain enlisted, are often elevated to the level of Chief Petty Officer. Often they become the most senior enlisted spacer on their ship, which means they are often offered the position of ship's boatswain's mate… or 'bosun' for short. For those who haven't been in the Navy, it seems like an archaic term, and new members often don't understand what they do. 'I consider one of my primary duties,' said Michael Romero, 3rd Fleet Senior Master Chief Petty Officer and Bosun of HMS Agamemnon, ' is to make sure all our people are getting the most enjoyment out of their experience with TRMN.  That can start with encouraging new members to take rank exams and choose a specialty rating to get into the roleplaying aspects of TRMN, taking the lead in arranging regular events where chapter members can get together and interact socially (movie nights or game parties, for instance) as well as represent the Honorverse in costume at conventions or other public events.'
<![if !vml]>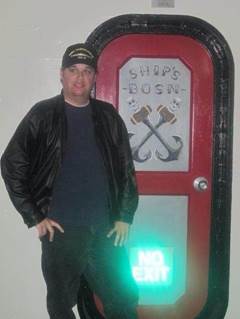 <![endif]>
Chief Romero outside the 'Goat Locker' on the USS Theodore Roosevelt.
As we grow as an organization, defining what the boatswain's mate does on our ships, has become more important. Commodore James Sena, Deputy Commander of Tenth Fleet, has worked to define the role. 'First and foremost, a Bosun needs to do everything possible to enhance the fan experience of the crew on the ship. This includes all enlisted and even junior officers. Make sure they find what they are looking for if possible in the fan environment.'
One of the things I like most about this organization is that you really do get out of it what want to get out of it,' Captain (JG) Peter Howdeshell II, commanding HMS Excalibur, elaborated. 'If you want to sit around with a bunch of like-minded individuals and discuss the books, or dress up in a costume, or even take tests or play games or whatever - there's an element here that caters to that and you can find a home.'
'Newer folks especially might feel a little nervous about speaking up and offering ideas for new activities,' Chief Romero explained, 'and I feel it's the duty of a good bosun to help them feel comfortable as part of the crew by continuing to suggest new activities themselves, and making an effort to include everyone in the planning process.  In my experience, the more ideas a bosun puts out, it'll encourage the rest of the crew to share their ideas as well… the sharing of interests and hobbies tends to be contagious, one event inspiring another.'
<![if !vml]>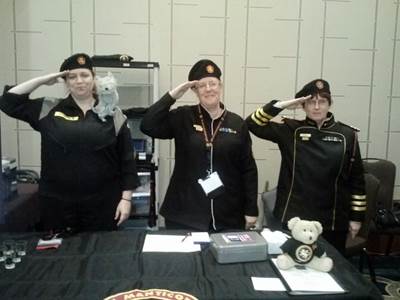 <![endif]>
The Bureau of Supply at attention; notice that a Petty Officer (Nina Gordon), Senior Master Chief (Tammy Walker), and a Commander (Cindy Jenkins) are manning the same table
However, with all the uniforms and badges and ribbons, it's easy to forget that these are honorary ranks. As much time as many of us put into the organization, often we get a big head about our role. That's why Chief Coonradt recently reminded everyone that 'While this organization follows a military template and various people hold positions of responsibility in the Fan Club, EACH and EVERY Member is equal. Each is deserving of respect regardless of their rank or activity level. A Spacer 3/C deserves the same friendly and equitable treatment that a Captain SG deserves.'
It's that level of respect that turns TRMN from a fan group to a community. Captain Howdeshell said that 'One of my crew members told me that he was not going to call me captain, nor respond with military, or faux-military style. He said he was a 24 year veteran of our armed forces. I proceeded to tell him that after a career like that, he could call me whatever he damn well pleased.' 
'I've seen it in other fan groups where folks tend to take their fictional rank a tad bit serious whether it is of high or low levels,' answered Spacer 3/c Steve Sardeson, a retired US Navy Chief. 'Even in the "real world", I have told military folks respect is the same regardless of rank. The only thing that increases with rank are the courtesies commensurate with the rank.' PO2 Jack Warren agreed. 'Any career officer will tell you it's not the letter before the rank to respect; it's the number behind it. I have spent company with mundane flag officers, and to a one, they were first name basis with their top NCOs and Warrants.'
As people take leadership roles within the Fleet, and people are often promoted quickly to officer country, it's easy to forget about those who choose to keep their stripes. However, ship leadership needs to use and encourage their enlisted personnel, or lose the community that many people have been working hard to build. Commodore Sena put it more succinctly: 'The Bosun can make or break the community in any command.'
<![if !vml]>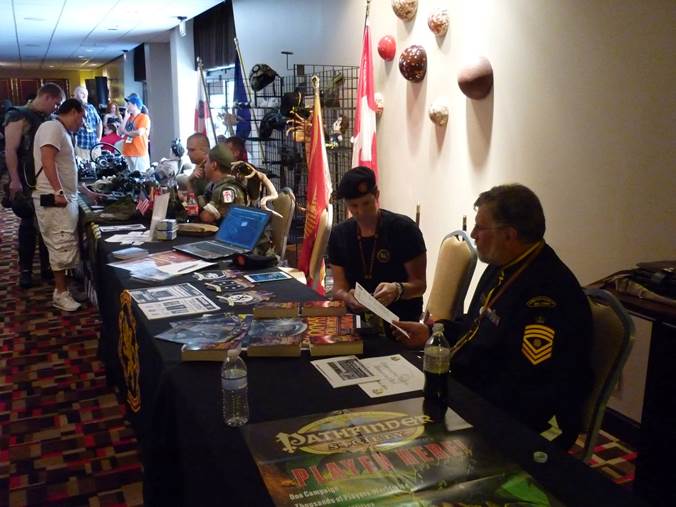 <![endif]>
Command Senior Master Chief Ken O'Dell mans the recruitment table at Dragon*Con 2014.
Article Copyright © 2014, Bureau of Communications, The Royal Manticoran Navy: The Official Honor Harrington Fan Association, Inc.
CPO Caitlyn Miller, Manager, Manticoran News Bureau, BuComm. All pictures used with permission or used in a way that qualifies as fair use under US copyright law.