<![if !vml]>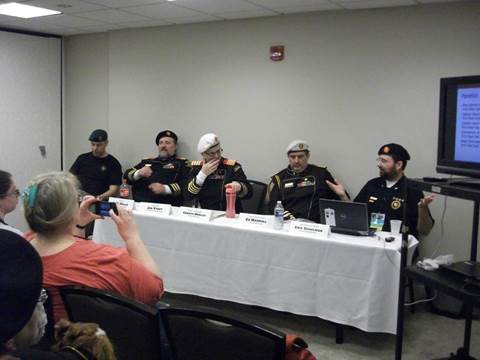 <![endif]>
The First Fleet Staff
My Commissioning at Shore Leave
by Ensign Jesse Krug, HMS Heracles
Ah, the First Fleet Meeting at Shore Leave.  It was one I am certain to not forget anytime soon.  Let me explain why.  For me, this was the first official non-Chapter/Ship meeting I was able to attend.  After a bit of a technical issue involving power and a video setting, the First Fleet Meeting got underway.  The First Fleet staff introduced themselves, and explained how the fleet structure was set up. 
Next up came announcements, including the reading of HMS Hector's orders and its winning the First Fleet Reading Challenge.  I must note the HMS Hector reading totals carried over from the two previous ships it upgraded from, HMS Yamamoto Date and HMS Artegal.  First, the Navy Commendation Decoration was awarded to Private First Class John Pieper for contributing the most pages towards the Reading Challenge (he read 151,801 pages, 12 percent of the 1,236,387 total First Fleet pages read), followed by award of the Navy/Marine Achievement Medal to the crew of HMS Hector that participated and were present, including Captain Christa Brolley, the CO of the Hector.
<![if !vml]>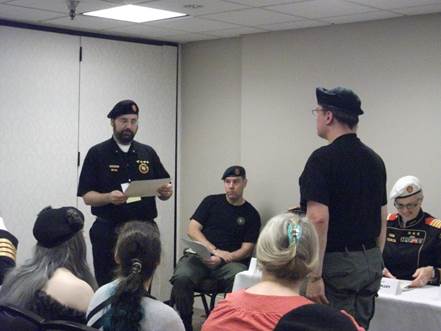 <![endif]>
PFC (now LCPL) John Pieper receiving his NCD
If memory serves me, this was at roughly the point where the floor was open to any other announcements or other items of importance from other ships, starting with HMS Heracles and heading north to HMSS Greenwich.
At roughly this point in time, I was going for my uniform tunic just as Captain Jim Kratzer announced he was doing an officer commissioning, and the person he named that was getting that rather unique honor... me.  I then thought, "Uh-oh, better step on it!"  So I had my treecat Bastet sitting on top of one of my bags in my chair after grabbing my uniform tunic, handed my camera over to one of my fellow crewmates so she could take the pictures of the moment, and proceeded to the front of the room.  .
<![if !vml]>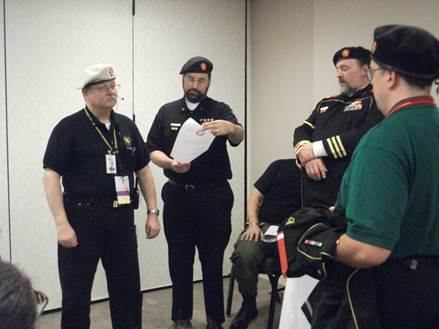 <![endif]>
Reading the Orders
I then came to attention as best I could while holding my uniform tunic while Rear Admiral Schulman read the commissioning order.  After the order was finished being read, I put on the tunic (after a bit of difficulty with the buttons/zipper) and proceeded to salute, both to my captain and the Rear Admiral.  Apparently I missed something and wound up getting initiated as an Ensign by a tap from Captain Kratzer on my shoulder and a much harder tap on the other shoulder from the First Fleet Staff Intelligence Officer.  Why this happened, I am not completely sure, but by the time it was done, my treecat Bastet looked like she wanted to buzzsaw said Intel officer.  (I did explain things to her later about what happened.  Needless to say, it involved a lot of celery.)
<![if !vml]>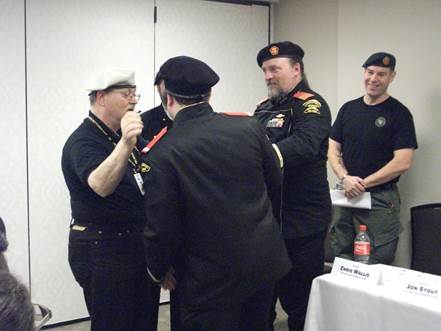 <![endif]>
Getting a tap after commissioning.
After that was taken care of, I received a copy of my commissioning orders, shook hands with both the Rear Admiral and my captain, and resumed taking photos of the rest of the conference.
The rest of the Meeting went relatively quickly after that, with the mention that Commodore Paquette was awarded the Conspicuous Service Medal for exceptional service as the Commanding Officer of Battlecruiser Division 111 and as Deputy Commander of First Fleet for the last year.  I was now an Ensign.  Bastet and I helped out at the TRMN fan table later in the day. 
<![if !vml]>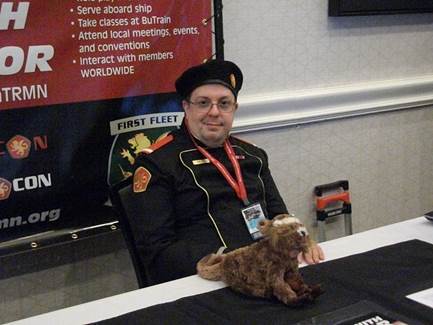 <![endif]>
Working at the fan table as an Ensign with Bastet.
Article Copyright © 2015, Bureau of Communications, The Royal Manticoran Navy: The Official Honor Harrington Fan Association, Inc.
CAPT (JG) Marcus Johnston, OC, CGM, Director of Publications, BuComm. All pictures used with permission or used in a way that qualifies as fair use under US copyright law.