<![if !vml]>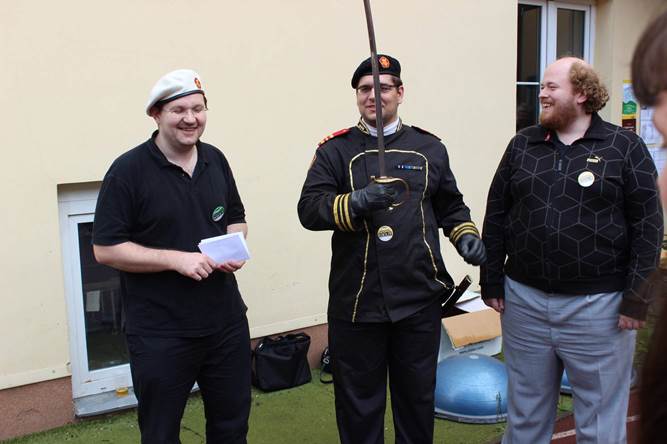 <![endif]> 
CAPT (JG) Hruška reads a speech to his new ship while LCDR Stepan "Potan" Jura (HMS Phantom) holds a sharp piece of metal.
A Battlecruiser for the Bohemia Station
2014.09.03 CE / 346.05.30 AL (MNB) – So many new ships have been joining the Fleet lately—or upgrading to bigger vessels—that only BuShips knows for certain where they are all are. Most of these are done as quiet, bureaucratic affairs, only after a lengthy process in which no one is surprised by the time it happens. However, BatCruRon 39 has never done things quite the same way as their American cousins, and had their own ideas on the proper way to bring a ship into their squadron.
HMS Royalist (BC-410), a Reliant-class battlecruiser, is based out of Brno, Czech Republic, a city in the eastern part of the country in Moravia. About two hour drive out from Prague. For years, the most of Honorverse-related fan activities have been centered around Prague, but recently the fan community in Brno has been growing and finally it was decided that they would form a new ship in the squadron. That meant gathering the squadron, sailing to the CON-ec convention in Brno, and handing a vessel over to the new Captain.
Captain (JG) Roman "Doctor" Hruška is no stranger to Czech fandom. Apart from being active in the RMN, he is the current chairman of Conan Society, and is also the con-chair of the biggest conventions in Moravia (eastern part of Czech Republic) - Fenixcon. The Doctor is a well-known entity to the geeks of Moravia.
<![if !vml]>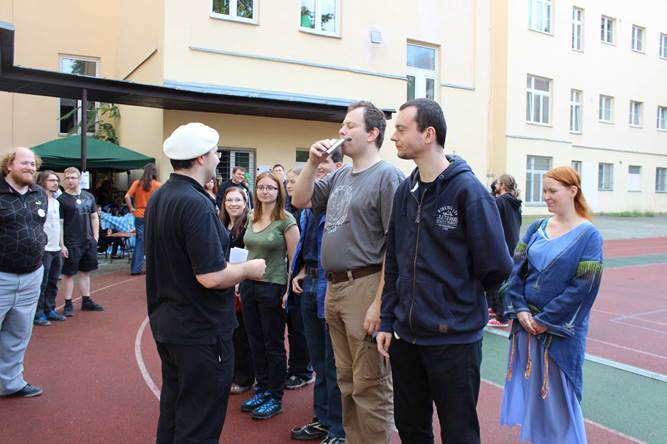 <![endif]>
The brandy flask is passed among the crew.
The christening ceremony took place in the backyard of the CON-ec building. The members of the Bohemia Station gathered to honor the christening. Captain Hruška read out his orders to assume command, and then reached into his jacket, and pulled out his silver flask. Inside was a pear brandy, and the Captain's name, "Hruška", means "Pear" in English. As he passed the flask around to each of the new keel plate owners and visiting crewmen of other ships, the Captain remarked that he wants to make sure "the crew will be able to stomach him from day one."
To the cheers of all present, HMS Royalist was launched. This makes the third ship to enter Her Majesty's service into the squadron. Admiral Kotouč started making Honorverse panels with his brother back in 2006. "Then I met Maril and her brother Darai and we started to have more panels," Jan explained. "Also we met more people on the newsgroups on the internet." Enough interest was generated by 2008 that they founded a "ship" called HMS Phantom (BC-418). In 2011, a few members—mostly marines—detached and founded the first TRMN chapter in the Czech Republic, HMS Iwo Jima (LTH-06). Last year, the squadron expanded with GNS Equinox (BC-68), and now this year, added HMS Royalist.
"We became the biggest Honorverse fan club outside of the USA," Admiral Kotouč said. "It's all about making communities. There is no point in making new ships if there won't be a community built around it." As their numbers grow, they can make more communities, bringing the joy of David Weber's books to Central Europe.
<![if !vml]>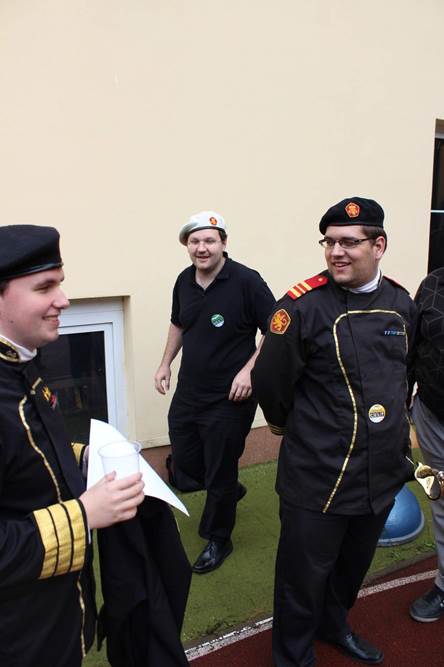 <![endif]>
VADM Kotouč starts to have second thoughts about his new captain after the booze has been passed out.
Article Copyright © 2014, Bureau of Communications, The Royal Manticoran Navy: The Official Honor Harrington Fan Association, Inc.
CPO Caitlyn Miller, Manager, Manticoran News Bureau, BuComm. All pictures used with permission or used in a way that qualifies as fair use under US copyright law.