<![if !vml]>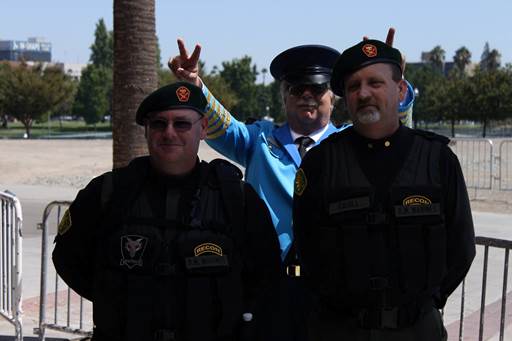 <![endif]> 
CPL Moser and COL Cahill at parade rest while HADM Saidak performs a traditional Grayson salute.
No Fan Table? No Problem!
2014.08.27 CE / 346.05.22 AL (MNB) – At first glance, StocktonCon—held at the Stockton Arena in California on August 9th and 10th—was perfect for the crew of HMS Wolf. Since their operational area is the Central Valley of California, Stockton lay directly in their sights. Captain (JG) James Jones immediately ordered a course laid in and opened hailing frequencies with the con organizers… but were met with only static. However, a local con is still local, so even without being able to secure a fan table, HMS Wolf sent down an assault pinnance… thanks to a sizable delegation from their marine detachment. Since High Admiral Tom Saidak was on maneuvers with a Grayson squadron nearby, it seemed remiss to leave him behind. Other command staff had to be brought to the con in more creative ways. "Corporal Moser… was tasked to meet me at the train station," Commander Victoria Young, Wolf's XO, reported. "I think he surprised a few locals by showing in uniform. And that was the start of a good day."
Once those two arrived at the con, Young explained that "the line was amazingly long, but it moved fast. We met up with High Admiral Saidak once inside. His uniform was easy to spot." Meanwhile, the rest of the crew was already inside. Lance Corporal Scott Taggart had ordered the Royal Manticoran Army's Muir Point Bivouac to take up position in the smoking area of the arena, a large glass area open to the air which allowed the non-smokers to be outside, yet near their smoking friends. With the group finally together, it was time to make their presence known.
However, that was easier said than done. One of the easiest ways for a TRMN group to make its presence known was by volunteering at conventions… but it was hard to know who to talk to. "The con staff were largely disappointing," High Admiral Saidak pronounced with authority, since he could speak with the experience of just recently been the chairman of BayCon 2014. "I was appalled that there was no central Con Ops (Convention Operations) that anyone could go to with a concern or a question, and that as con goers, we were actually required to know the names of whom we wanted to talk to." When Captain Jones finally did nail down the volunteer coordinator, he was rebuffed. "She said, 'I've already got 250 volunteers. I don't need any more,'" Jones replied incredulously. "Who turns away volunteers? I think she thought we were trying to get free tickets."
<![if !vml]>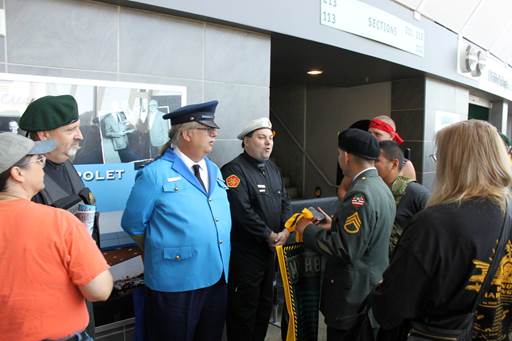 <![endif]>
That moment when the real military meets the fandom military. (They all took a TRMN flyer.)
Without being able to volunteer or have a fan table, "A multi-level conversation ensued and continued for the day," Commander Young explained. "We retired to the hotel for lunch (more of a danger to the wallet than the dealer floor) where pleasant conversations continued to cross the table from one end to the other and back. Several of us sampled the local presentation of beer. (But surprisingly no local brews)." However, no lunch can last forever, so the Wolf eventually flooded back to the dealer area. "While Colonel Cahill and I were walking around StocktonCon," Corporal David Moser, commander of HMS Wolf's MarDet, reported, "we were stopped several times and asked about who we were and what organization we were from. We provided a roughly 5 minute informational about the Honor Harrington Fan Association and tRMN. We were approached about 5 or 6 times."
After viewing the dealer area, "I think we were able to travel maybe 30 or 40 feet before we had some one come and ask who we were and could they get a picture," Young sighed. "On the upper level where the stars and fan groups had tables... we had good discussions with the Mercs, 501st Storm Troopers, and Cobra. Do I detect a trend of less than polite society here?" When Captain Jones asked the 501st how they managed to get their fan table, "Apparently they had registered two years ago with one of the staff—who wasn't with the staff anymore—and just kept renewing every year."
<![if !supportLineBreakNewLine]>
<![endif]>
Sooner or later, you'll run into a bad convention. Your definition of what makes a bad convention may differ, whether it's a lack of programming, poorly organized, too packed with people, or simply too expensive. However, even in what Forbes magazine names as the Most Miserable City in America, one can take a bad situation and make it better. "As a 'Comic Con,' it was very clear early one that it was primarily a comic book trade convention or show," High Admiral Saidak explained. "We, as a group, without a table managed to do recruiting, taking advantage of the attention our uniforms' garner, and just being our usual garrulous selves." Commander Jones agreed, "I believe that even without a table we had a good number of inquiries and made our presence felt."
<![if !vml]>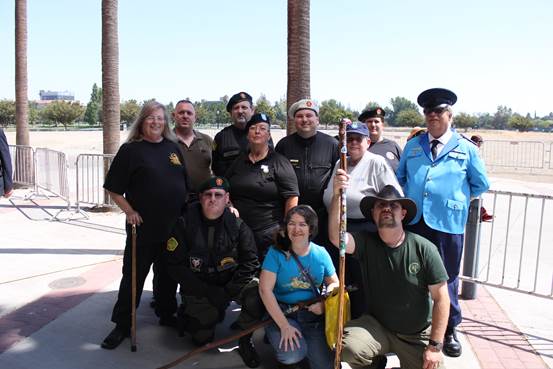 <![endif]>
The crew of HMS Wolf, their MarDet, and the Muir Point Bivouac (denoted by their walking sticks).
Article Copyright © 2014, Bureau of Communications, The Royal Manticoran Navy: The Official Honor Harrington Fan Association, Inc.
CPO Caitlyn Miller, Manager, Manticoran News Bureau, BuComm. All pictures used with permission or used in a way that qualifies as fair use under US copyright law.