<![if !vml]>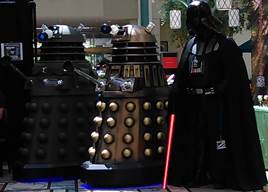 <![endif]> 
Ah, the sci-fi villains row at HoustonCon: Dalek, Dalek, Darth Vader…
All Alone In The Night
2014.08.20 CE / 346.05.14 AL (MNB) – Conventions are wonderful events, where people dress up in costumes, covering the wide and varied range of the genre. Since the number of our spacers has reached critical mass, when a ship or a fleet drops en masse onto a convention, they never have to feel alone. However, what happens when spacers go where no TRMN presence has ever been before? This was the challenge that faced two Eighth Fleet spacers the weekend of August 8th-11th.
Steward 1/c Debra Savage, HMS Juno, took advantage of Animethon being in her hometown of Edmonton, Alberta to show her colors. A consummate cosplayer, "I worked extra hard to have my uniform as complete as possible in time for the event, even though this required sewing in the convention hotel room the morning of the first day." She also prepared her Steampunk Gypsy costume for display. She didn't worry about the only spacer there, because "having only a limited knowledge of anime, I frequently enjoy a good costume without recognizing the character at all. So I thought it might be fun to turn the tables and have someone else wonder who I was."
<![if !vml]>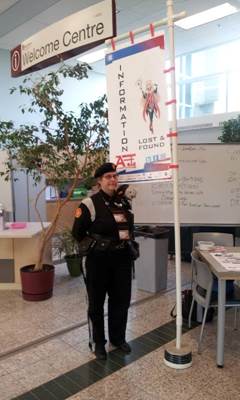 <![endif]>
Steward 1/c Debra Savage at her post at Animethon
Captain (JG) Marcus Johnston, HMS Claymore, by comparison, was stuck working on a Saturday far from his home port. Since he would be in the vicinity that weekend, he got his uniform, and went to HoustonCon in Spring, Texas (northern suburbs of Houston). "I've only got one costume," he admitted, "since I can't sew. But I figured I'd be as well dressed as the rest of the cosplayers, so I thought… why not?"
The uniform got a lot of attention from those who never come across it before. This was especially true because these spacers—not content to simply attend—made sure to volunteer at their respective cons. "While I was at the Info Desk, and as I wandered about the site, I found that my treecat was much more popular than I." Steward Savage smiled. "Not too surprising I suppose, since anime fans are attracted to all things Chibi (small) and Kawaii (cute). It was interesting hearing all the guesses as to who and what both Rutherford and I were. Everything from 'is that Dr. Who?' (I guess that UNIT does wear berets) to 'is he a zombie squirrel?'"
"I pulled security detail… I guess because I'm big and intimidating," Captain Johnston laughed. "Now normally this would be a very boring duty to pull, but it turned out to be perfect for me. I stood at the door, checked people's badges, and this introduced me to fellow fans get into many good conversations. I ended up discussing fandom with the Star Fleet ship USS Zavala, shared quotes with the Houston Browncoats, and laughed with the MechCorps."
<![if !vml]>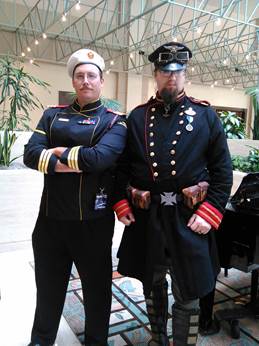 <![endif]>
Captain (JG) Marcus Johnston finds the only man in the con with more military bling than him.
"I feel that being in a costume, any costume, does enhance the convention experience," Savage explained. "Even though my Steampunk costume was the most popular, in terms of compliments and photo requests, I actually felt better in my RMN uniform. I felt proud, because this was a costume I had been working on for some time, modifying it from a simple workman's coverall. More than that, I was proud because it was a "cos" that had meaning to ME, if no one else." Johnston agreed. "I think the best conversation I had at the con was with a StarFleet Vice Admiral, 1701st Fleet Chief Petty Officer, and an Imperial Klingon Brewmaster. All of us had different uniforms, but we all shared the same experience—we knew that we earned our pips. Anyone could dress up in a military costume, but you own the part when you've put more effort in to it."
Even though neither of them went to the cons to recruit, it was a chance to spread the word about TRMN, and the fun that we have. Savage noticed that "my conversations were more light-hearted than serious. I introduced my treecat to one person as 'a sentient, six limbed alien that could probably kill you in five seconds' before going on to give a brief description of the books." However, for her "it also felt good that I was able to wear my uniform while "on duty" as a volunteer. For Johnston, he was "amazed how many people recognized the uniform. I pointed several of those people to our group's website for more information. However, the biggest surprise was when Alec Peters of Star Trek: Axenar come up to me and rave about the work that [Captain SG] Thomas Marrone had done for their film graphics. It's amazing how much influence the Fleet has achieved in the fandom community in such a short amount of time."
<![if !vml]>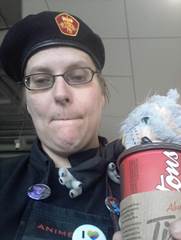 <![endif]>
Rutherford proves that even treecats prefer Tim Horton's coffee.
Article Copyright © 2014, Bureau of Communications, The Royal Manticoran Navy: The Official Honor Harrington Fan Association, Inc.
CPO Caitlyn Miller, Manager, Manticoran News Bureau, BuComm. All pictures used with permission or used in a way that qualifies as fair use under US copyright law.