<![if !vml]>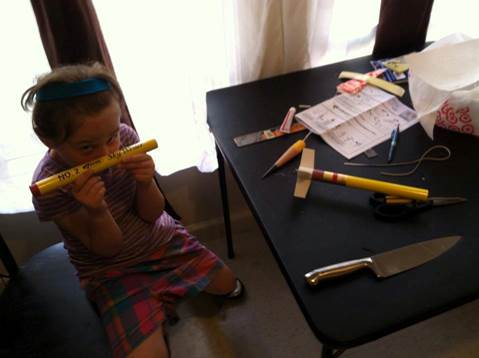 <![endif]>
Midshipwoman Kaylee Romero decides she really does enjoy making model rockets.
Competing with NASA
<![if !supportLineBreakNewLine]>
<![endif]>
2014.08.06 CE / 346.04.34 AL (MNB) – The Treasury might believe that live fire exercises are a massive waste of money, but that didn't stop the bosun of the Agamemnon from scheduling them, and having a massively fun time doing it. On Friday, July 18th, the entire Romero clan (FSMCPO Mike Romero, Fire Control Mate 3 Ashley Romero, and Midshipwomen Kaylee and Zoey Romero) and Commodore Michael Hunnicutt, made the trip down to Hampton to launch model rockets.  However, the Fleet Senior Master Chief's choice of location had the potential for a major incident when he chose Gosnold Hope Park, which just happens to be near NASA's research center… and Langley Air Force Base.
However, the Hampton Roads area is littered with military bases, so no one paid much attention to rockets that went straight up. At 9 am, the missiles went up. The initial launch was successful and all ordnance was recovered safely. The range had been prepared for their second volley, and while the men were prepping the rockets, the middies were having a celebratory playground romp, while they awaited the commodore's arrival.
<![if !vml]>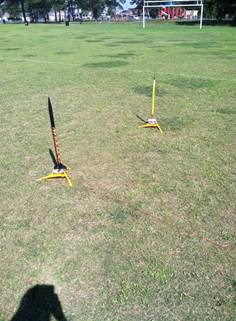 <![endif]>
The rockets and launch platforms are prepared.
The Romeros had supplies for eight launches, and all were successful, with no ordnance lost. While the Boatswain was busy reloading the tubes, the middies tended to be distracted with their tee ball set and the nearby playground.  Thankfully, the commodore took command, and guided Midshipwoman Zoe through a fielding exercise in the ancient Grayson pastime of baseball. Since they didn't have enough crew for a proper team, the commodore made due without a pitcher by using a T-ball holder.
<![if !vml]>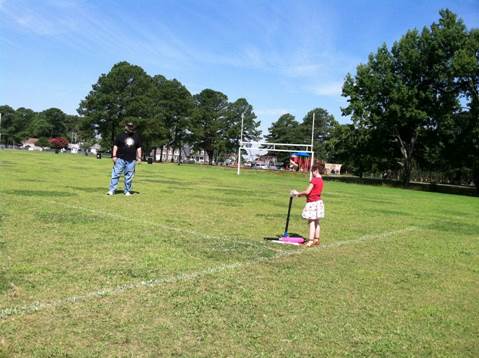 <![endif]>
The ancient Grayson game of baseball… as practiced in 3rd Fleet.
On the debrief, improvements were discussed. Ashley Romero was not amused by the Chief's movie references during the launch timing. (Is it 1, 2, 3, go or 1, 2, 3, and then go?) Hunnicutt suggested that we gather enough pads and rockets to flush a proper missile pod next time around; Chief Romero concurred. "Eight identical rockets and a larger rocket to represent the Apollo Control Missile would be fun to see." After the launches were completed, and ordinance and personnel were collected back in the pinnance, the group went by a local Andermani buffet for lunch.
Third Fleet has a long and glorious tradition of rocketry, including the Treecat in Near Space activity, HMS Saladin's missile tests and displays at MonsterCon, and now it continues in BatCruDiv311. By sharing this activity with young and old alike, it becomes one more reason to enjoy serving in the RMN.
<![if !vml]>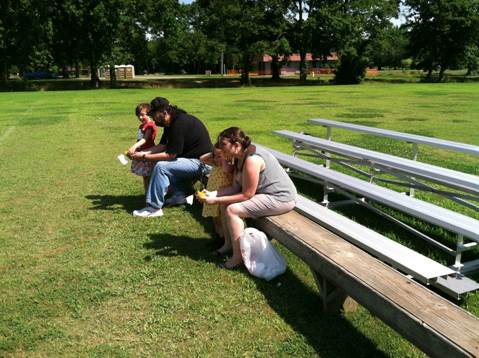 <![endif]>
MID Kaylee Romero, CMDE Hunnicutt, MID Zoe Romero, and FCM3 Ashley Romero manning the launch controls.
Article Copyright © 2014, Bureau of Communications, The Royal Manticoran Navy: The Official Honor Harrington Fan Association, Inc.
CPO Caitlyn Miller, Manager, Manticoran News Bureau, BuComm. All pictures used with permission or used in a way that qualifies as fair use under US copyright law.