<![if !vml]>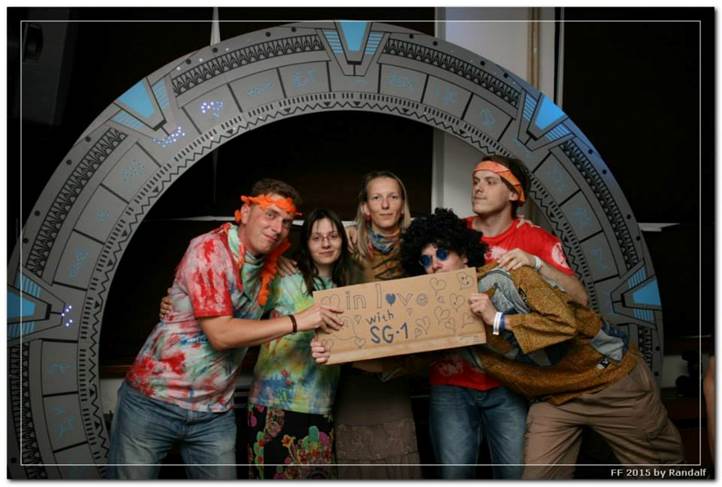 <![endif]>
The easiest way to get people to your party… dial them up on your stargate!
Hippies at the Stargate
Festival Fantazie celebrates its 20th anniversary with BatCruRon 39
2015.08.05 CE / 346.15.13 AL (MNB) – For the past twenty years, Festival Fantazie has been the premier convention for pop culture in the Czech Republic—so naturally, BatCruRon 39 has made sure to be active at every step of the massive event. Starting on July 1st and running through the 12th, FF is an enormous event covering sci-fi, horror, video games, and everything in between.
The event was so large, in fact, it took over the entire school complex at Základní škola Smetanova in Chotěboř, Czech Republic. Four school buildings were used for the activities, another for crafts (listed on the map as craFFtcon), leaving the other three for accommodating all the visitors who wanted to stay there for the whole event. Chotěboř is a perfect location, since the town sits halfway between Prague and Brno, the two of the major cities in the country. With HMS Phantom and HMS Royalist in both locations, it was the perfect place to converge for a great time.
<![if !vml]>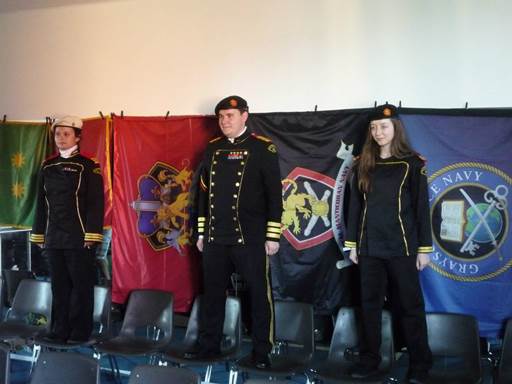 <![endif]>
In full uniform with their flags behind them.... as compared to wearing just the flags.
With Sylvester McCoy (the 7th Doctor Who), Paul McGillion, and David Nykl (both from Stargate Atlantis) as the guests of honor, that left a great draw for all the panels, activities, and gaming to keep the rabid fans there. The Manticoran squadron made sure to put on no less than five panels at the con, talking about realistic marines in a sci-fi universe, progress with the Honor Harrington movie, what was learned at MantiCon, and of course, another chance to sell the Squadron Babes calendar.
"It was great. Probably the best Festival Fantazie in the years." Vice Admiral Jan Kotouč, commanding BatCruRon39, announced. With two weeks of programming to fill, there was no limit to what they were doing. Of course, they had set up the Artemis spaceship simulator, but they had soccer matches in the green spaces. Once they finished that, they moved on to fencing lessons (and who needs masks or protective equipment?). At night, there were parties, including Party Like its 1969… which had everyone dressed up as hippies, with the party strangely held in front of a replica Stargate.  They also had a showing of Terminator: Genisys, although how well that film was received is still up for debate. Thankfully, if you needed to get away, there was a nice bar nearby to have a touchstone of normalcy.
With two weekends of fun, and everything in between, all the spacers who attended were tired… but satisfied. Fandom is alive and well in the Czech Republic.
<![if !vml]>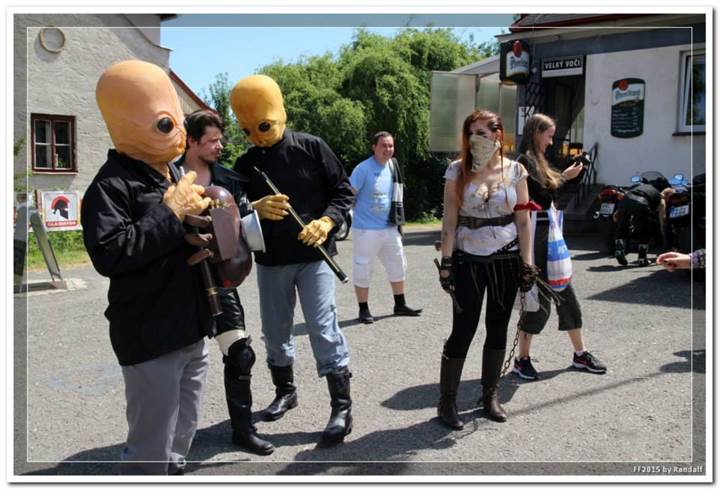 <![endif]>
Admiral Kotouč (back, middle) stops by the cantina between panels.
Article Copyright © 2015, Bureau of Communications, The Royal Manticoran Navy: The Official Honor Harrington Fan Association, Inc.
CAPT (JG) Marcus Johnston, OC, CGM, Director of Publications, BuComm. All pictures used with permission or used in a way that qualifies as fair use under US copyright law.