<![if !vml]>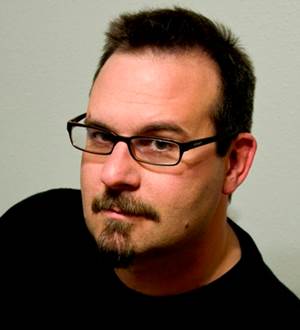 <![endif]>
Emmett Plant: The Man Behind the Music
Sounds of the Honorverse

2014.07.23 CE / 346.04.20 AL (MNB) – When you go to HonorCon this year, you may run into an unusual man showing up at the panels. The man in the short spiky hair and mustache is Emmett Plant, who has a great reputation in fandom… but he didn't earn it in a way you would normally expect. Plant is a techie extraordinaire, an accomplished programmer, Star Trek producer, and most notably, a composer of digital music. Recently, he's brought his talents to the Honorverse, and created several pieces based on the stories of David Weber.
"It was never supposed to be a job," Emmett explained how he became a composer, "just a hobby. I sang in chorus and in a barbershop quartet in high school, but I never had plans to be part of the music business. I went to high school with incredibly, fantastically talented people, [including] Justin Guarini (from American Idol), was on stage with Pink, and Jenny Lee Stern (currently on Broadway in 'Rocky')."
Compared to his classmates, he described his performance abilities as "Karaoke at an Applebee's on a Tuesday night, somewhere in New Jersey," and a "train wreck when it comes to instruments… But here I am, writing a ton of soundtracks!" After he discovered the analog, otherworldly sound of synthesizers, "I started arranging and writing songs that I would record and give away for free on the internet. My stuff [became] popular with software developers who liked the video-game style I enjoyed writing. Sooner or later, they started asking if I'd be willing to write music for their video games." Ten years (and about fifty games later), he's been creating everything from 8-bit Nintendo music to full-score orchestral pieces. "I've only very recently started packaging the music I write so that it's available on iTunes, and that sort of thing has done much better than I'd originally anticipated," Plant nodded. "I think that I've inadvertently created the exact job I want in the music industry."
<![if !vml]>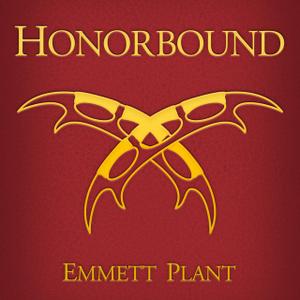 <![endif]>
What he is most known for is his work on audio tracks for the Star Trek novels. "I've been doing sound work for a long time and I was given the opportunity to work on a ton of Star Trek novels as part of an investment I'd made in a company that made audiobooks. Since then, I've gotten enough of a positive reputation that I get brought in on other 'Star Trek' projects and it works out very well. I've been a Trekkie since I was a little kid, so it's really a childhood dream come true."
As Plant has been in fandom circles for some time, it seemed inevitable that he would run into the spacers and leaders of TRMN. "Martin [Lessem] and I share a couple of hobbies, like literary science fiction and flying planes. I don't actually remember the first time I met him. He's pretty good at flying planes, but I'm better at racing go-karts. Fortunately we're both fairly competitive. I met Scott Akers at a business meeting in Denver, but we'd been friends online since long before that." Now he loves it when he sees a spacer in uniform, crying out 'Manticore!" with glee at those who wear the black and gold.
<![if !vml]>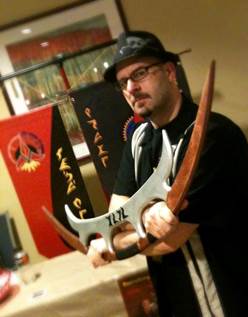 <![endif]>
Getting inspired at a convention.
Inspired by the Honorverse, he's created many tracks based on what he's read and seen. "There are a lot of interesting things that happen on the naval side of science fiction," Emmett explained. "The Imperial Navy in 'Star Wars' is a force to be reckoned with, and part of the reason they're so fun is because it's just this tremendous, unstoppable armada. The Starfleet from 'Star Trek' is a considerably different situation, and tends to be a well-polished future. Naval tradition is almost an afterthought in that universe from time to time. The other side of the coin is the awesome Trader's Union from the Foundation series -- Hober Mallow is the Han Solo years before there was a Han Solo!"
Although he's quite successful at making soundtracks, "[When I] get a check in the mail, I usually giggle—I'd have done it for free! I've gotten way more out of [science fiction] as a fan than I ever will as a noise monkey-for-hire. It's fantastic, and I love my job." That's probably why he keeps coming back to fandom. "I just love space stories, and space navy stories are some of the best."
<![if !vml]>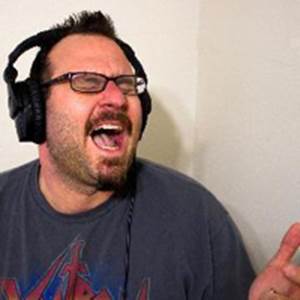 <![endif]>
Emmett rocking out to his tunes.
Article Copyright © 2014, Bureau of Communications, The Royal Manticoran Navy: The Official Honor Harrington Fan Association, Inc.
CPO Caitlyn Miller, Manager, Manticoran News Bureau, BuComm. All pictures used with permission or used in a way that qualifies as fair use under US copyright law.