<![if !vml]>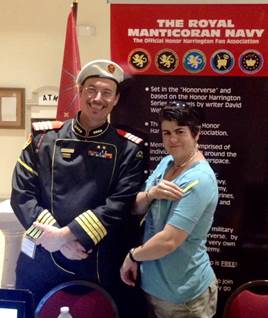 <![endif]>
Marcus Johnston proudly poses with his new recruit, Alisa Frisch
Wearing Polyester in the Valley of the Sun
by Captain (JG) Marcus Johnston, HMS Claymore (CA-51)
2015.07.22 CE / 346.14.36 AL (MNB) – There's something about the Arizona heat that convinces people that it's a good time to hold a convention. HMS Claymore docked at LepreCon from June 26-28, 2015, located at the Embassy Suites Phoenix North. This was our ship's second visit to the convention, we were hopeful to repeat the success that we achieved last year. Our first obstacle was setting up our fan table, which as has become our unfortunate tradition, no one knew where we were supposed to set up. After asking two or three people, a table was located, which happened to be perfectly located on the main thoroughfare to the dealer and gaming rooms.
The Claymore was pleased to host Admiral Roberts as part of his inspection tour of 8th Fleet. In his crammed pinnace, he brought his whole recruitment kit, which involved banners, flags, tablecloths, buttons, signs, and flyers. It was a far sight from our meager kit. As a result, our table stood out as a professional organization, and I'm convinced, led many more people to come and be recruited. Admiral Roberts and myself held the first watch on Friday afternoon together for about six hours, when we finally broke for the evening, to return to our respective berths.
<![if !vml]>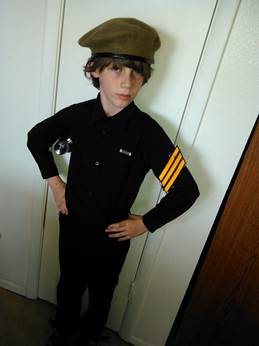 <![endif]>
Senior Cadet Ranger Asher Johnston really needs a haircut.
Saturday was the big day, and I am proud to say, the crew of the Claymore represented themselves well. The XO (Darren Lee) and S2/c Alex Brender were escorted to the ship in my cutter, along with my children Elizabeth and Senior Cadet Ranger Asher Johnston, my parents in-law, Mary and Christopher Stasheff, and the XO's fiancée, Fushia. LCPL Manuel Fierro joined us a little later, but between all of us, we managed to keep a spacer at the recruiting station, wrangle two squirmy kids, keep two grandparents in line, and recruit many new souls to the berths of the Claymore. I was even grateful to get an hour away to go swimming with my kids.
After manning our station from 10 am to 6 pm, we moved to the party room, where my crew prepared to receive boarders, while I went home to drop off my family. Considering this was the first time we held a party, not only did we have our current and new crew show up, but also many of the con staff joined us for a relaxed conversation fueled by the occasional alcoholic beverage. [What I didn't expect was that people mostly wanted water… and I ran out of that.] The admiral brought the makings of missile pods and snacks to the party, therefore allowing us to introduce two of our new recruits to the honored tradition of the RMN. By keeping sober, the XO performed superbly in keeping our guests supplied with beverages, helping out one of our crew who imbibed too much, and instituted cleaning procedures at the end of the night. I made sure he was awarded the Navy Achievement Medal for his diligent efforts. Around 20 people joined our party, which exceeded our expectations, considering our limited advertisement, and the fact that we were somehow located far away from the other parties.
<![if !vml]>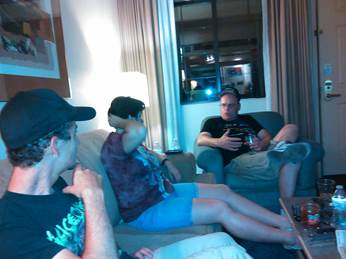 <![endif]>
Admiral Roberts holds court in our party room.
Sunday was a much shorter affair, due to the lesser turnout, and the need of the admiral to return to his flagship. We manned our station for only two hours, but this time, with the additional assistance of the MarDet: Major George Farmer and Gunny Courtney Farmer. Both of them had travelled far and at great personal expense to be there, and their desire to help and man the station, allowed me to take care of my daughter and parents throughout the final day. Finally we struck the station, packed everything up, and returned to base. S3/c James Brines traveled with me, and even though he had only been with us for a month, was a vital resource in helping me unloading our materials from my cutter. He was Mentioned in Dispatches for his good work.
We managed to recruit nine people at this event, which was a new record for our chapter, but I found a gem among the new recruits. Chris Paige came up to me at the table and said, "I want your hat." That started a conversation that ended with her volunteering to start a new chapter down in Tucson; now Pinnance Claymore-One is operational, and with all our members we have in that part of the state, it's only a matter of time before they become a full ship in their own right.
I had been looking forward to this con for months, and to my surprise, I have never had a better time at a con. It was a lot of work, and I certainly didn't see any panels at the con, but to have a growing chapter with excited new members was worth it. I owe a great debt of gratitude to Admiral John Roberts—without his help and amazing donations, we wouldn't have been half as successful. With his help, and a helpful crew, LepreCon was a victory for TRMN.
<![if !vml]>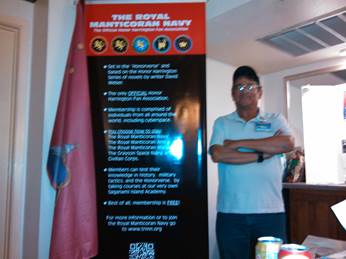 <![endif]>
LCPL Fierro posed in front of some of the recruitment kit that the admiral brought.
Article Copyright © 2015, Bureau of Communications, The Royal Manticoran Navy: The Official Honor Harrington Fan Association, Inc.
CAPT (JG) Marcus Johnston, OC, CGM, Director of Publications, BuComm. All pictures used with permission or used in a way that qualifies as fair use under US copyright law.