<![if !vml]>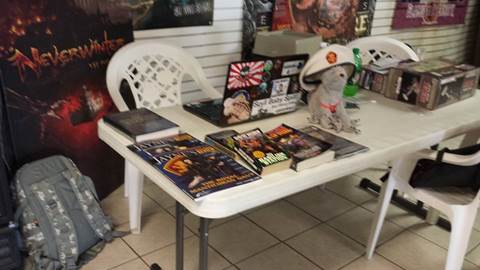 <![endif]>
The fully accessorized recruiting table at Ground Zero Omaha.
The Heart of Matters

2014.07.16 CE / 346.04.13 AL (MNB) – Even in a major metropolitan city, it's hard to get a chapter started. Now imagine having that same challenge in a regional center. This is the goal Commander Jaeryn Spedden set for herself when HMS Tisiphone docked at Ground Zero Omaha, a comic/game store in the Nebraskan city… not that difficult, by her own admission, as her ship 'is essentially based out of [the] store!' Taking advantage of Free RPG Day, Spedden packed her backpack with her Honor books, computer, and games and headed out the door with her treecat Kyorl on her shoulders. Of course, the 'cat insisted on wearing the white beret while at the event, and having no celery to bribe Kyorl with, she had to consent.
Once there, Tisiphone proceeded to run gunnery exercises. Ensign Andrew Kolb, in his role as Weapons Officer, served as the instructor for X-Wing for anyone who wanted to learn how to play. Starting at 5 pm and running until 9, the spacers of the Omaha area enjoyed destroying the Rebel Alliance (or the Imperial Fleet, depending on the session) time and time again. Four of Spedden's crew qualified for their first Marksmanship ribbon and another got his first couple rounds in the log book. Their efforts did not go unnoticed by the gaming community, and three more crew signed up (thanks to having her computer handy for on-the-spot enlistment), with the possibility of adding two more.  However, the best was yet to come. In an informal ceremony, Commander Spedden gave her executive officer, Lieutenant Commander Lee Kolb, her old collar rank insignia. 'Since we moved up a ship,' Jaeryn smiled, 'his new rank is my old one, so it works.' The gesture was not lost on the XO, who was reported as being 'incredibly stoked.'
The struggle of many of Sixth Fleet North's ships to reach like-minded people is a constant in the empty reaches of Sphinx orbit. Many spacers have to travel four hours or more at a stretch (i.e., Omaha to Oklahoma City, Des Moines to Minneapolis) to reach another ship. However, it's pleasing when you can find more friends closer to home.
<![if !vml]>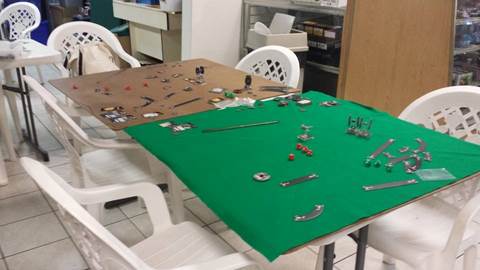 <![endif]>
Here is the end of the Rebel fleet.
Article Copyright © 2014, Bureau of Communications, The Royal Manticoran Navy: The Official Honor Harrington Fan Association, Inc.
CPO Caitlyn Miller, Manager, Manticoran News Bureau, BuComm. All pictures used with permission or used in a way that qualifies as fair use under US copyright law.