<![if !vml]>

<![endif]>
A Toast to Tilman
by CPO Caitlyn Miller, HMS Heracles (BC-566)

2014.06.18 CE / 346.03.25 AL Ė Have you ever read something in a book which is so good it has to be brought to life? The Royal Manticoran Navy Fan Association has brought to life the uniforms, treecats and even a few traditions from our beloved Honor Harrington books. There is one thing from the books which many have wondered, why isnít this real?
We may not have aircars or missile pods yet, but we do have something else, Old Tilman, Honor Harringtonís favorite beer.
The creator of the idea might be David Weber, but a version of it was brought to life by Elisa & Jed Randall from Minnesota. I interviewed Elisa about the beer which she and her husband have brought to the real world a recently series of posts on FaceBook about the adventures of brewing and here is what she had to say:
You're making the famous (or infamous) Old Tilman, favorite beer of Honor Harrington. What is it based off of and how does it taste?
First, we researched the books out at the time to find some descriptions of what Old Tilman would taste, look and smell like.† We found such quotes as:
<![if !supportLists]>∑ <![endif]>"He (Paul) was drinking Old Tilman, a Sphinxian brew Honor had introduced him to, and he savored its rich, clean taste."† Field of Dishonor
<![if !supportLists]>∑ <![endif]>"...two frosty steins of dark amber beer."† "...For that matter, Honor had come to suspect that some subtle mutation in the hops or barley grown on Sphinx was responsible for the unique and outstanding products of the Tilman Brewery."† Ashes of Victory
<![if !supportLists]>∑ <![endif]>"That's because the worst that can happen here is that you get blown up," Henke said dryly.† She crossed to the wet bar, opened a small refrigerator, and produced a pair of chilled bottles of Old Tilman. Honor chuckled appreciatively, although her amusement was clearly less than complete, and Henke grinned as she opened the beer bottles."† (This tells us that it was enjoyed cold rather than at room temperature.)† Ashes of Victory
<![if !vml]>

<![endif]>
The Starter on a hot plate.
Then, we factored in Honor's taste.† Honor did not like the bitterness of coffee, although she did like the smell. Therefore a bitter, hoppy brew would most likely not be to her liking.† Honor also loves her hot chocolate, and would be likely to savor some rich, chocolatey notes in her beer of choice.
Being that I do not like coffee and love hot chocolate, making my own from scratch at home, we knew I would make a good taste tester in terms of what Honor might like.† Jed, who has been a home brewer for many years, making more than 100 batches of beer in his brewing career as well as being a certified beer judge, made for the perfect brewer for our special project.† With help from our brewing friend and neighbor Steve Cloutier and the use of our pooled brewing equipment, we dove in with enthusiasm!.
<![if !vml]>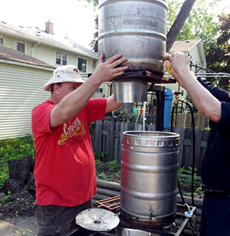 <![endif]>
Jed Randall and Steve Cloutier setting up equipment
How much did you make this time around?
Two batches, which is about 20 gallons
<![if !supportLineBreakNewLine]>
<![endif]>
About how long does it take to make this wonderful beer from start to finish?
About 5 hours to cook up a batch and 3 weeks or so to ferment and mature.
<![if !supportLineBreakNewLine]>
<![endif]>
What is your favorite part of the process of making the beer?
<![if !supportLists]>1. <![endif]>Brewing with friends. Making beer is a social event!
<![if !supportLists]>2. <![endif]>Deciding on the recipe and process conditions, then seeing if we can hit the flavors, balance and appeal that we're shooting for.
<![if !vml]>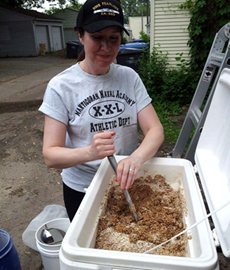 <![endif]>
Elisa Randall preparing another part for the Old Tilman.
All sheíd need is Nimitz on her shoulder and sheíd be Honor.
Any complications?
The startup was slow, as we had some trouble with a hot water tank fitting that was leaking.† This cost us about an hour of time out of an entire day's worth of work.† Rain threatened all day and came down in small amounts here and there. This batch of Old Tilman has a few drops of rainwater added! We were cleaned up before the rain came crashing down, so luck was on our side.
<![if !vml]>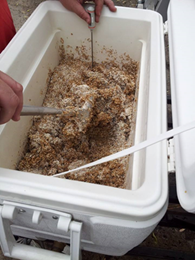 <![endif]>
Itís coming out nicely so far.
Does Old Tilman have its own logo?
Although there is no logo illustrated in the books, I was lucky enough run across the works of graphic designer/artist Nicole Hefner, who took it upon herself to make the logo, bottle labels and poster for Old Tilman!† She did a marvelous job, and we were inspired to reach out to her to ask if we could use her artwork for our brew. With her approval, we have been using the logo for the last 3+ years.
<![if !vml]>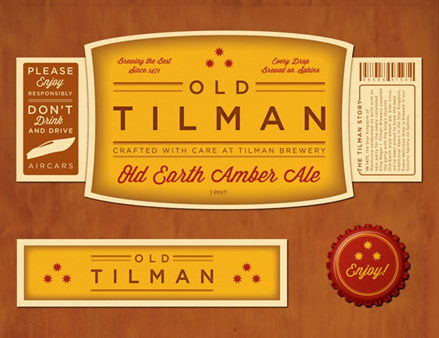 <![endif]>
The Old Tilman logo created by Nicole Hefner.
Anything else you would like to inform people about?
Our interpretation of the recipe was based on English tradition. Itís a beer that is stronger than English browns, with more chocolate balance than porters and stouts and right on the lower of strength of an Old Ale. So far, it has been enthusiastically received by TRMN members and convention goers for a good three years, even receiving accolades from a visiting brewer from a local microbrewery!
<![if !vml]>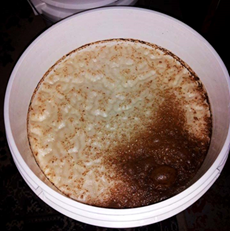 <![endif]>
Old Tilman fermenting happily in a container.
Here's a little background on Old Tilman, thanks to author David Weber:
<![if !supportLists]>∑ <![endif]>The Tilman Brewery was a Manticoran brewing company located on the planet Sphinx. They were the brewer of one of the most popular beers in the Star Kingdom of Manticore, Old Tilman. References to Old Tilman can be found in HH4 and HH9.
<![if !supportLists]>∑ <![endif]>Interesting Factoid: It is spelled "Old Tillman" in War of Honor.
<![if !supportLists]>∑ <![endif]>To check out the artist stylings of graphic artist Nicole Hefner, check out her Blog Spot at†† http://hefnerdesign.blogspot.com/2012/01/old-tilman.html
<![if !supportLists]>∑ <![endif]>Postscript:† Since the time we've made Old Tilman, a more detailed and different description of it has come out.
<![if !supportLists]>∑ <![endif]>From the David Weber forum:† "Old Tilman doesnít actually have a precise terrestrial analog. The best way to think of it would be as a hoppy oatmeal stout with a touch of honey added for sweetness. What gives it its distinctive flavor, and the reason there isnít a precise terrestrial analog, is that it is brewed exclusively on Sphinx using both oats and hops which have mutated/been genetically altered to suit their new environment. As a consequence, the oat-based malt has a fuller, sweeter flavor with a hint of almond and the hops are milder, not quite so bitter flavored. Itís really quite good, but Iím afraid Iím not prepared to share my personal stock of it with anyone else at this time. Sorry."
<![if !supportLists]>∑ <![endif]>Perhaps in the future, we may decide to try making this version of Old Tilman as well, as it would be great to offer Old Tilman Original Dark as well as Old Tilman Oatmeal Stout.
References:† Honorverse Wikipedia, David Weber Forums, Honorverse books by David Weber
Special Thanks to Steve Cloutier, fellow brewer and good friend.
<![if !vml]>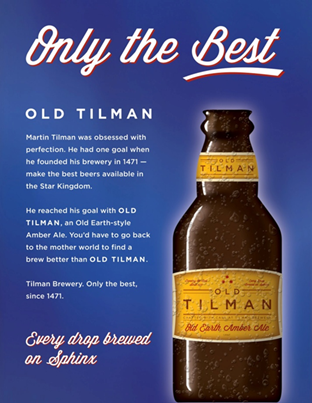 <![endif]>.
Article Copyright © 2014, Bureau of Communications, The Royal Manticoran Navy: The Official Honor Harrington Fan Association, Inc.
CPO Caitlyn Miller, Manager, Manticoran News Bureau, BuComm. All pictures used with permission or used in a way that qualifies as fair use under US copyright law.