<![if !vml]>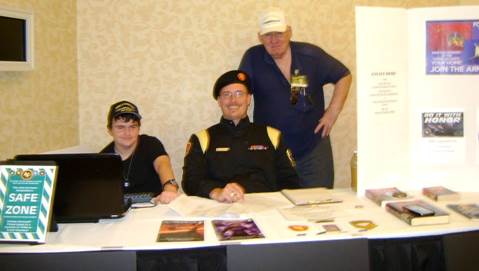 <![endif]>
S3/c Cody Gomolski, MCPO Marcus Johnston, and LCDR Craig Porter manning the table at LepreCon.
Fifty Shades of Green
by MCPO Marcus Johnston, HMS Condor (DD-1233)

2014.06.11 CE / 346.03.18 AL (MNB) Ė Thereís something unnerving about having a con within driving distanceójumping between your roleplaying and your real life in the same day confuses the mind greatly. I wasnít sure what to expect out of LepreCon 40, a smaller sci-fi convention held in Mesa, Arizona from May 8th through the 11th. I was attending to represent our tiny ship, manning a recruiting station in the hope that the three hundred or so fellow geeks that showed up would join our crew.
It didnít start off well; registration failed to receive the paid member list and were forced to hand make each of their badges. They assigned fan tables without looking at the website where people had signed upÖ but at least they had one, although in a different place than I picked. To top all that, I had thrown out my back Friday morning before arriving to the convention, so I found it difficult to sit or stand for any length of time.
However, the recruiting station got set up (thanks to some help from my understanding wife), and I was ready. I managed to get three new recruits that first day; two of which became invaluable to my lonely vigil. Spacer 3/c Ben Padegimas was at the convention as a runner, helping his dad who was the conventionís chairman. Spacer 3/c Cody Gomolski is Benís friend, also working as a runner, but both of these young men hung out at my table keeping me company. While there, as a senior enlisted, I made sure to instruct our new recruits on the duties and fun of being in TRMN. Gomolski was so excited about joining our ship that he wanted to help, so he redesigned our chapterís website while he was sitting there!
<![if !vml]>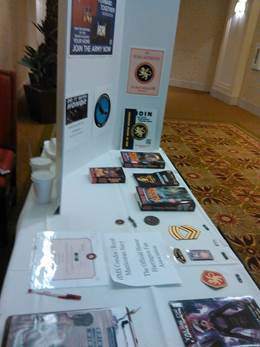 <![endif]>
Plenty of Manticoran swag to show off.
My children were present on Saturday and Sunday, which meant having to leave the table to escort them to their programming, but Cadet Ranger Asher Johnston (my son) provided a great deal of cuteness which doubtless attracted people to the table. Our skipper, LCDR Craig Porter, even climbed out of sick bay to lend a hand, even though he quickly learned that was too much to handle, I appreciated his presence. My persistence paid off, however, as we managed to recruit two more people, giving us a total of five new spacers on our roster.
Considering how little I saw of the convention, I rather enjoyed myself. I got to talk with fellow fans of David Weber, met people of all stripes of the geek continuum, and hung out with the Adult Lego builders across the hall from me. After our success, we are planning to attend Phoenix Comicon, although in a limited capacity as a panel, but I think many people overlook these small cons. The more intimate atmosphere allows people the time and space to get to know people and take their time with their hobby. Iím definitely going next year, and Iím confident I will not man the recruiting station alone.
<![if !vml]>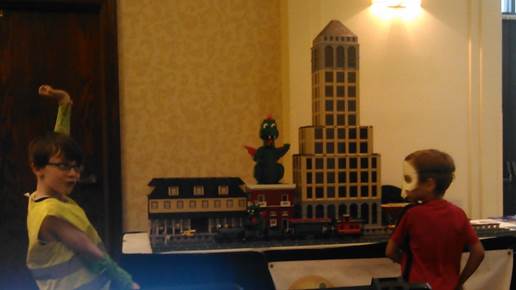 <![endif]>
Cadet Ranger Asher Johnston (left) shows off the coolness of the Lego table across from us.
Article Copyright © 2014, Bureau of Communications, The Royal Manticoran Navy: The Official Honor Harrington Fan Association, Inc.
CPO Caitlyn Miller, Manager, Manticoran News Bureau, BuComm. All pictures used with permission or used in a way that qualifies as fair use under US copyright law.