<![if !vml]>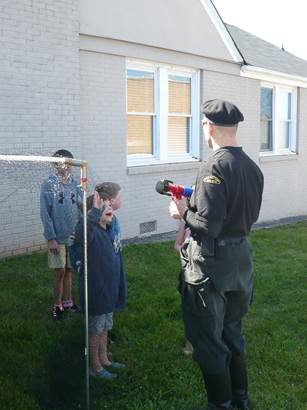 <![endif]>
Petty Officer 1/c Arasin Staubly training some new recruits (or holding them at gun point)
There IS Such a Thing as a Free Comic

2014.06.04 CE / 346.03.07 AL (MNB) – On May 3rd, across the country, stores specializing in graphic novels opened their doors and their inventories for Free Comic Book Day. With the release of Top Cow Production's graphic adaptation of On Basilisk Station, spacers decided to take advantage of this opportunity to spread the joy of Honor Harrington to those less fortunate. At Richard's Comics and Collectables in Greenville, SC, the hometown of Lord Sir David Weber, Duke New Scania, HMS Saladin docked and set up a field exercise for everyone to enjoy.
<![if !vml]>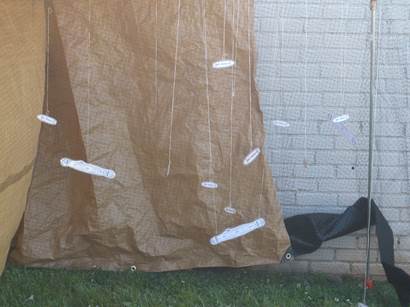 <![endif]>
The target range, complete with ships of the line, and missiles to shoot down.
On top of the store's thousands of free comics, artists drawing free sketches, a free kids art contest, prizes, costumed characters, and a giant basement sale, Lieutenant (SG) Steven Firestine set up HMS Saladin's recruiting table. They didn't stop there—in addition to information, they held a raffle for signed David Weber items including a signed poster and a signed Tales of Honor #1 comic, all funds going to support Big Cat Rescue and the Third Fleet Midshipman Cruise Program. However, the big draw was PO1 Arasin Staubly's firing range. With an arsenal of Nerf weaponry at their disposal, they proceeded to shoot down missiles and ships to improve their gunnery skills. Kids were drawn to this event in droves. "We need Midshipman," Captain (JG) Angela Clayton exclaimed, "offer them cookies!" However, the range warden was much more subtle. "I was trading quiz answers for the opportunity to fire the device in my hands," explained Petty Officer Staubly. He has since noticed with chagrin that pictures of the event show he had his beret on incorrectly, "A very young gentleman 'helped' me with my beret - something I didn't really register until far too late."
The ship's captain was pleased with the effort. "They not only represented HMS Saladin, but 3rd Fleet, and the entire TRMN," LCDR Phil Clayton proudly announced. "You helped open the world of imagination to some and perhaps remind others that their imagination is still part of what and who they are. You have your Ship's, Crew's and Captain's Thanks!"
<![if !vml]>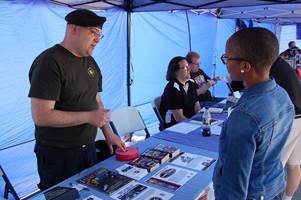 <![endif]>
LT(SG)Steven Firestine conversing with a potential recruit.
Article Copyright © 2014, Bureau of Communications, The Royal Manticoran Navy: The Official Honor Harrington Fan Association, Inc.
CMDR Marcus Johnston, OC, RMN –Director of Publications, BuComm/BuTrain. All pictures used with permission or used in a way that qualifies as fair use under US copyright law.