<![if !vml]>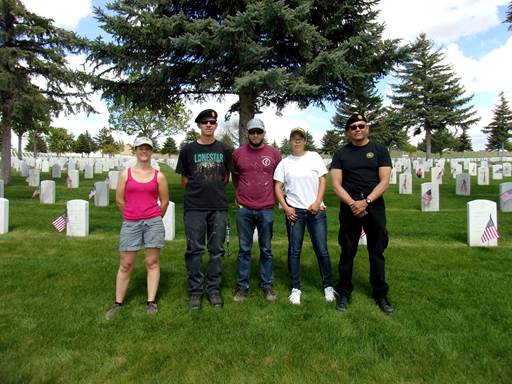 <![endif]>
The crew of HMS Avalon pose after their work at the Santa Fe National Cemetery.
Honoring the Fallen
HMS Avalon volunteers at the National Cemetery
2015.06.03 CE / 346.13.22 AL (MNB) – To many people, Memorial Day is just the official beginning of summer; they forget what they are supposed to remember. Decorating the graves of fallen soldiers is an American tradition dating back to the end of the Civil War, when it was called Decoration Day, although many communities claim to be the first to observe it. However, as members of TRMN, it only seemed right to Commander Dan Brandow, commanding officer HMS Avalon, that they should help observe Memorial Day by helping out the national cemetery right in their town of Santa Fe, New Mexico.
The Santa Fe National Cemetery was established for the reinterment of Union soldiers who died during the brief military activity in the Civil War, namely the Battle of Gloriana Pass in 1862, which stopped the Confederate Army from seizing New Mexico. They first had to get the Roman Catholic Diocese of Santa Fe, who owned the property, to donate the land to the United States in 1870. Then they lost their status as national cemetery in 1876, as a way for the War Department to save money, and they had to fight for nine years to get its status back.
<![if !vml]>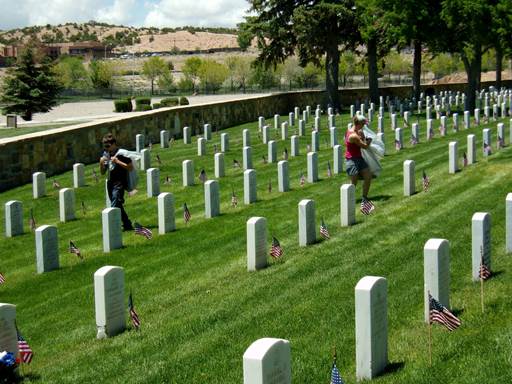 <![endif]>
Two fleets exchanging blows in a narrow strait.
Just like the history of the cemetery itself, finding a way for HMS Avalon to volunteer was difficult, since the cemetery didn't offer weekend hours for groups to help out. However, after a little negotiating, they finally found a time to go on Friday, May 22nd. The night before, a terrible thunderstorm had ripped through the Rio Grande Valley, knocking out branches, and throwing trash around. So in addition to making sure the 32,000 U.S. Flags were upright at the cemetery, the crew also had to pick up debris and trash. Seven of them showed up to help, including their captain, Commander Dan Brandow, the acting XO, Ensign Michael Roybal, and the bosun, Chief Jacob Sandoval. Jacob's son Mikhail was also there, as well as Spacer Amrit Khalsa, and Private Victor Mena and his wife Lisa.
For all of them, it was a meaningful time, especially for the bosun and his son, who served in the Navy and Army respectively. "The Veterans of this Country deserve our respect," Commander Brandow explained, "and as members of a fictional Navy, I believe it is good we give back as a group." Give back they did, covering most of the 78 acres of land that the national cemetery sits on, making it ready for the thousands of visitors the cemetery was expecting that weekend.
<![if !vml]>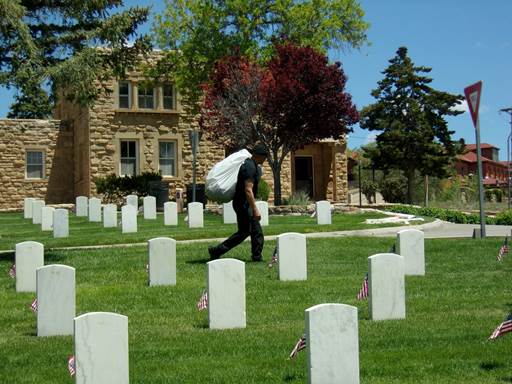 <![endif]>
He's probably wondering… did I miss a flag?
It seems such an arbitrary date, unlike Veterans' Day, which symbolized the end of World War I. However, it was the third commandant of the Grand Army of the Republic, Major General John Logan, first declared that Decoration Day should be observed on May 30th, 1868. It didn't become an official holiday until 1971. May was chosen because they could be sure that flowers would be in bloom in all parts of the United States; and the 30th was chosen to not conflict with any battle anniversary, to keep the focus on those who served and died, not who won. As the Sixth Space Lord, Admiral of the Red James Friedline, observed, "this is a true example of service."
<![if !vml]>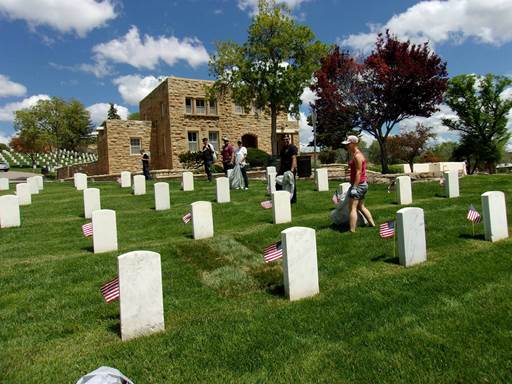 <![endif]>
A line of battle… or trash cleanup. Either way.
Article Copyright © 2015, Bureau of Communications, The Royal Manticoran Navy: The Official Honor Harrington Fan Association, Inc.
CAPT (JG) Marcus Johnston, OC, CGM, Director of Publications, BuComm. All pictures used with permission or used in a way that qualifies as fair use under US copyright law.