<![if !vml]>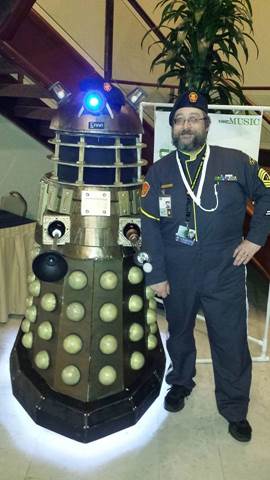 <![endif]>
Recruiting at Norwescon for the Mesan occupation. (Clara the Dalek and SMCPON Tom Coonradt)
Elegance and Entropy

2014.05.28 CE / 346.02.37 AL (MNB) – Tenth Fleet has felt very much separated from the rest of the Navy, guarding the Talbott Quadrant with only three ships… but now the tactical situation has changed. Artemis joined the Tenth down in San Francisco, and at NorWesCon on Easter Weekend, a new ship joined their ranks. HMS Black Rose (BC-520) was commissioned to serve in the Portland, Oregon area, under the command of Captain (JG) James Sena. This prestigious event brought out none other than the First Space Lord himself, Scott Akers, to witness the commissioning ceremony. "Thank you one and all," the newly-minted Captain Sena beamed. "This has been a whirlwind weekend. The officers and crew of HMS Black Rose look forward to the challenge of representing 10th Fleet and TRMN both from our berth in Oregon and wherever our orders take us."
NorWesCon was filled with excitement as the two ships came together for this field exercise. Michael Moorcock, the English-born author of the Elric of Melniboné fantasy series, was the con's Guest of Honor, which was a huge draw for many fans. In addition to the many panels and presentations that accompanied this star-studded event, there was even a "Let's Make a Movie" workshop, which has been a staple of the con for the past fourteen years. This workshop allowed you to learn about making short movies by doing it right there! With the help of a few professional filmmakers participants worked up a story, worked up characters, hunted down props, planed a shoot, got it "in the can," and eventually, finished the final edits.
<![if !vml]>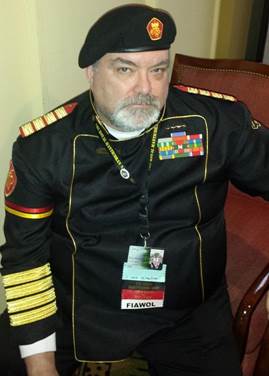 <![endif]>
This is an exceptional photo of a very dapper 1st Space Lord (FADM Scott Akers).
Of course, serious work was being done, in the form of several charitable efforts. The con staff itself supported the efforts of Northwest Harvest, Washington State's largest resource for hunger relief efforts. They had a donation bin in the lobby for shelf-stable food donations, as well as items to bid on in Sunday's auction. That gave TRMN a challenge to meet, and the crew of HMS Truculent (and the newly formed HMS Black Rose) did not disappoint, holding their second annual charity event, a treecat and game raffle, raising a total of $326 dollars! Not only did they support the Navy's favorite charity of Big Cat Rescue, but also the Green Cross Academy of Traumatology, which provides mental and emotional assistance to first responders in disaster areas. The Green Cross Academy is close to Truculent's heart. For example, Ensign Mir Plemmons is associated with the Academy, and has been working in the Oso Landslide area at different times for either Green Cross or within his Washington State Guard duties. Surgeon Commander Sir Patrick McKinnion, although not an EMT himself, holds advanced First Aid and CPR credentials, and has many friends in the EMT and Emergency Services field. In fact, he has been a volunteer first aid person at many SF/F conventions, and has been a Warranted Chirurgeon in the SCA since 1998. Both Green Cross and Big Cat Rescue will be splitting the proceeds of the raffle, receiving $163 each.
Of course, no field exercise can be perfect, and through the trials that can be inflicted by such a large con, the joint crews powered through. Their leadership was not immune. Captain (JG) Timothy Monk, commanding HMS Truculent, noticed that he "Had a bit of a uniform malfunction, my rank pips broke off of both… and got lost Friday." Commander McKinnion noticed that "When I got home from the con, I got no less than five messages on Facebook from people saying they tried to sign up for the HMS Truculent on the main TRMN site, but couldn't find the ship on the drop-down menu." Marshal of the Corps Sean Niemeyer, who wears a second hat as the Staff Communications Officer for the First Lord of the Admiralty, assured him they were fixing the glitch.
On top of all this craziness, the feat that was most impressive was the fact that there were no plans to launch to ship when the spacers arrived at the con. On the second day of the event, Fleet Admiral Akers and senior officers were able to organize, plan, and launch a ship on Friday afternoon. Even the First Space Lord had fun, although you wouldn't know it from the pictures that were taken. "[He was] just disappointed because [the] Chief told him 'no floggings tonight, Your Excellency,'" observed 2LT Joseph Grieco. However, Captain Monk put it best. "It's amazing what can be done in six hours at a convention when you put your mind to it!"
<![if !vml]>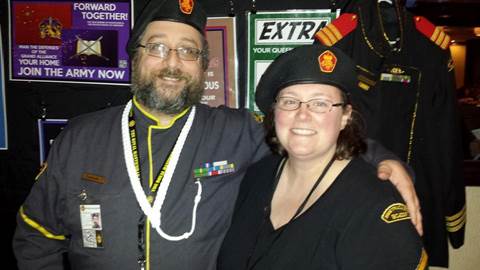 <![endif]>
Spacer 3/c Christina Coonradt joined her husband SMCPON Tom Coonradt this con. (The jacket belongs to CMDR Patrick McKinnion.)
Through adversity, the con brought the crews closer together. "She even kinda dressed up for me," SMCPON Tom Coonradt spoke fondly of his wife, S3/c Christina Coonradt. "She was such a trooper. Helped out a lot." Along with Christina, Civilian 3 Camin Bradbury, and SFS Probationary Ranger Mhari McKinnion-Bradbury did a fantastic job, not just at the recruiting table, but in volunteering throughout the event.  
Bradbury and McKinnion both organized youth programming events in their roles as Norwescon Staff, with the help of Christina Coonradt and Mhari McKinnion-Bradbury helped with gaming and masquerade events, as well as functioning as a teen "runner". Bradbury organized a kids' Airship Regatta which was well-appreciated. Her partner, McKinnion, was not to be outdone with a "build a city and destroy it, Kaiju-Style" event for ages 4-8 was a major blast. An hour to build the city out of cardboard boxes and packaging; thirty seconds to destroy it. It was a pasteboard apocalypse full of happy kids and cardboard pieces.
At the close of the convention, the Truculent crew decided to start a new tradition, handing out TRMN Challenge Coins to the staff and volunteers that made a difference to us. Captain Monk presented his to Shawn Marier, the hotel liaison (and past chairman of Norwescon), along with Kat Marier, the Executive Secretary for Norwescon. Commander McKinnion presented his to Scott Perrin for his efforts in running the wildly successful Laser Tag tournaments at the convention. Ensign Mir Plemmons gave his to Dara Korra'ti for that person's work on the filk and music tracks.
It is clear that Tenth Fleet continues the fine tradition of the Navy in the Talbott Quadrant. Together with their new sister ships, the Truculent works hard to uphold Honor in the scattered conventions in the Pacific Northwest.
<![if !vml]>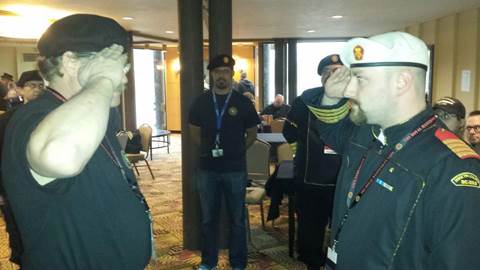 <![endif]>
One captain recognizing another. Foreground, L to R, James Sena and Timothy Monk. Background L to R, Mir Plemmons, Troy Cole, and Scott Akers.
Article Copyright © 2014, Bureau of Communications, The Royal Manticoran Navy: The Official Honor Harrington Fan Association, Inc.
MCPO Marcus Johnston, RMN –Director of Publications, BuComm. All pictures used with permission or used in a way that qualifies as fair use under US copyright law.