<![if !vml]>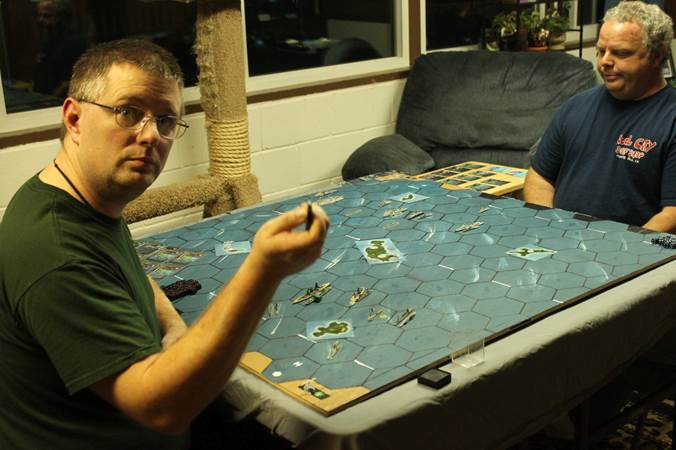 <![endif]>
Corporal Scott Taggart holds his destroyed ship in disbelief as his grand strategy falls apart.
A Bivouac at Sea
Muir Point playing Axis & Allies War at Sea
2015.05.27 CE / 346.13.14 AL (MNB) – There's a saying among gamers: crack would be cheaper. However, for those worthy individuals who have invested seriously in their miniature gaming materials, when you see an entire American carrier group rolling over the competition, the payoff is worth it. So it's understandable that members of the Muir Point Bivouac get together, they want to get as much play out of their ships as possible.
Wizards of the Coast figured out to expand the popular Axis and Allies franchise starting out with their European theatre version back in 1999. However, their later Pacific theatre game lacked a solid naval combat system. So in 2007, they came up with a miniatures version, giving the casual naval gamer the joy of moving a physical ship across a board, but still using the streamlined rules that the A&A is known for. Now people can get involved with a WWII battle at sea without memorizing the shell size of an Iowa-class battleship, or renting a gymnasium to fit the miniatures on a scaled down ocean.
<![if !vml]>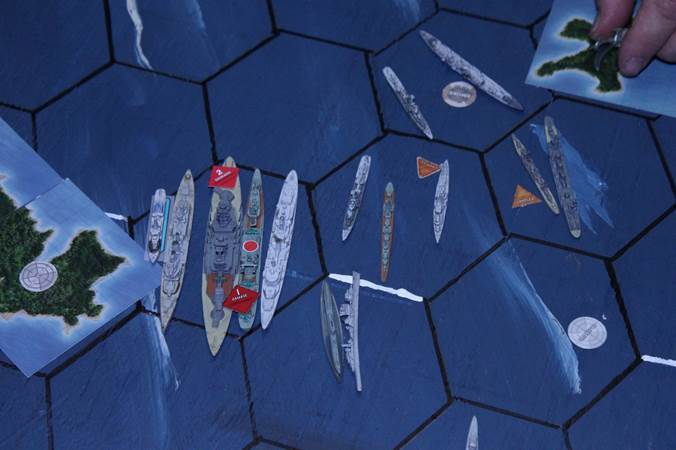 <![endif]>
Two fleets exchanging blows in a narrow strait.
Corporal Scott Taggart, commanding the Muir Point Bivouac, is one of those addicts waiting to try his fleet out against all comers. First introduced to A&A while he served in the US Army down in Panama, it started a life-long love of gaming, which followed him as he became an assistant manager at a gaming store when he returned to the civilian world. About six years ago, Taggart discovered the A&A minis game and managed to convince a couple of civilians, Bob West and Darren Fong, and formed the Armchair Admirals.
Bob is the avid naval historian, who actually helps with WWII PT Boat restoration, and he primarily plays the Allies, specializing in cruiser tactics and screens. In fact, Bob is putting together a scenario guide on his website, all proceeds going to the USO. Darren plays primarily Japanese, and is usually carrier and airplane heavy, but occasionally goes as the Americans as well. Scott primarily plays Germany and Italy, and also has a strong Allied Atlantic fleet, but his main love is subs. His German Wolfpack is almost 20 subs strong.
<![if !vml]>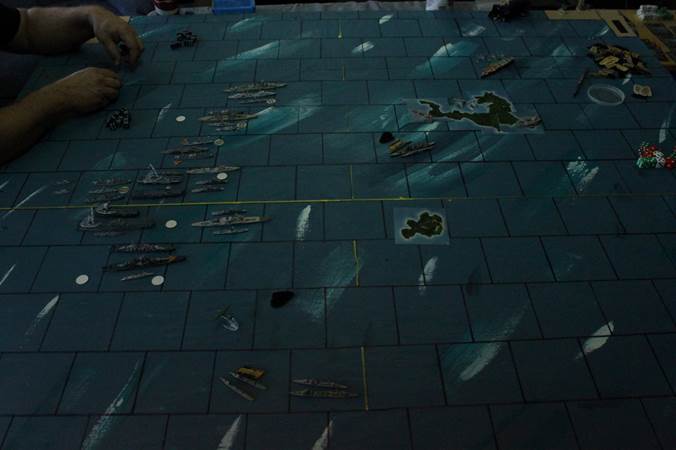 <![endif]>
"Nonsense, Klaus, the American fleet doesn't have that many ships."
In their most recent engagement, Bob set up a board of his own creation, which can hold up to 15000 point games on it. Scott faced his Allied fleet against the power of the Imperial Japanese Navy. In one game, 'the Allies won by landing on Iwo, but it cost America two thirds of its cruiser force. It also cost America most of its air cover, heavily traded with the IJN forces,' Taggart explained. But the vagaries of fate may grant the laurels in one battle, and in the next, 'I'm getting my rear admiral handed to me.'
Corporal Taggart would love to play any RMN Navy vets or even host a game at a con. 'It's an excellent change to explore and learn about military… and WWII naval history,' he smiled. So if you're willing to put in the time and investment, Axis & Allies at Sea is a thrilling game, and a quick one—perfect to enjoy time on an afternoon with your friends.
<![if !vml]>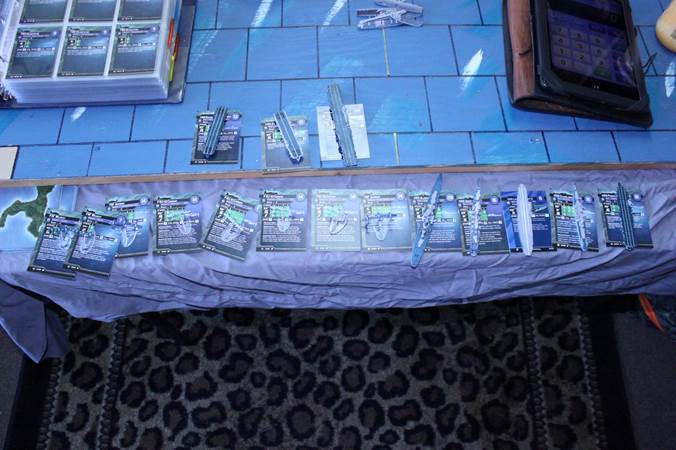 <![endif]>
A massive line of battle.
Article Copyright © 2015, Bureau of Communications, The Royal Manticoran Navy: The Official Honor Harrington Fan Association, Inc.
CAPT (JG) Marcus Johnston, OC, CGM, Director of Publications, BuComm. All pictures used with permission or used in a way that qualifies as fair use under US copyright law.