<![if !vml]>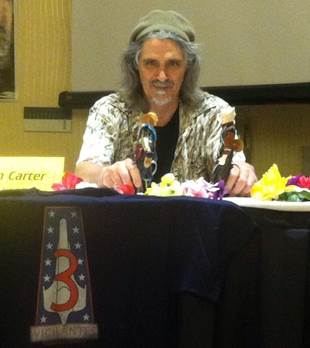 <![endif]>
Jason Carter (Marcus Cole from Babylon 5) plays with his G'Kar and Lennier dolls at Treklanta.
Playing with Dolls
HMS Achilles heads to Treklanta
2015.05.13 CE / 346.12.37 AL (MNB) – Sometimes one wonders if the sci-fi community is a little TOO interrelated. For example, take HMS Achilles in Third Fleet: The Captain is in the SCA, the Exec and the Bosun are both Admirals in StarFleet International, and the Chief Engineer used to write several Dragonriders of Pern fanzines. So when that ship arrived at a convention named 'Treklanta,' held at the Atlanta Marriott Century Center from April 24th to the 26th, none of us should be too surprised. Despite the 'Trek' name, the convention is open to all Science Fiction and hosted a wide range of guests, including Jason Carter from Babylon 5, Anne Lockhart from Battlestar Galactica, and the prolific sci-fi/fantasy author Keith DeCandido.
Upon docking, Achilles moved into action, with Senior Chief Petty Officer Kelly Hilliard and Intelligence Specialist 2nd Class Scott Ash securing an excellent location for their recruiting table in front of the exit from the Dealers Room. Commander Mike Henigan stopped by to help, but he couldn't stay long, because he was responsible for the Gaming Room at the convention. 'I only wish I could been there more often,' Henigan sighed. 'I did wear TRMN shirt and hat all day Sunday and steered people to the booth from Gaming. We had the best looking table for sure, you guys did an awesome job!' With the high ground seized, and the RMN presence known, Captain (JG) Dave Weiner and Ensign Dave McCombs arrived (the Chief Engineer had to fly three hours across the Atlanta system to get there) and began pulling in the recruits.
<![if !vml]>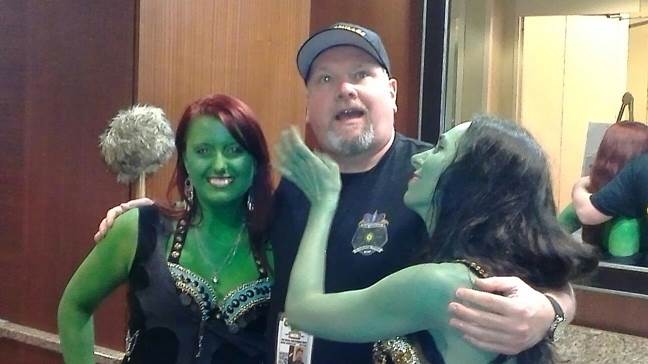 <![endif]>
IS/2 Scott Ash finds himself surrounded by Orion slave girls.
However, IS/2 Ash really took his rating to heart, using his personal contacts with local (and sometimes not so local) members of fandom to disseminate the propaganda… er, spread the good name of the RMN.  The fact that some of those contacts were Orion slave girls didn't hurt. Thanks to his efforts, they were able to draw more people over to the ship than ever before. 'It was an honor and pleasure to serve with you guys,' Ash nodded, 'and I look forward to the next mission.' For Ensign McCombs and Specialist Ash's hard work, they were Mentioned in Dispatches by their captain. The award is better known in Third Fleet as the "Divorce Stripe," after the enjoyment Lieutenant Niki Rece had in trying to sew Captain Ken O'Dell's yellow stripe at the official thirty degree angle on his uniform.
When they weren't working the table (and the attendees), they enjoyed the many treats that Treklanta had to offer. The Author Guest of Honor, Keith DeCandido, hosted a panel discussion about himself and all those Star Trek novels he's written, and then walked over to the recruiting table and joined TRMN! (Well, at least, his fiancée signed him up.) He then went on to judge the 16th annual Miss Klingon Empire Beauty Pageant on Saturday night. Yes, there was a Klingon Beauty Pageant - featuring the most beautiful, courageous and honorable women from the Empire, competing in Beauty, Talent and Personality categories. (No bat'leth fighting in bikinis. Unfortunately.) The winner received an awesome array of prizes in addition to the title Miss Klingon Empire.
<![if !vml]>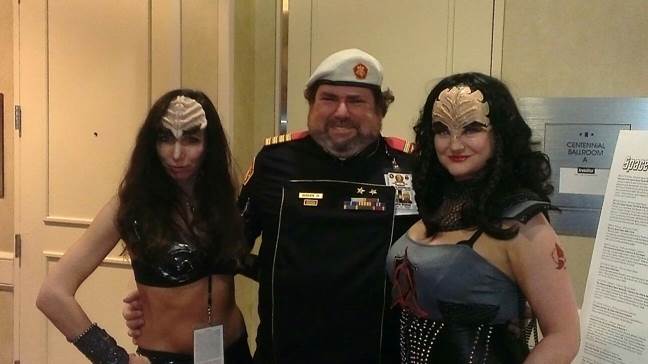 <![endif]>
Captain Weiner investigates the candidates for Miss Klingon Empire.
Despite the attraction of the Independent Star Trek Fan Film Awards on Sunday afternoon, Jason Carter (who played Ranger Marcus Cole) showed up at the Babylon 5 panel. Not content to simply fall back on his Shakespearean training, he picked up the G'Kar and Lennier dolls (that just happened to be on the presentation table) and started acting out a scene to the delight of all who attended.
By the end of the convention, they had pulled in eight new souls, five for their own ship, and one each for Bivouac Peachtree, Bivouac Hurricane, and HMS Phantom (in Florida).  'I know how to recruit,' Captain Weiner preened as he polished the four diamonds on his collar. Of course, Captain Christopher Fells, GSN, had to point out that his technique left something to be desired.  'It's free... fun... and did I mention it's free?'
When it came to finally tear down and take the pinnances back to the ship, this motley crew felt confident that they had upheld the honor of the Queen, and shined among all the other ships there. Maybe next year they can call the convention 'Mantlanta?'
<![if !vml]>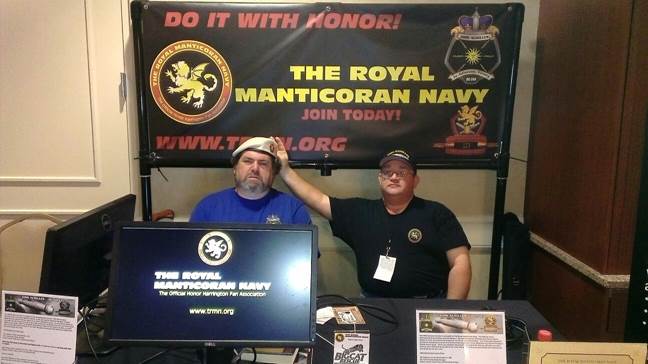 <![endif]>
Oh… and we had a recruiting table too. Everyone wants that white beret…
Article Copyright © 2015, Bureau of Communications, The Royal Manticoran Navy: The Official Honor Harrington Fan Association, Inc.
CAPT (JG) Marcus Johnston, Director of Publications, BuComm. All pictures used with permission or used in a way that qualifies as fair use under US copyright law.