<![if !vml]>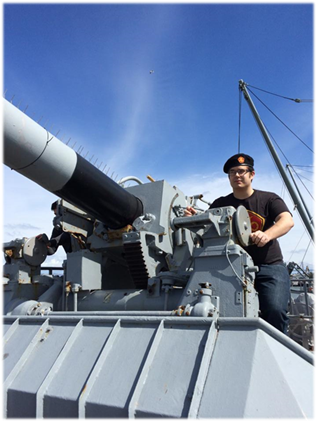 <![endif]>
CPT(SG) Thomas Marrone heroically manning the AA gun on board SS Jeremiah O'Brien.
Give Me Liberty (Ship) or Give Me Death

2014.05.07 CE / 346.02.14 AL (MNB) – Right before they became HMS Artemis, HM Pinnace Roland One came together on March 30th aboard the Armed Merchant Vessel, SS Jeremiah O'Brien, docked on Pier 45 in San Francisco, California. "[It's the] last remaining Liberty Ship from the Invasion of Normandy," Commander Zach Perkins beamed, "What's awesome about the… O'Brien is that it's not just a museum ship. It's completely sea worthy and goes out on cruises in the bay quite regularly. They even made the journey all the way from California to France for the 60th anniversary of the [D-Day] Invasion."
According to their website, "the O'Brien made seven World War II voyages, ranging from England and Northern Ireland to South America, to India, to Australia. She also made eleven crossings of the English Channel carrying personnel and supplies to the Normandy beaches." However, after the war, she was mothballed, but a former Liberty Ship sailor turned federal official saved the O'Brien from the scrap yard. "In 1979, after hundreds of hours labor by volunteers… the O'Brien headed for San Francisco to be restored. No other ship ever has steamed out of the mothball fleet under her own power."
<![if !vml]>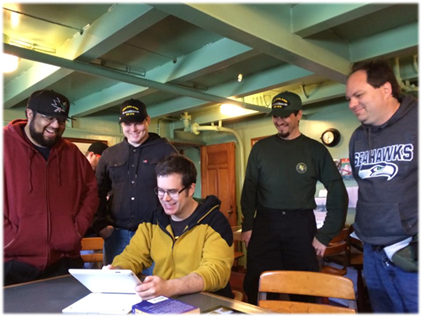 <![endif]>
The ship meeting in the Officers' Mess. (left to right) CPO Michael Garcia, LT(JG) Erik Roberts, CPT(SG) Thomas Marrone, MSGT Jeremy Henry, and S3/c James Jones.
After a fascinating tour of the ship, the crew of Pinnace Roland One met on the ship. "How was your chapter's TRMN meeting? Ours was in the officer's mess of an actual ship!" Perkins announced. They discussed upgrading to a hyper-capable ship and recruiting to reach that goal. Since they were only waiting on BuShips' approval, personnel changes needed to be made. Michael Garcia stepped forward to be the new ship's bosun, and understanding the need for officers, Erik Roberts volunteered to be a division head. Perkins also collected money for ship patches, as well as borrowing several Honor Harrington anthologies from Captain Thomas Marrone. They encouraged everyone to take BuTrain classes, discussed uniform alternatives, and discussed their future meeting plans.
It would hard to beat meeting on a Liberty Ship, but the submarine USS Pampatino is right next to O'Brien, and therefore perfect for their next meeting. However, the San Francisco Bay holds a major naval base, so they also discussed the possibility of meeting on the aircraft carrier USS Hornet for their "Living Ship Days," coinciding with their launch celebration as BC-592.
<![if !vml]>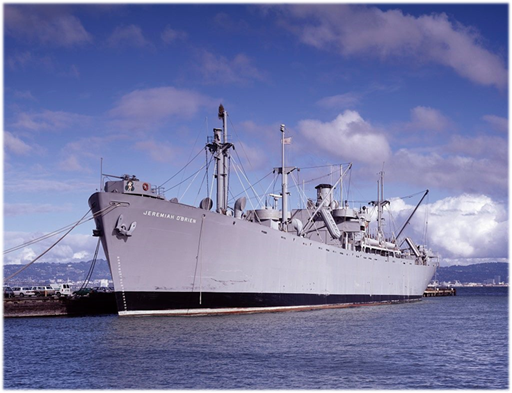 <![endif]>
SS Jeremiah O'Brien docked in San Francisco.
Everyone enjoyed their time on board such a historic ship, and much enjoyment was had standing in the steps of legends… as well as playing with the anti-aircraft guns on the deck. "The O'Brien is approved by the American Bureau of Shipping, certified by the U.S. Coast Guard, and fully seaworthy," according to their website, and "Several San Francisco Bay cruises are scheduled each year." The only other active Liberty Ship in existence is the S.S. John W. Brown located in Baltimore, Maryland; perhaps this should be a challenge to the crew of HMS Heracles?
The chance to meet on a veteran ship allows us to connect our Honorverse ship with the real life sailors who risked their lives in wartime. It's truly an amazing experience.
<![if !vml]>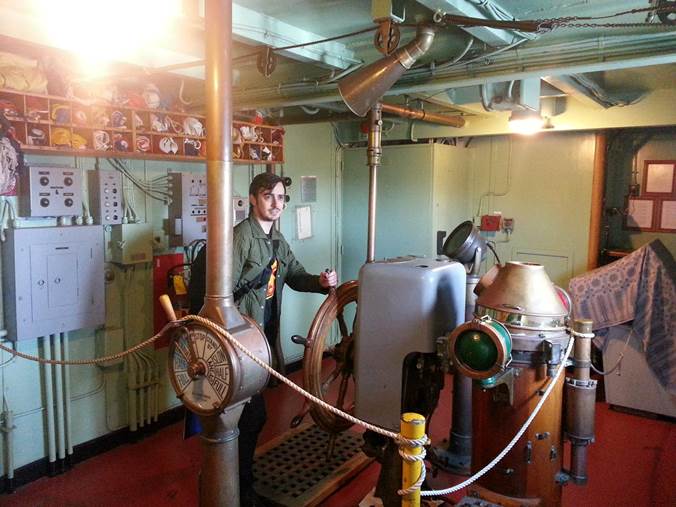 <![endif]>
CDR Zach Perkins at the helm of the O'Brien.
Article Copyright © 2014, Bureau of Communications, The Royal Manticoran Navy: The Official Honor Harrington Fan Association, Inc.
MCPO Marcus Johnston, RMN – Acting Director, Manticoran News Bureau. All pictures used with permission or used in a way that qualifies as fair use under US copyright law.