<![if !vml]>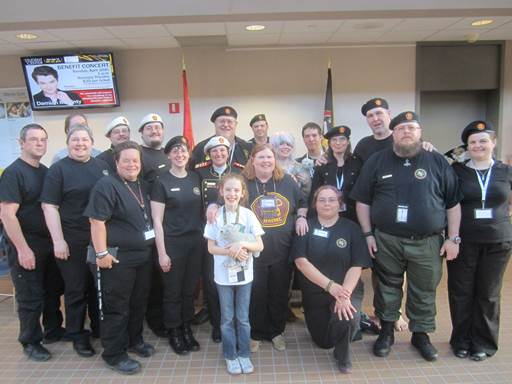 <![endif]>
6th Fleet (and a little of Second) poses with Duke and Duchess Leutzen Vale.
Clan of the Fez
Weber and WillyCon
2015.05.06 CE / 346.12.31 AL (MNB) – As of this printing, we're still not sure what compelled the Prime Minister to travel to the far reaches of Sphinx, but it didn't take long for Sixth Fleet to converge on the hills of Wayne, Nebraska for WillyCon XVII. A subsidiary of the Wayne State College Science Fiction and Fantasy Club, WillyCon was held from April 10th through the 12th. It was open to everyone who braved the trip, despite their chosen theme of Steampunk(ish) or Post-Apocalyptic(ish)… or was it Dystopian(ish)... well, you get the drift.
Commodore Melyssa Smith, Deputy Commander of 6th Fleet, explained that 'The members of the HMS Tisiphone, HMS Aegis, HMS Invictus, HMS Lionheart, and of course my own humble crews from Oklahoma, HMS Pegasus, HMS Hydra, and HMS Bravery, have done this fleet, and this organization, proud. Through hard work, dedication, and a positive outlook they went out of their way to show Wayne how the TRMN is more than "just" and anything. That we are a group of people who will not only accept but welcome anyone willing to come play with us. That we are more than numbers, and rank, and location, we are a team, a family.'
<![if !vml]>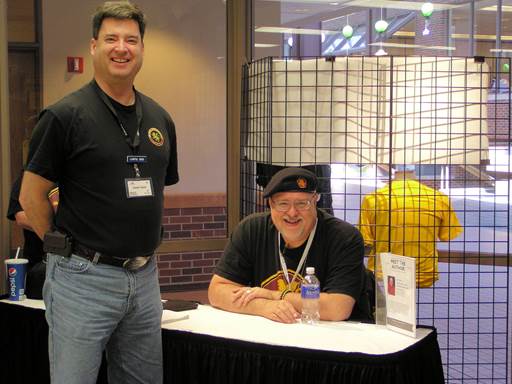 <![endif]>
Steven Thum and David Weber
The fact that approximately 15 people signed up during the weekend is proof of that hospitality. 'Some of them will be staying aboard either HMS Tisiphone or HMS Aegis,' explained Captain (JG) Jaeyrn Spedden, commanding HMS Tisiphone, 'Most of them though will be launching a ship in Wayne. We also got a Marine for Aegis, a Civilian who will possibly end up with the Diplomatic Corps and a member of the Army who is also contemplating starting a Bivouac in Wayne. All in all, a very productive weekend for us!' S3/c Michael Burgess, HMS Aegis, who was one of the new recruits, said 'Thank you for your overwhelming kindness in honoring me in the presence of Admiral Weber and Dame Sharon at WillyCon. Not only was I deeply touched but I was nearly rendered speechless (a feat nearly impossible to achieve). Through that nefarious bit of campaigning you have won yourself a new recruit.'
'Personally I would like to make you honorary members of the new not so secret secret and completely unofficial clan of the fez,' Commodore Smith giggled, explaining how it was created in the process of recruiting one of our newest members. ' We all wear silly hats and tell crazy jokes and have a great time, the only rule, you can't take yourself or anything else too seriously or you have your silly hat taken away. Swedish fish may or may not be involved, coconuts, swallows, and white rabbits most definitely are.' After she stopped laughing manically, then apologized for being sleep deprived, the deputy fleet commander explained, 'He was wearing a fez and we all thought it was too awesome not to make this thing up right then.'
<![if !vml]>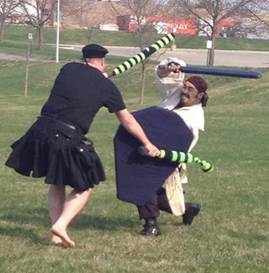 <![endif]>
Commander Coble drives back the Nebraska pirates during an Amtgard boarding action.
Between the panels, and the gaming [not formally structured], and the book exchange, the local Amtgard (a fantasy LARP organization) made an appearance and our own officers couldn't resist. Commander Shane Coble, HMS Bravery, took up the 'blade,' and forced a pirate to his knees with his quick footwork. All the spacers in attendance couldn't help but be amazed. Besides running the recruitment table, and the occasional partying, they held their own panel on running a fan club chapter. With so many captains in attendance, they told the attending crowd easily what works and what doesn't, including the obvious and the not so obvious things that can make a group succeed or fail.
During the Charity Auction, Colonel John Debnam, MARDET HMS Invincible, and Lieutenant Commander Steven Thum, commanding HMS Lionheart, donated $100 each to Haven House (the charity for WillyCon).  Because of their largesse, both of them secured a spot on David Weber's advance reader list, meaning they will receive the first draft of every novel Mr. Weber submits at the same time it is sent to the publisher. As much as everyone was impressed by their good luck, Colonel Debnam also asked the Prime Minister to sign his mint set of Tales of Honor comics (complete with all cover variants) with a unique inscription; these will be donated to MantiCon and auctioned off to support Big Cat Rescue.
<![if !vml]>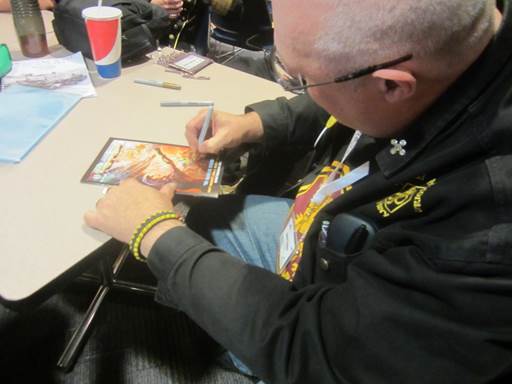 <![endif]>
David Weber signs the Tales of Honor covers.
As much as the Duke and Duchess Luetzen Vale made our spacers feel welcome at the con, our spacers returned the favor. Since Sharon's birthday fell during that Saturday, she got cake, 'flowers, and a card signed by "all of us" at dinner,' Commodore John Neitz, Deputy Commander of 2nd Fleet said. Captain (SG) Cindy Jeffers, commanding HMS Invictus, also made sure Her Grace did not return to South Carolina empty handed. 'Kevin and I, and the crew of the HMS Invictus, gave her a card, two ship patches, a bag of Compass Rose Geocoins, and four assorted gourmet mini cupcakes.' With such a haul, Sharon couldn't help but smile the rest of the con.
It was Commodore Smith who phrased the Prime Minister's visit best. 'In all of this wonderful chaos, David and Sharon shared it with us and made it so much more incredible. I have rarely in my life met two people I have felt so accepted by so quickly. And it was all of us, every one of us were touched by the acceptance of who we were.'
<![if !vml]>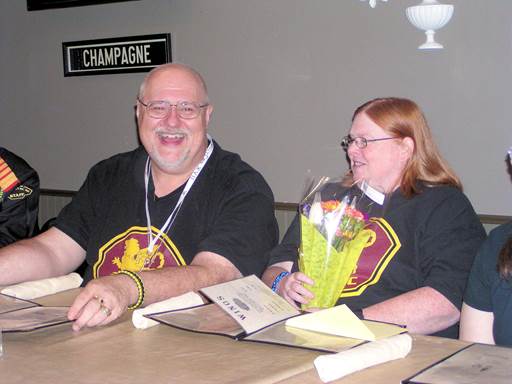 <![endif]>
Sharon Rice-Weber is moved by all the birthday wishes.
Article Copyright © 2015, Bureau of Communications, The Royal Manticoran Navy: The Official Honor Harrington Fan Association, Inc.
CAPT (JG) Marcus Johnston, Director of Publications, BuComm. All pictures used with permission or used in a way that qualifies as fair use under US copyright law.