<![if !vml]>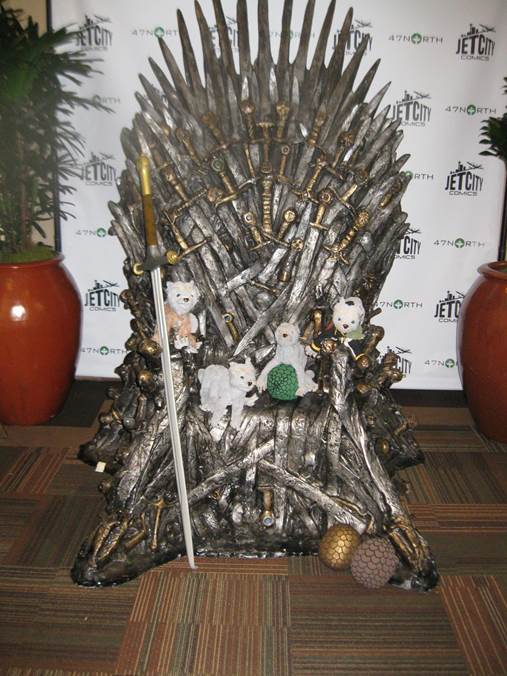 <![endif]>
The treecats of 10th Fleet seize the Iron Throne at Norwescon 2015.
Visions of Grandeur
10th Fleet's Treecats Play Havoc at Norwescon
2015.04.29 CE / 346.12.23 AL (MNB) – Some say that it started when the Iron Throne appeared at the con; others suggested it was the presence of the First Space Lord and his lenient attitude. Whatever the cause, the treecats of 10th Fleet suddenly went amuck at Norwescon, which took place in Seattle, Washington from April 2nd through the 5th at the DoubleTree by Hilton SeaTac Airport hotel.
George RR Martin was the guest of honor; hence the Iron Throne appeared at the con, a rather impressive celebrity for the event. However, once Captain McKinnon's 'cat, Boojum, took one look at the metal chair, he hopped right up on it and started signing, <Get me one of those dragon eggs and start one of those feasts I see on HBO!>
Despite SMCPON Tom Coonradt's attempt to hold the celery supply at bay, one of Boojum's henchmen, Aki, discovered the salad bar at the hotel restaurant, and suddenly there was nothing stopping them. While they distracted their companions with Laser Tag and Nerf weapons, run by the talented Private Scott Perrin, they continued up their hijinks, even convincing two bands of SCA fighters to throw tennis balls at each other.  All Commander Mir Plemmons, executive officer HMS Truculent, could do was hope to contain the chaos, and acted as marshal of the list.
<![if !vml]>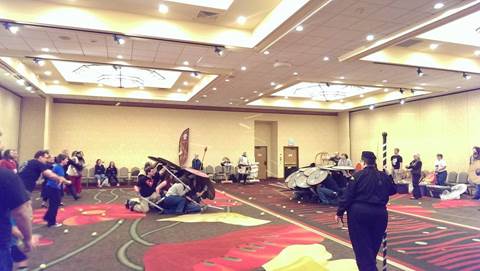 <![endif]>
Mir Plemmons (holding a marshal's staff) tries to contain the madness.
Meanwhile, the youth programming was especially targeted, due to the 'cats love of the childrens' simpler emotions, and Captain (JG) Sir Patrick McKinnion and Lieutenant (SG) Camin Keplinger Bradbury, HMS Andromeda, built up a cardboard city with the kids only to watch the egged-on children 'kaiju stomp' it to pieces… not once, but TWICE! After a while, even their daughter, Midshipwoman Mhari McKinnion-Bradbury, joined with Gina Clark and Cora Booth to hold a "We say NO to bullies" panel against the treecats' antics.  (Gina and Mhari later used this panel as part of their Silver Award project for Girl Scouts.)
Finally, Captain (SG) Timothy Monk, commanding HMS Truculent, finally met up at the SITS gaming table to hatch up a plan, gathering together as many of Tenth Fleet's marines as he could. With the help of Corpsman 2/c John Perkins-Woeck, Private Brianna Gilbeck, and Private Andrew Perkins-Blume—all attending their first convention—they finally were able to herd the treecats towards the Coonradt's hotel room, and then pinned them there with Corporal Christina Coonradt's iced and plain cookies until they could calm down from their power trip.
<![if !vml]>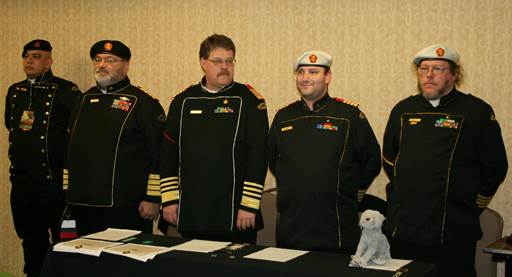 <![endif]>
Commodore Sena gives Captain Monk a dirty look while Boojum looks on innocently.
With order restored, Fleet Admiral Scott Akers, First Space Lord, was finally able to conduct the awards ceremony. The main awards were honoring the amazing feat of life-saving that happened at OryCon last November. S1/c Jacob Engstrom (RHN), Captain Patrick McKinnion, and Commodore James Sena, who were awarded the Queens Cross for Bravery, for their primary assistance in stabilizing the victim. Meanwhile the assistance of Commander Amber Witherspoon, Captain Dale Imbleau (GSN), Captain (JG) James Jones, Chief Petty Officer Jessica Allen, Midshipwoman Clarissa Jacobwitz, and Spacer 3/c Kaitlyn Kemke was honored with the Gryphon Star. Of course, even then, Boojum insisted on being at the table with the officers during the ceremony.
With sanity restored, missile pods were fired at the Saturday night party, and Chief Coonradt getting an X-Wing session in before the end. Finally, the ships of Tenth Fleet returned home to their docks, and spacers back to their duties. It was a convention none of them were likely to forget.
<![if !vml]>
<![endif]>
Treecats aren't the only ones drawn to the Iron Throne.
Article Copyright © 2015, Bureau of Communications, The Royal Manticoran Navy: The Official Honor Harrington Fan Association, Inc.
CAPT (JG) Marcus Johnston, Director of Publications, BuComm. All pictures used with permission or used in a way that qualifies as fair use under US copyright law.