<![if !vml]>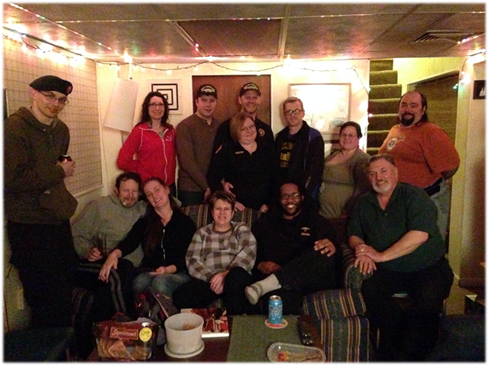 <![endif]>
HMS Invincible meets in the Lochens' Mess to watch Firefly.
<![if !supportLineBreakNewLine]>
<![endif]>
You Can't Take The Tube From Me

2014.04.23 CE / 346.01.38 AL (MNB) – The great irony of technology has been that the more ways we have to communicate with each other, the less we want to meet. TRMN works hard to find opportunities to bring its members together, and what better opportunity than to share our love of science fiction than to come together for a movie.
Second Fleet has led the way in providing these get-togethers. HMS Valkyrie had one of the first monthly movie nights. "It started years ago, back when we were HMS Samurai," said Captain (SG) Jill McTavish, "[we] went on a short hiatus, but returned due to high demand.  Unlike some other organized movie nights, we don't plan on a movie ahead of time, people bring movies they want to watch, and whoever makes it decides together as a group.  Most of the time we don't have a hard time deciding what to watch, there's usually at least one person who hasn't seen a movie the rest of us think is great." The range of movies is pretty wide on Valkyrie, from Disney cartoons to Japanese action films, "and of course, lots of science fiction," McTavish added.
"Not only do we watch a movie or two, but we eat a lot of freshly air popped popcorn!  People have fun mixing the different types of flavored popcorn salt, which adds a bit of uniqueness to everybody's bowl." McTavish smiled. "Overall, we have fun on movie night."
Not to be outdone, for the last couple of years, the Lochens have also been hosting movie nights every month at their house. Last year involved showing the Horatio Hornblower series, and this year, they wanted to show all the episodes of Firefly (in the proper Whedon order, of course). Although they told everyone to bring their own snacks and beverages, Bill also suggested for everyone to "Bring oriental takeout early and have dinner beforehand," to match the Chinese style of Firefly.
<![if !vml]>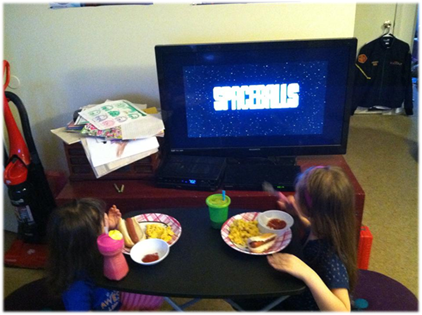 <![endif]>
Middies on board HMS Vengeance get dinner and a movie.
<![if !supportLineBreakNewLine]>
<![endif]>
Of course, this idea has spread, and Third Fleet upped the ante. Although Admiral Walker's ships are very active in their patrol areas, they have many fleet-wide activities together. So on April 3rd, they held on online Watch Party for the Mel Brooks movie, Spaceballs. "The best part of these kind of events is that we can be spread over a large area and still enjoy the movie together," explained Chief Boatswain's Mate Michael Romero. "Just watch the movie starting at 7PM wherever you're at and chat with the rest of the Fleet via Facebook."
The jokes flew hot and heavy across the message screen as they synced up their viewing. "Ah, Bon Jovi. I miss the 80's." Chief Romero quipped ironically, to be answered by Lieutenant Joseph Morgan, "I did miss the 80's...drunk for most of that decade." Often spacers shot out quotes from the film as they happened, and many noticed funny parallels between it and TRMN. "That's not the music from Lawrence of Arabia going in the background, is it?" Romero laughed. "[My] three year old is pretending to have heat exhaustion."
The shared movie experience helps bring us together and enjoy the camaraderie of fellow science fiction fans. These collective activities help set us apart and make TRMN many spacers' second home.
<![if !vml]>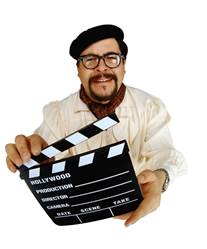 <![endif]>
Need a patch on that beret, spacer!
Article Copyright © 2014, Bureau of Communications, The Royal Manticoran Navy: The Official Honor Harrington Fan Association, Inc.
MCPO Marcus Johnston, RMN – Acting Director, Manticoran News Bureau. All pictures used with permission or used in a way that qualifies as fair use under US copyright law.