<![if !vml]>
<![endif]>
Posing in front of the Space Shuttle: Christa Brolley, Patrick Bunch, Eric Schulman, and Greg Ellis.
Hazy Gray and Underway
First Fleet visits the Holy of Holies
2015.04.15 CE / 346.12.07 AL (MNB) – For the true space geek in all of us, there is no museum more awe inspiring than the National Air and Space Museum on the Mall in Washington, D.C. However, less well known, but perhaps more impressive, is that museum's companion facility—the Steven F. Udvar-Hazy Center in Chantilly, Virginia.  Being near the repository of thousands of aviation and space artifacts was too tempting for the crews of First Fleet. On March 15th Captain Sir James Kratzer of HMS Heracles organized an expedition to this holy of holies for HMS Heracles and invited the other local First Fleet ships.  Five members of HMS Yamamoto Date, including her commanding officer, Lieutenant Commander Christa Brolley, and the First Fleet Commander, Rear Admiral Eric Schulman, attended. 
It's easy to see why this museum inspires such awe. The extensive collection includes aircraft and spacecraft from many eras including a Lockheed SR-71 Blackbird, a Concorde, and the space shuttle Discovery. The two huge hangers, located next to Washington Dulles International Airport, are filled with awe-inspiring items for anyone who grew up with the space program.  'The museum is a very special place,' S1/c Greg Ellis, HMS Yamamoto Date, explained. '[I've] been a space program and Sci-Fi buff since childhood.'  While exploring the museum, some crewmembers provided insight into their personal experience with items on display.  LCDR Brolley talked about her time as a test engineer for the Advanced Medium Range Air-to-Air Missile, Commodore Michael Paquette, First Fleet Deputy Commander, spoke of his work with (and love for) the F-14 Tomcat, and CPO Patrick Bunch, Bosun of HMS Yamamoto Date, regaled with a story about firing a weapon on display, complete with hand gestures.  S1/c Ellis, an avid glider pilot, pointed out the various gliders he has flown, and RADM Schulman pointed out the engineering control and display unit for the International Ultraviolet Explorer (IUE) satellite. 
<![if !vml]>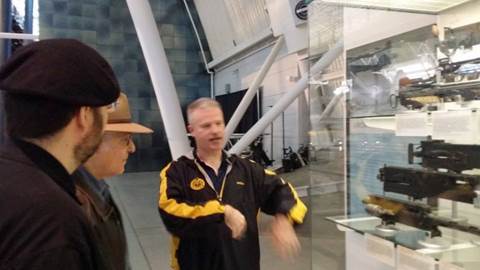 <![endif]>
Patrick Bunch tells a story through interpretive dance.
On top of the regular displays, the center also has an observation tower, where you can get a 360-degree bird's eye view of the nearby airport and surrounding area, as well as a restoration hanger, where visitors can see restoration projects in progress.  First Fleet Plotting Specialist Caroline Cox spent most of her time at the museum learning about the restoration projects underway. 
With different aircraft suspended on three levels, as well as an IMAX theatre, the most amazing fact about the museum is that admission is free… although the parking is $15.  However, if you carpool, the chance to see airplanes from the dawn of aviation through the space age is worth the trip.  Certainly the crewmembers of First Fleet will never forget their experience..
<![if !vml]>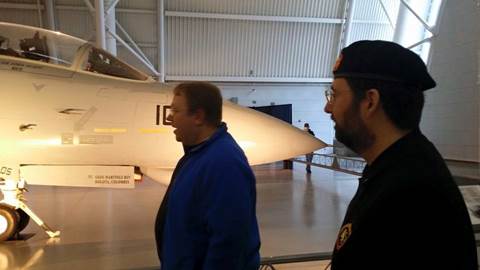 <![endif]>
Everyone stands in awe of the Tomcat.
Article Copyright © 2015, Bureau of Communications, The Royal Manticoran Navy: The Official Honor Harrington Fan Association, Inc.
CAPT (JG) Marcus Johnston, Director of Publications, BuComm. All pictures used with permission or used in a way that qualifies as fair use under US copyright law.