<![if !vml]>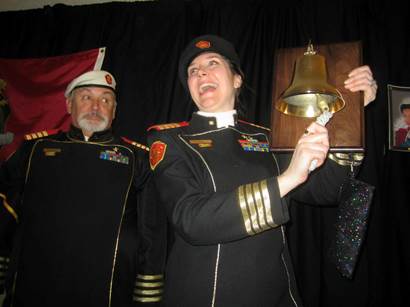 <![endif]>
Transfer of command on HMS Invincible from Captain Randall (right) to Captain Lochen (left) at MarsCon 2014.
The Longest Acronym in the Navy
The Incoming and Outgoing Senior Master Chief Petty Officer of the Navy Explain Their Role in TRMN
2014.04.02 CE / 346.01.12 AL (MNB) – It's inevitable—the larger the organization, the more acronyms are used. After all, the "Senior Vice-President for Research and Development" is too large to get your mouth around; SVP R&D is far easier. Military organizations have so many specialized terms that acronyms multiply exponentially. So when it was announced that the role of SMCPON was changing hands, the first thing many wondered… "What is that?"
The Senior Master Chief Petty Officer of the Navy (or SMCPON, pronounced "smack-pon") was created back in April 2012 by Fleet Admiral Akers to be "the Ombudsman for Manticoran Naval Enlisted personnel, and as the Mentor and Guide for all Ship's Bosuns in particular and the Fleet's Chief's Mess in General." The first person to be selected for that role was William Lochen, who was Bosun of HMS Invincible at the time. Lochen was selected because "I made the mistake of asking Martin if I could start the Bosun's Pipe FaceBook group, so that all of us could share our experience and knowledge. He said 'Sure. How would you like to be the SMCPON?' and it is all history from there." He served in the position for two years before being promoted to command HMS Invincible.
Sounds great—but what does the SMCPON actually do? Bill explained that at the beginning "There were only a few instructions from Lord Admiral Akers about what I was to do. Be that person that a spacer could contact if there was a problem on their ship (bad captain, nothing getting done etc.) and see what I could do and report those problems up the chain." He added that he was also told to "Be that voice who isn't intimidated by admirals that will tell them when they are getting too big for their britches. Particularly in the way of the officer/enlisted ratio." Although that's how the role was designed, Lochen indicated "Thus far there haven't been many huge flair ups and things have been resolved fairly easily." The role has grown over time. "Along the way, I became the acting Ombudsman for the Senior Enlisted Promotion Review Board," Bill continued.
<![if !vml]>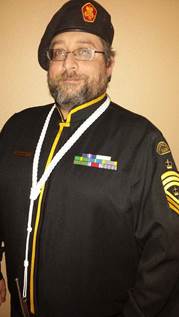 <![endif]>
The new Senior Master Chief of the Navy, Tom Coonradt.
Now that Lochen has been promoted, Tom Coonradt has stepped up to take over the role. Before taking the highest enlisted rank in the RMN, Tom was no stranger to leadership, already having served as the Command Senior Master Chief for Saganami Island Academy. "My job was to assist the enlisted by offering and grading their enlisted exams, and helping counsel them in what path to take to get their ratings or to enter the Officer track." As he takes on the role, his vision for the role is "to assist the enlisted member in any way possible in an effort to enhance their fan experience.  My goal is to assist them to find what they were looking for when they joined this Fan Club.  Whether it be getting to know what the Creator was thinking when he wrote the books by using the exams, or making it into the Officer Ranks.  From Role Play to just plain old socialization with like-minded friends," Coonradt explained he looks to be a mentor to the enlisted ranks of the Fleet. "Also the SMCPON is instrumental in assisting the Bosuns of their ships with leadership by mentoring them and being a sounding board for them."
So how does the role fit into the leadership of TRMN? "The SMCPON is the Voice of the Enlisted to the Admiralty," Tom answered. "They are responsible to make sure that the Enlisted voice is heard when policy decisions are being made." Lochen expanded on that definition, saying that "My focus was on the betterment of the Enlisted experience. Being an officer has its place, but all of us should spend time "below decks" to gain an appreciation for what the working spacer's life is like. Certainly having this position opens a lot of communication channels and I had access to every admiral and knew that if I sent them a message that they would respond to it quickly."
Along the way, this leadership role allows the SMCPON to get involved with major changes to policies. "There are projects that I have initiated or worked on relating to the RMN Uniform Manual, uniforms for the enlisted and tunic patterns for tRMN." Bill explained. "Working on uniforms is a big part of that. If spacers can get into a uniform or into tRMN gear without it costing a lot then, I believe, they will enjoy participating more and feel a part of the whole group, fostering esprit de corps."
So how would you interact with the SMCPON? "On line mostly with the occasional phone call," Lochen answered. "I travelled a lot this past year to three out of town conventions where David Weber was attending (DemiCon, Shore Leave and HonorCon) and participated in hosting parties and Admiralty functions. I felt it was important to make these trips to be available to folks around the country to get to know me, show the uniforms I worked on and to be available to attend any Admiralty functions/meetings as needed." Coonradt agreed, "Most interaction is going to be over email or Facebook.  And I try to make myself available as much as possible.  Worst case I don't mind the Boson's having my phone number if they need it for some kind of emergency."
As the transition from one chief to another happens, one thing is certain—the Navy is in good hands.
<![if !vml]>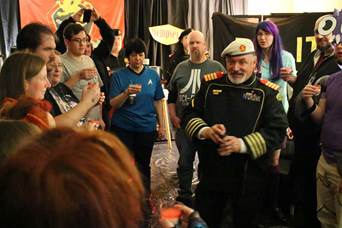 <![endif]>
The new Captain Lochen instructing new crewmembers on proper pod-rolling technique.
Article Copyright © 2014, Bureau of Communications, The Royal Manticoran Navy: The Official Honor Harrington Fan Association, Inc.
MCPO Marcus Johnston, RMN – Acting Director, Manticoran News Bureau. All pictures used with permission or used in a way that qualifies as fair use under US copyright law.