<![if !vml]>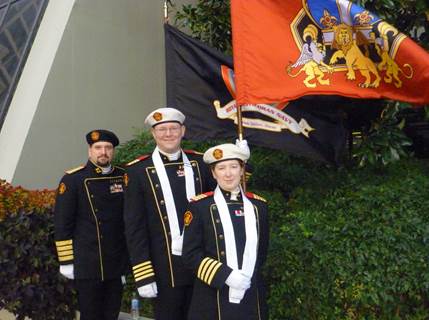 <![endif]>
The RMN Color Guard (Brian Laux, Wes Brown, & Heather Brown) at DragonCon 2010.
Can't Sew Worth A Darn
2014.03.26 CE / 346.01.05 AL (MNB) – Often the best thing for a lot of people about a con is getting dressed up. Costumes add a bit of wonder to a boring world, and if you step outside the con's boundaries, you can have the joy of "freaking out the mundanes." Many spacers are well skilled in sewing, and have the desire and time to construct their own uniforms...  and some who can't, and the vendors that appeal to them. Finding what you need, matching the materials, and figuring out where to place everything can feel like a quest in itself. Welcome to the wonderful world of cosplay.
In the early days, three months before a uniform manual was released by Admiralty House, Captain (SG) Timothy Bailey developed a great website (rmn-fleet.org), with a detailed page on how to make and find materials to complete your uniform. Bailey explained that "I had gone through a lot of work to get the uniform together, as the information was a bit spread around.  I like to have everything put together in one place, so I wanted to offer the fruits of my research and experiences." When trying to fine the materials on his own, it made for a difficult search. "It took me a while to find a place to order the ribbon racks, as that wasn't really talked about.  After getting some from a military surplus store, I found that paradestore.com (where many of us got berets) has them in a lot of different sizes."
<![if !vml]>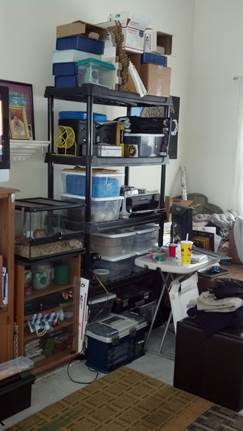 <![endif]>
The entire BuSup inventory (Courtesy of ADM-R Brandi Hinson).
Regardless if you decide to make a uniform, adapt an existing outfit, or buy one from a costume merchant, your next step is the BuSup store. "I get 5 to 7 orders per week right now," Admiral of the Red Brandi Hinson explained, usually shipping within days of receiving an order. Over time, this group of dedicated spacers built up a large shelf full of inventory, storing custom patches for Fleet use, in an undisclosed location east of the Appalachian Mountains. However, this inventory is far from complete. When a new patch is requested, they contact the admiral, and "I will send them a price.  It is [usually] $50 for 50 patches, though because of royalties and such, we have to pull 11 from the first batch of new orders for the legal team, BuNine and David Weber."
Now it's time to get a uniform to put the supplies on. One of your first obstacles is color. In the RMN, your trim is determined by your chosen rating. For Master Chief Communications Mate Marcus Johnston, the question was "my rating is listed as 'greenish.' What the heck is green-ish?! I asked several fellow spacers; all of which had the same answer, 'Check the Uniform Manual!' Thanks, guys…" When Chief Missile Mate Michael Romero had been working on a RMMC uniform, he discovered, "How close is spruce green to the color of the uniform?" To which the Marshal of the Corps Sean Niemeyer replied, "Army green is darker than spruce green. The two aren't even close."
<![if !vml]>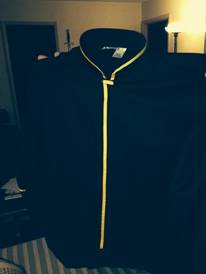 <![endif]>
Bill Lochen's NCO Service Uniform.
Some people found an outfit similar to uniform material and adapted it. Captain (SG) William Lochen said "When I looked at the House of Steel, the RMN NCO Service Uniform looked like… a jacket, so I made one up. I found this jacket at the BandShoppe web site. Folks from BuNine liked it so much, it may become an authorized uniform look in the next update." Lieutenant (SG) Joseph Morgan reported that "I just received my set. They arrived very quickly and are of good quality material, Red Cap brand, perfect for enlisted or officer working uniform. I was very pleased, and even with shipping these were less than the less-suitable flight suits at the local surplus store." Of course, finding an outfit that works can be difficult, as Chief Boatswain's Mate Emilio Desalvo found out. "I was able to buy what was probably the last 5.11 jumpsuit in the UK, size 44. Impressive garment, I should wear it at work next week, when we have an inspection by bureaucrats from European Commission."
Marshal of the Army Robert Jackson discovered a tailor who would make the uniform for him. "The tunic is a bit more 'dressy' than the standard uniform for officers (up to General level), but the basics are regulation." Other spacers turned to the costume merchants. When shopping online, getting the measurements correct is vastly important. "After an extensive measurement session, I was thinking that getting a custom suit was becoming a pain in the butt," Johnston complained. "I mean, how flat are your buttocks?" Surgeon Commander Patrick McKinnion recalled, "I gave them professional suit measurements. After it arrived, I gave them pictures of how much different what they sent me was from what they actually sent. Their response was to blame my weight and refund $30 dollars."
<![if !vml]>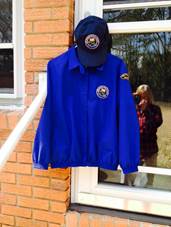 <![endif]>
Rayanne Staubly's GSN Enlisted Jacket
Regardless of where you get the uniform, Graysons are often faced with an additional problem: where to put their RMN patches. Since there's fewer spacers in that particular group, decorations are usually not designed with them in mind, and the question of Grayson patches had not crossed the mind of BuNine. For example, do RMN ship patches supposed to go in the same place as GSN ship patches? "Somewhere along the line I got my second mentioned in dispatches," Commodore Penny Horwitz explained, "…where the heck do I put these things?!" Thankfully, Command Senior Master Chief Ken O'Dell discovered the answer. "From what I was able to deduce… it counts as a 'foreign decoration' for us and is worn the same as on Mantie uniforms." Frustration with decorations is not limited to Graysons alone. Before the manual came out, "[it was] hard to figure out the exact places to get things," Bailey agreed. "It turns out that it is very difficult to sew the officer's rings on the sleeves - that took several hours."
Of course, accordingly to regulations, wearing a beret with a black shirt and pants is all you truly need. However, for those who meet the Test of the Uniform, the trials and tribulations eventually pay off. "I got to HonorCon and looked stunning," Johnston beamed. "I just have to avoid being promoted before I pay for the officers' uniform!" McKinnion shrugged. "Some people get quality stuff, some get complete crap. It depends on which tailor they give the job to." Whether you spend a little or a lot on your uniform, the results are undeniable, and are noticed everywhere you go. In the end, dressing in uniform give great honor to the Fleet!
<![if !vml]>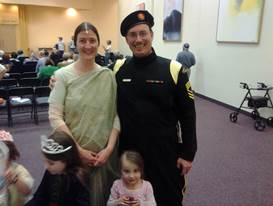 <![endif]>
Isobel, Marcus, and Elizabeth Johnston at a Purim celebration in 2014.
Article Copyright © 2014, Bureau of Communications, The Royal Manticoran Navy: The Official Honor Harrington Fan Association, Inc.
MCPO Marcus Johnston, RMN – Acting Director, Manticoran News Bureau. All pictures used with permission or used in a way that qualifies as fair use under US copyright law.