<![if !vml]>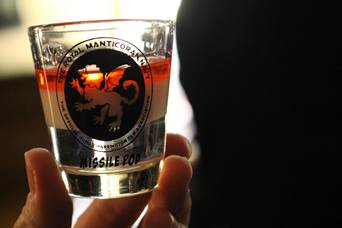 <![endif]>
It is a thing of beauty. (Courtesy of Roxane Tyssen)
Roll Pods!
2014.03.19 CE / 345.18.38 AL (MNB) – If you've ever been to a TRMN con party, you've likely taken part of one of the Navy's great traditions… firing a "missile pod." This shot made of three liquors, layers of color in red, white, and clear, is consumed with great pomp and recalled fondly at every con. This ceremony is always anticipated any time the brass roll into port. But where did this strange drink come from? When the question was posed to senior leadership, the answer is always the same: "Talk to Bill Lochen."
In an exclusive phone interview with Captain (SG) William Lochen, the recently promoted commanding officer of HMS Invincible, he revealed the origin of our beloved tradition. Lochen was involved heavily in Renaissance Fairs starting back in the 1970's. After a hard day of sword fighting and playacting, the gates are closed, and the parties begin. As might be expected when theatre majors come together, their revels are legendary. Bill's contribution to the party was to serve a round of drinks called Alice in Wonderland; a mixed shot made with a skimmer of Tequila, 1/2 oz of Orange liqueur (Cointreau), and a 1/2 oz Coffee liqueur (Kahlua).
These drinks were quite popular, so Lochen became skilled in making them. When the Lochens held Christmas parties, they were served, to the delight of all. One of those attending was John Neitz, now Commodore Neitz, CO BatRon21. When they both enlisted in the Navy, John looked back at those shots with warmth, and suggested that they should have their own RMN drink. After some research and discussion with a liquor store owner, Bill worked out which liquors would work well together, convinced John to split the cost, and brought them to their next ship meeting.
<![if !vml]>

<![endif]><![if !vml]>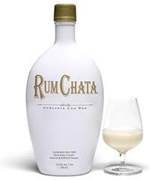 <![endif]><![if !vml]>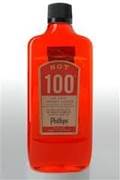 <![endif]>
Any new drink takes practice to get right. The current "missile pod" has gone through three iterations. It now consists of three materials. The first part is half a shot of White (clear) Crème de Cocoa (chilled); this is an homage to Honor Harrington's love of chocolate. "You need to buy a top quality brand here," Lochen pointed out, "I use DeKuyper."
The second part is half a shot of RumChata. For those of you unfamiliar with this liquor, it's made in Wisconsin, close to Bill's home in Minnesota. It is made from a blend of five-time distilled Caribbean rums with dairy cream and flavored with cinnamon, vanilla, and other 'secret flavors.' You finish the drink with an eighth shot of 100 proof Hot Cinnamon Liqueur skimmer. The Rumchata may blend a bit with the Crème De Cocoa; if done right, it looks like smoke vapor.
Preparation is everything. Pour the Crème de Cocoa with a bar pour nozzle, measure the Rumchata up to The Manticore (on the shot glass) by sliding it over a spoon, and then use a medicine syringe (like those used in kids' medicine) and fill it up to 5 ml with Hot 100 to complete the shot. You may need to transfer some of the Rumchata into a smaller glass to make the pouring easier over the spoon. The cinnamon liqueur flows easily and is more forgiving in the syringe; it is thin so it will stay on top easier. "Be careful," Bill warns, "or you will end up with pink pods." When finished, you present the Missile Pods arrayed in a circle on a tray.
<![if !vml]>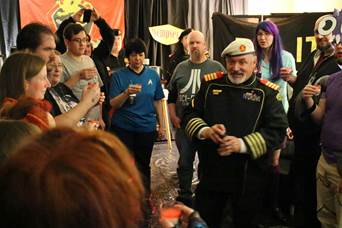 <![endif]>
Captain Lochen instructing new crew on pod-rolling procedure. (Courtesy of Roxane Tyssen)
"It went through a whole weapons development!" the captain laughed. It took a while to work out how to keep the liquors separated; the crème de cocoa kept wanting to sneak out the bottom. Finally it was discovered that once you chill the bottles, the liquors found their own gravity, and the order of the shot construction became obvious. However, over time, additional variations joined the tradition, like Senior Master Chief Eggert's "Ghost Rider" shot. This involved sending 6 shots ahead of the round of missile pods. ECW's away!
However, it moved out of a regional delicacy to a worldwide tradition with the visit of the First Lord of the Admiralty (FLA) to Convergence. After a few rounds, the admiral was so pleased with the drink, they found him glassy-eyed in a chair. Naturally, any weapon that could defeat the flag in a training exercise had to be distributed fleet-wide. (In fairness, the RMN party was not the only party he had visited that night.) The FLA took the formula to Shore Leave that year. "Martin's way of doing it is different," Lochen explained. One of the problems is that on the US East Coast, they don't have Hot 100, so they replaced the ingredient with Hot Damn… which turned the shots pink. It was discovered later that you need to pour more of a layer to get the color right. "At HonorCon, I was making missile pods in Martin's bedroom while BuNine was having their meeting," Bill remembered fondly, hoping for an invite to join the meeting, "But at our con parties, [the shots are] what people want!"
<![if !vml]>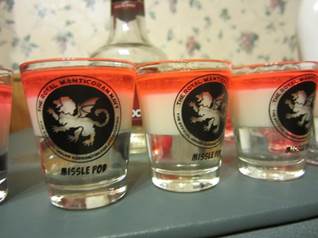 <![endif]>
Reinforcements have arrived. (Courtesy of Bill Lochen)
If you're planning to do your own Missile Pods, buy some shot glasses from BuSup… or if you are cheap or serving lots of strangers, get clear plastic shot glasses bought at a party supply store.Recipients should be warned - this is a slam shot, not a sipper. You also need to let them know that they need to yell "Roll Pods" at the end of the count down. The "order to fire" varies from party to party, but one script to follow is "Firing Party, Atten-tion!!  Take hold of your armaments... Safety is off… you are weapons free… Warheads are active and volatile! Prepare to fire… on a countdown from three…two …one!  ROLL PODS!!" Some variations include "Extend Armature (arm) prime armature (bend arm into drinking positions, Missile Technicians… on a countdown…" You can do this all at once or set up a firing line/circle where each person says fire as they launch (slam) the pod, followed by next person. Saying Fire, Fire, Fire…down the line.
There's no wrong way to perform the ceremony and the drink is enjoyed fleet-wide. With your help, the RMN's tradition will continue as you now know how to share the experience. Enjoy the fun (responsibly).
Article Copyright © 2014, Bureau of Communications, The Royal Manticoran Navy: The Official Honor Harrington Fan Association, Inc.
MCPO Marcus Johnston, RMN – Acting Director, Manticoran News Bureau. All pictures used with permission or used in a way that qualifies as fair use under US copyright law.