<![if !vml]>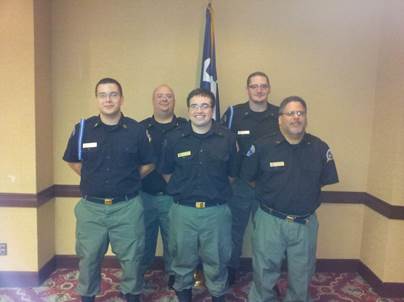 <![endif]>
The soldiers of USS Texas (left-to-right): Trenton Baum, Jeffrey Webb, Justin Earl, Bobby Dean, and Raul Trevino.
That Which We Call a Rose
The Many Faces of Fort Shorncliffe
2015.03.18 CE / 346.11.14 AL (MNB) – The Royal Manticoran Army has been growing by leaps and bounds over the past year, proving itself a worthy addition of the Association as a whole. One of the great success stories of the RMA has been Shorncliffe, the largest unit in the Army, and the only one that has been designated as a "barracks" and a "fort." Major Jeffrey Webb has been commended for gathering the geeks together in the Austin, Texas area under the colors of the Crown. However, the success of Shorncliffe is only one side of the story. They have combined their local fan groups together; different names, but the same members.
What we call Fort Shorncliffe today was originally known as the Caladan Highland Dragoons, founded around 1995-6 as a Battletech club, and has evolved into the multifaceted organization it is today. This military science fiction gaming organization soon realized that many of their faithful members were also members of StarFleet International. Instead of having competing meetings, in August of 2013 they decided to combine their efforts and commission their group under the name of USS Texas (NCC-35). However, in deference to the fact that they're all ground-pounders, they also fly the banner of the United Earth Army—since their ship in the same time period as Captain Archer's Enterprise, to be canonically accurate, they're UEA; SFMC was not founded until 2161. However, SFI simply places their members in the StarFleet Marine Corps 3rd Brigade, "The Royal Dragoon Guards," otherwise known as the 342nd Marine Strike Group. 
<![if !vml]>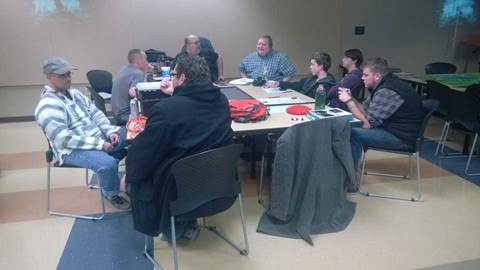 <![endif]>
So… are we gonna shoot something or what?
However, it was in late 2014 that Major Webb, SFMC was introduced to TRMN and fell in love. Joining the RMA, it didn't take much to convince 80% of his multi-faceted unit to come with him. They named their unit Shorncliffe as homage to the British Light Infantry; more specifically, the 95th Rifles from the Sharpe series by Bernard Cornwall. To keep everything consistent, their fort is the home of the 342nd Armored Infantry Regiment, appropriately known as "The Dragoon Guards." Because they grew so fast—skipping the "outpost" designation altogether—Fort Shorncliffe is the only unit to have commissioned officers in the RMA who did not first hold a general staff appointment. Their pride is not just limited to officers—1st Sergeant Eric Stolle was Mentioned in Dispatches for being the first member of TRMN to complete the entire Enlisted program at KR1MA with a perfect score.
They usually conduct their meetings on the 1st and 3rd Saturdays of each month, actually starting and ending most meetings with an actual formation, with Captain Dean (executive officer) and Sergeant Stolle teaching drill and ceremony to the members to use at formal events. Afterwards, they intersperse classroom sessions throughout the day, where they discuss fandom, history, gaming, tactics and other topics, break for lunch, and then dive into five to six hours of gaming… or until they drop from exhaustion, whichever happens first. They don't exclusively play Battletech and role-playing games, but according to Major Webb, "We got Dust, we got Imperial Assault, we got Axis & Allies, we got sonic electronic ball breakers! We got knives, sharp sticks..." The major was shouted down before he could ramble on further. In addition, they have gone as a group to attend Sherwood Forest (a renaissance fair), the Dr. Pepper Museum, the StarFleet Regional Summit, Blue Bonnet Air Show, play mini-golf, and attend a wild variety of conventions.
So whether you call them Royal Army or Earth Army or StarFleet Marines, the men and women of Shorncliffe continue to revel in their wildness, and do honor to the Army and the Crown.
<![if !vml]>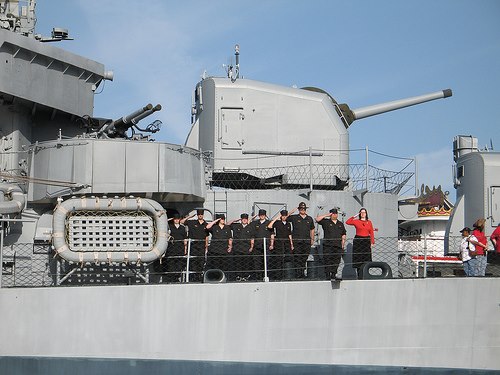 <![endif]>
The 342nd on board USS Kidd.
Article Copyright © 2015, Bureau of Communications, The Royal Manticoran Navy: The Official Honor Harrington Fan Association, Inc.
CAPT (JG) Marcus Johnston, Director of Publications, BuComm. All pictures used with permission or used in a way that qualifies as fair use under US copyright law.