<![if !vml]>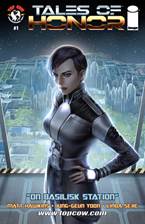 <![endif]>   <![if !vml]>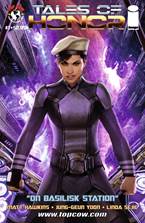 <![endif]>   <![if !vml]>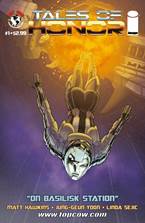 <![endif]>   <![if !vml]>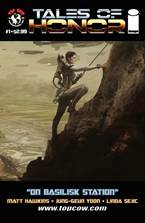 <![endif]>
Why only have one cover? Honor has four! (Courtesy of Top Cow Productions)
Tales of Comics
2014.03.12 CE / 345.18.31 AL (MNB) – Throughout the fleet, spacers assembled, dressed up, polished their boots, and rushed out to represent the Star Empire at comic book stores across North America. The Top Cow Productions version of David Weber's On Basilisk Station was finally released as a comic book, Tales of Honor. This is part of the transmedia effort by Evergreen Studios, spreading the word about the Honorverse in preparation for the giant Honor Harrington movie coming soon.
<![if !vml]>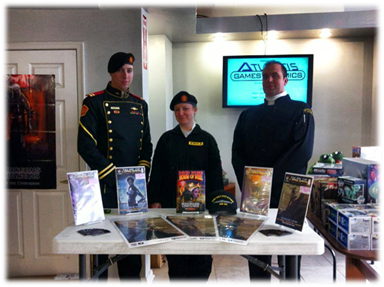 <![endif]>
HMS Vengeance and HMS Devastation come together at Atlantis Games and Comics in Norfolk, Virginia
With four different covers for the inaugural comic, there was plenty of Honor love to go around. However, the issues disappeared fast, and many spacers found themselves lacking. Lee's Comics in Mountain View, California was out of issues in the first day. Subspace Comics in Lynnwood, Washington ran out fast. Rear Admiral Daniel Walker said that he "Got 2 of the last 3 in my local shop myself!" Due to the Polar Vortex™, many shipments were delayed due to the wintry weather.
<![if !vml]>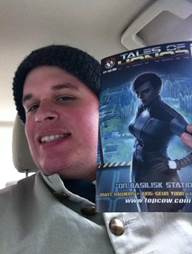 <![endif]>   <![if !vml]>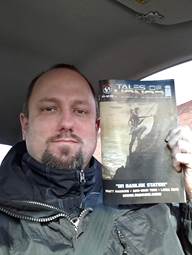 <![endif]>
CMM Michael Romero (HMS Vengeance) and CPT(SG) James Nelson (HMS Hexapuma) proudly display their new copies of the comic book.
"All I will say about the comic is that I suspect most of you will be pleased," beamed Chief Missile Mate Michael Romero. "I'm already in talks with the owner. He says he'd love to have Vengeance come in and recruit when he has more issues in." Of course, not everyone was happy with the translation of Weber's book to the visual media. "I like the art," S3/c Richard Glover said, "but who told the Topcow cover artist [that] Honor is a size DD?" Surgeon Commander Patrick McKinnion pronounced it "Overall, decent. Not my mental image, but I accepted that was going to be the case. Person behind the counter said she was looking forward to reading her copy, seems she's a fan of the books as well."
The next issue will be released on April 9th. Comic book stores can expect another wave of spacers coming their way!
<![if !vml]>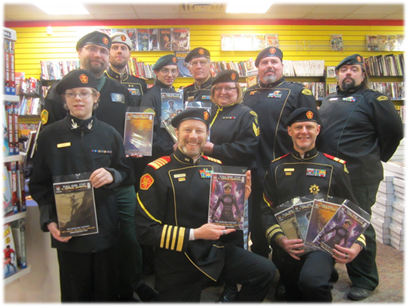 <![endif]>
BatRon21 shows their recent haul after they raided Hot Comics and Collectibles in Minneapolis, Minnesota.
Article Copyright © 2014, Bureau of Communications, The Royal Manticoran Navy: The Official Honor Harrington Fan Association, Inc.
MCPO Marcus Johnston, RMN – Acting Director, Manticoran News Bureau. All pictures used with permission or used in a way that qualifies as fair use under US copyright law.