<![if !vml]>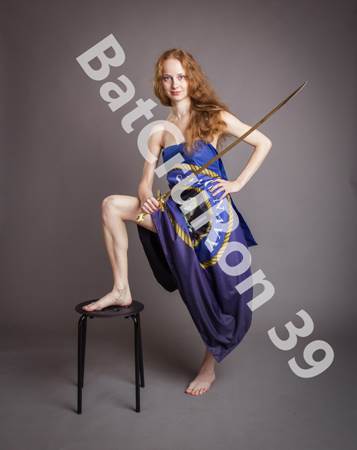 <![endif]>
When you need dream fodder…
Nothing but the Flag
Shedding Their Clothes for the Honor of the Queen
2015.03.04 CE / 346.10.37 AL (MNB) – If there is one word that describes spacers across the fleet, it is "generous." We are more than generous with our time and our money, contributing to events and charities of many different stripes. However, the women of BatCruRon 39 decided to go one step beyond, and shed their clothes.
Our allies in the Czech Republic have published a calendar, showing the beautiful women of Bohemia Station, wearing nothing but a flag. This fundraiser was the brainchild of Captain Lenka "Blanca" Lukac, Baroness Moonford, who commands HMS Phantom, the squadron's flagship. It all started when she first held the Manticoran flag in her hands, and someone asked Blanca, "What are we going to do with it?" Her Excellency explained that "since my brain works a bit funny sometimes, I remembered a photo I saw several years back of Amanda Tapping wrapped up in nothing but an American flag. I loved the way those photos looked and so I decided that is a thing to try with our new flag." She thought about doing it on her own, but then she thought, "it might be more fun to rope some more girls into it."
So that's exactly what she did. From all reports, the ladies did not take much convincing. When Blanca approached her executive officer, Commander Květa "Torli" Tonová, she thought, "Why not? It is an interesting offer, so let's try to do it." Surgeon Lieutenant Kyra Skress, GNS Equinox, agreed. "I have never done something crazy like this before, so I answered: "Yeah, why not?" And I really enjoyed it. I´d like to do it again." Blanca explained that "individually, it would have been quite difficult to convince some of them, but since it was a group effort, it wasn't as hard. None of us is perfect, none of us is a model with any kind of experience or ambition in that field... we are just ordinary women who feel comfortable enough in their own skin to show off."
<![if !vml]>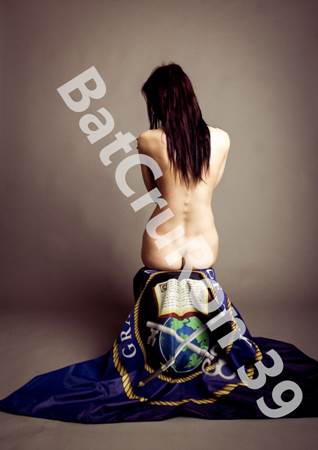 <![endif]>
I swear, the flag just fell off!
With everyone on board for the project, they did two photo shoots, since three of the models couldn't make it and were photographed separately. In the first shoot, the photographer and ten women were shut up together in a small enclosed space for several hours. "There was no "preparation" space," Blanca explained, "we had to do our make-up and everything else (including the actual shooting) in one room over a garage. And it was pitch dark in there during the shoot, except for the flashing of the photo lights. So it was a lot of fun to try and do each other's make-up in near-total darkness."
In that environment it was often difficult to get into position. Kyra remembered that "When I was sitting on the seat and photographer said: 'Do something.' So I fell down from the seat." The flags turned out to be difficult to handle as well. The GSN and RMN flags were thick and unbending, however, the RMMC flag was the easiest to work with, since it was lighter—but smaller, so they had to be careful with placing it. However, that wasn't the only props for the photo shoot. "I am simply not able to smile when there is a knife in my hand," said Staff Sergeant Kane, HMS Royalist's MARDET leader. "When we tried to shoot the cover photo," Blanca explained, "we had problems getting everyone in the picture, because the space was so cramped."
The calendar proved how beautiful can an ordinary woman look when you stick her in front of a camera. The most common quote overheard was "It's not fair, look at how darn sexy [she] is, I'm going home," which was repeated every time a new girl started shooting, from different women. "The most memorable thing for me," Torli said, "was the moment when we were all more or less naked in the studio, waiting our turn in front of the camera. The fact that so many of my friends were comfortable enough around each other to show themselves in such a way...it is an experience I will probably never forget."
<![if !vml]>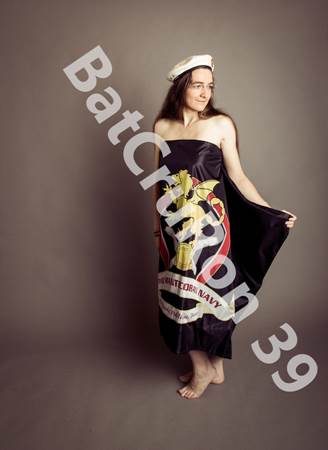 <![endif]>
Captain on deck!
After the shoot, the graphic side of the calendar was put together by Kendra, R&R Facility manager for HMS Phantom, and Captain Michal "Dragon Lord" Lukáč, commanding GNS Equinox. There were several difficulties, since the photos were differing widely in sizes (standing, sitting and lying positions), and some of the models needed to have their eyes opened on the cover photo.
As they finished up the project, they realized they had forgotten one important detail: which charity to support! Thankfully, it was Torli who came up with the best suggestion. REGI Base, an organization that takes care of veterans of the Czech armed forces and state EMT's, seemed perfect for the Royal Manticoran Navy to support. Foundation REGI Base I helps soldiers reintegrate into the civilian community with assistance in rehabilitation, retraining, job placement, and provision of material for those who return from serving in the Balkans, Iraq, and Afghanistan.
The price for the calendar is $25 US, including taxes and shipping, although they wouldn't mind if you contributed more to help out REGI Base. Having raised about $400 so far, there are still plenty of calendars available if others would like to purchase them. The models were the first to buy the calendars, some bought as many as 4 or 6 of them. When they saw the final product, Kyra said "I think it is great. All of us look very beautiful." Blanca replied, "Of course, most of us think, that all the other "months" look so much better than our own. But I haven't heard anyone who wouldn't be absolutely pleased by the result." Torli answered, "The final product is very satisfactory and in my opinion, quite well done. We are, after all, wonderful and lovely ladies, quite confident and comfortable in our bodies, so how could it end in any other way?"
To purchase your own calendar, click here.
<![if !vml]>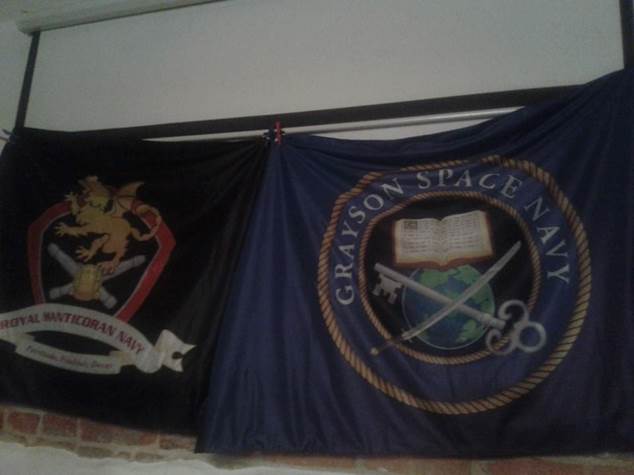 <![endif]>
When they're displaued on beautiful women, they hang beautifully on the wall.
Article Copyright © 2015, Bureau of Communications, The Royal Manticoran Navy: The Official Honor Harrington Fan Association, Inc.
CAPT (JG) Marcus Johnston, Director of Publications, BuComm. All pictures used with permission or used in a way that qualifies as fair use under US copyright law.