<![if !vml]>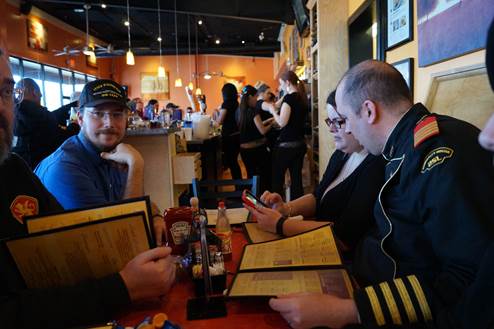 <![endif]>
Marcus is staring at the camera, feeling incredibly underdressed compared to the crew of the Helen Zilwicki.
Broadening Your Horizons
by Captain (JG) Marcus Johnston, OC, RMN
2015.2.18 CE / 346.10.23 AL (MNB) – The greatest learning experience for a captain is to see how other ships are run. While touring Third Fleet, I had the chance to experience this when I was welcomed on board HMS Helen Zilwicki. Her new captain, Captain (JG) Joel Lyons, was more than happy for me to join his crew for brunch and gunnery practice. After meeting Joel's wife, and his tactical officer, Commander Joseph Morgan, at the ship, we all piled into the cutter and went down to The Egg Bistro in Chesapeake. Despite the 45-minute wait, the crew used this to good effect, allowing three more spacers to arrive, including Spacer 3/c Mabry, Commander Misty Edwards (XO of the Beowulf), and to my great surprise, my yeoman, Chief Helmsman Tom McDonald. He had taken a pinnace from the Agamemnon to see me, a two hour flight in normal space from Richmond.
After jabbering away for almost an hour, we were finally accepted in, and I finally understood why Commander Morgan called it "our Dempsey's." The food was amazing—they specialized in breakfast and they did it well. Half of our party was in full uniform, with the rest wearing some sort of RMN gear. While we tucked into the delicious meal, our conversations ranged widely from Fleet gossip, to our life stories, how to bless food in Hebrew, as well as the proper way to smoke bacon. There was even real-life job networking as we discovered the hidden credentials in our resume. As we were leaving, I was surprised to discover the waitress had given us a military discount without even asking—I guess the Zilwicki's uniforms were that good!
<![if !vml]>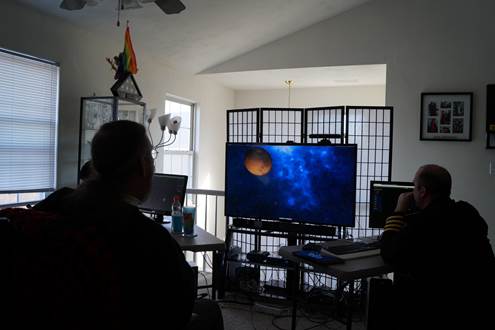 <![endif]>
Tom McDonald (left) is in the captain's chair, ordering Joel Lyons (right) to fly the ship past Mars.
From the Egg Bistro, we returned to the ship, and activated the simulator. This introduced me to the Starship Horizons Spaceship Simulator, a program currently under development by Mythric Studios, which has a TRMN connection thanks to PO3 Brian Haven, HMSS Greenwich, who also serves as a member of BuNine. Similar to the Artemis program, it's not as polished, and it's certainly less Star Trek-based. A programmer himself, Morgan declared that "this isn't the beta version, this is the alpha version," so glitches abounded. However, it did have one major advantage over Artemis—it only required one computer to run the program. All the other bridge stations used computers to link into the program via a web browser, so you could use any type of computer, even a tablet, although as Captain Lyons was clear to point out, "a phone browser doesn't work very well on the controls."
After getting an honorary promotion to Commodore, I was given the honor of captaining the ship on its first mission, which considering I had never played this simulator, I was a little nervous. As we rotated through the stations, we had a great deal of fun destroying fighters, engaging the Borg, and even fighting alongside HMS Fearless to defeat an opposing fleet. Of course, the Fearless was traveling backwards during the battle, but despite that glitch, ASC Horizons took down such ships as the Interpriz, Entripid, and Khan. I don't think that was a glitch, but it did cause me to shout out "Khaaaaaaaaaaan!" when I spotted it on sensors.
<![if !vml]>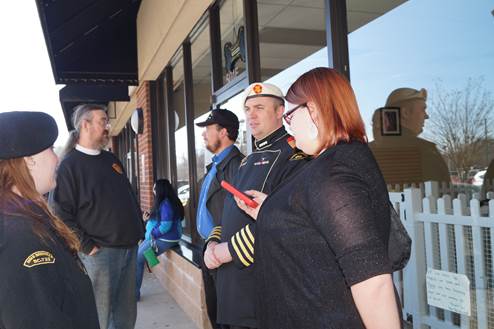 <![endif]>
Outside 'The Egg Bistro' with (left-to-right) Misty Edwards, Tom McDonald, Marcus Johnston, Joel Lyons, and Dani Lyons.
We weren't playing the whole time—our conversations continued, including learning about Lyons' Army career as a food service specialist. It doesn't sound like the most glamourous MOS, until you hear about jumping out of a plane with the kitchen trailer. Lyons' crew also praised his command of the ship, not just as an excellent steward (his "puppy chow" was excellent—Chex rolled in chocolate), but his willingness to lend a hand whenever there was a need. For instance, after hearing that a crew member spent a day in jail, he drove down to Norfolk. At midnight, in a sketchy part of town and no way to get home, they saw the captain there wagging his finger saying, "I sent you to Mesa for one job… one job!"
After several hours together, it was hard to leave after having such a great time. However, the demands of real life were calling, as well as a five-hour pinnace ride back to work the next day. So I gave my goodbyes and thanked the captain for his hospitality. As often as my BuComm duties take me away from my own ship, I'm grateful for the chance to see what others are doing in their ships. I can only aspire to perform as well as Captain Lyons and the crew of HMS Helen Zilwicki.
<![if !vml]>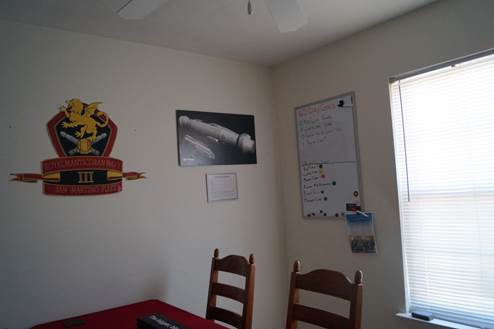 <![endif]>
In his house, the captain has his own wardroom—begin your envy now.
Article Copyright © 2015, Bureau of Communications, The Royal Manticoran Navy: The Official Honor Harrington Fan Association, Inc.
CAPT (JG) Marcus Johnston, Director of Publications, BuComm. All pictures used with permission or used in a way that qualifies as fair use under US copyright law.