<![if !vml]>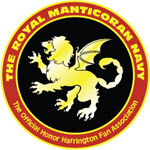 <![endif]><![if !vml]>

<![endif]>
Manticore News Bureau
"All the News That's Fit to Transmit!"
<![if !vml]>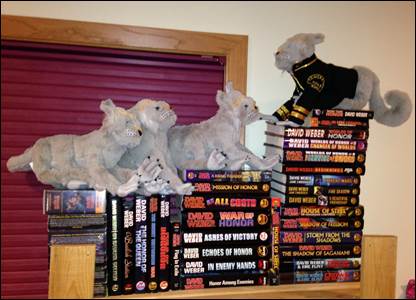 <![endif]> 
Bombadil at the HMS Invincible's weekly book club. (Photo: RADM Drew Drentlaw)
Treecats on Weber
2014.02.12 CE / 345.17.38 AL (MNB) – Ever since the arboreal predator species learned to sign, thanks to the efforts of Lady Harrington and Nimitz, many of the treecats bonded to Fleet personnel have been "speaking out" throughout the Fleet.
Some 'cats are simply upset about the shipboard conditions. Rutherford, bonded to Steward 2/c Debra Savage on board HMS Juno, says <I've got a better uniform than my two-leg!> Others wonder about the lack of ratings for treecats serving on Fleet vessels. Stonewall, bonded to CPO Lara Beilby on HMS Bedivere, said he <want[s] to be a bosun just like [my two-leg], Craves Dark Sweet Things.>
Mangy Cat, bonded to CPO Charles Simpson on GNS Covington, has been the most outspoken of the treecat community, frequently posting on the Weber forums. <I talk to the two-leg's mind machines,> Mange explained. For example, he thinks more treecats should volunteer to be guardians. <Aivars Terekhov and Death-Fang's Terror> would be perfect together, he suggested. <He needs a wild and crazy treecat afraid of nothing.> He's also expressed dismay at the Tales of Honor's covers portrayal of Nimitz. <It's a Solarian conspiracy!>
"Considering he has twenty-four fingers," said a commenter, "we really shouldn't be that surprised that they're active online." CPO Katie Tremaine on HMS Valkyrie has even apologized to the furry creatures, saying "I'm so sorry. I promise not to compose a sentence entirely of the words 'Honor,' 'Harrington,' and 'Treecat.'" Major John Stump serving in Bivouac Peachtree, discovered "I learned not to let your Treecat on the internet... I woke up this morning and saw [something shocking] in my YouTube History, Pagan claims to be innocent."
Considering the problems Mange overcame dealing with written language and having a Base Four system, CPO Simpson just smiled and said, "Wait until they become hackers!"
<![if !vml]>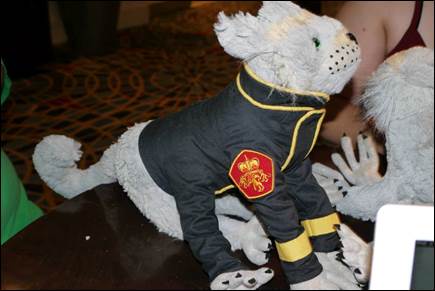 <![endif]>
Kosh displaying his brand-new uniform. (Photo: ADM-FLT Martin Lessem)
Article Copyright © 2014, Bureau of Communications, The Royal Manticoran Navy: The Official Honor Harrington Fan Association, Inc.
MCPO Marcus Johnston, RMN – Acting Director, Manticore News Bureau. All pictures used with permission or used in a way that qualifies as fair use under US copyright law.