<![if !vml]>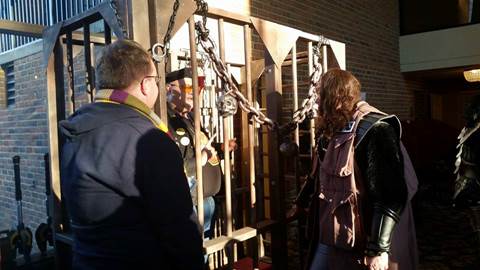 <![endif]>
When the Prime Minister is imprisoned by Klingons, heads will roll…
David is from Mars, Sharon is from Venus
2015.2.11 CE / 346.10.15 AL (MNB) – When the Prime Minister makes an appearance on the coast of Virginia, Third Fleet shows up. On January 16-18, 2015, MarsCon took place at the Fort Magruder Hotel and Conference Center in Williamsburg, VA.  Being the twenty-fifth anniversary of the event, the convention organizers were more than thrilled to host David and Sharon Weber as their guests of honor, and the many Manticoran ships in that region immediately converged to celebrate.
On Thursday before the event, while Commander Misty Edwards, HMS Beowulf, was at Norfolk International Airport to welcome Their Graces and transport them to the event, Commander Joel Lyons, HMS Helen Zilwicki, transported the bulk of Third Fleet Virginia's convention display components to the hotel. As they have built their display up over the years, it has expanded from a simple table display to include a bar table, several side tables, tall chairs, and table dressings that ended up dominating the lobby.  It was a labor of love (and a not insignificant amount of cash) for Joel and Captain Zachary White, HMS Beowulf, making sure to buy a new display banner, table dressings, flyers and other assorted print recruiting material for all the folks who would be coming by.  Not to be limited to just this, Commander Lyons floated the production of several poster sized images of our local ships, as rendered by BuNine's resident artist, out of his own pocket.  Those posters graced the walls of the convention Con Suite and the main TRMN display.
<![if !vml]>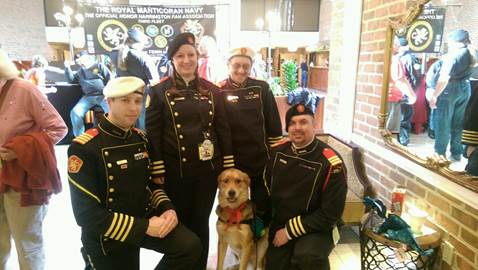 <![endif]>
Doesn't matter how much braid you put on your uniform, everyone wants a picture with the dog.
Not content with simply helping with the display prep, Commander Lyons also coordinated the decoration of the convention's Con Suite with Captain White, and Fleet Senior Master Chief Petty Officer Michael Romero, HMS Agamemnon. Not only did they hang the posters, but added ship crests to the walls, and a trio of flags provided by Captain White. However, Zachary was kept hopping as well. As the senior captain present, he took charge of assembling and managing a team of six volunteers to act as wranglers at the convention, seeing to the care and comfort of six Guests of Honor.  The head of Guest Relations was pleased with how Third Fleet performed, saying it was one of the smoothest and well managed guest experiences in recent history. She would be thrilled to have TRMN personnel come back and do it again. 
There were even more surprises in store for MarsCon. Commander Jon Stout, HMS Rigel, presented his popular SITS 101, 201, and 301 sessions, allowing TRMN members and other convention goers to become more familiar with the Saganami Island Tactical Simulator.  The local spacers participated in all three sessions to… varying degrees of success.  Commander Stout noted that our personnel had an "affinity for scoring hits directly to hull and structural integrity," with explosive results to the enemy. Jon's table drew in a lot of interest for the game and the Honorverse.success.
<![if !vml]>
<![endif]>
Commander Misty Edwards poses in front of the recruitment table.
The TRMN display was operational and actively seeking recruits throughout the weekend. With all the extra layouts they provided, the uniform displays, videos, and even a laptop allowing recruits to enlist on the spot, HMS Agamemnon, HMS Beowulf, and HMS Helen Zilwicki all had more than one individual interested in joining their chapters, with multiple people choosing to join up on the spot.  Members from throughout Third Fleet ensured that the display was manned constantly, and since it was in a prime location in the hotel lobby, it gave it a large amount of interested traffic throughout the weekend. One of the new recruits, Pvt. Jamison Silinsky said, "I'm absolutely stoked… Seeing how welcoming tRMN was without even talking to any of them was awesome in and of itself, plus it's the Honorverse fan association, I don't think it gets better than that…I can see this being something that stays with me for a long, long time."
They set a collection jar on the TRMN display table, and managed to gather $13.93 in proceeds towards the Midshipman Cruise Program, however their charitable activity didn't stop there.  Lyons, White, and Romero collaborated together to have 8x10 foam core prints of various ship crests autographed by His Grace, David Weber, then "selling" them back to the various ships who had requested them. They hope to raise an additional $150 for the Midshipman Cruise Program. However, they had competition; a local Klingon group had set up a Jail and Bail to support the Fisher House, a charity providing free lodging to veterans and their families while they're receiving medical care. Duke Leutzen Vale graciously allowed himself to be taken into custody and tortured with a rendition of Barney's "I Love You, You Love Me" song. 
<![if !vml]>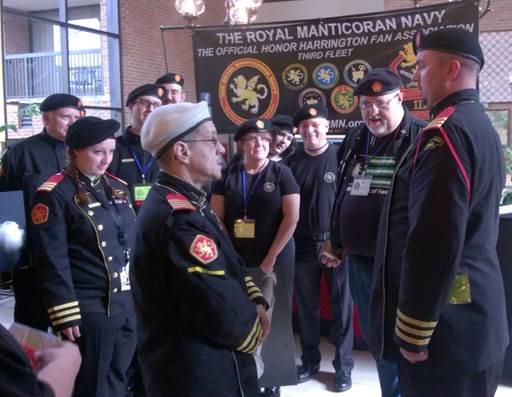 <![endif]>
Captain Morgan addresses Commander Lyons' lapse of judgment of letting the Duke fall into the hands of the Klingons.
His Grace's arrest, bail, and the series of retaliations that followed (at one point, six TRMN officers were arrested for allowing David Weber's arrest to take place on their watch), approximately $100.00 towards this worthy cause was raised by TRMN members over the course of a single hour.  Chief Romero, who has served as in the Klingon Fleet, noted that "the Jail usually raises approximately $250.00 over the course of the weekend," so their spacers contribution was more than significant.  Colonel Krupp, leader of the Klingons in attendance, was so impressed that he announced that their entire Fisher House donation would be made in the name of both the Kor Expeditionary Squadron and the Royal Manticoran Navy.
On Saturday night, they held the Third Fleet Mixer at Chief Romero's home adjacent to the convention hotel.  All members of TRMN and their friends were invited, with nearly every ship in attendance and BuNine, was well represented.  Snacks and refreshments were provided by the Romeros, including a number of Missile Pods, where the first salvo was dedicated to the memory of Captain Mark West, GSN.  After those were dispatched by the new members, Chief Romero broke out his personal stash of Klingon Bloodwine.  Ensign David Hurley, HMS Beowulf, also had his classical education expanded, by showing him the John Belushi/Dan Aykroyd war movie "1941."
When the convention finished, Captain White and Commander Edwards had the pleasure of dining with the Guests of Honor. They had nothing but praise for all involved, citing the spacers' attentiveness to their needs, and our professional "military bearing." Of course, David Weber was thanked for his attendance personally with a gift of one of the core foam ship crests, which he was honored to receive.
All in all, it was a very successful event, and gave Third Fleet a chance to shine to the rest of fandom.
<![if !vml]>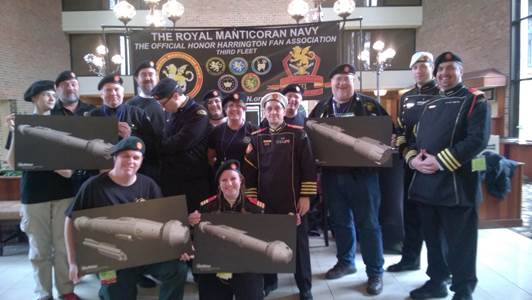 <![endif]>
The parade of ships in Third Fleet.
Article Copyright © 2015, Bureau of Communications, The Royal Manticoran Navy: The Official Honor Harrington Fan Association, Inc.
CAPT (JG) Marcus Johnston, Director of Publications, BuComm. All pictures used with permission or used in a way that qualifies as fair use under US copyright law.