<![if !vml]>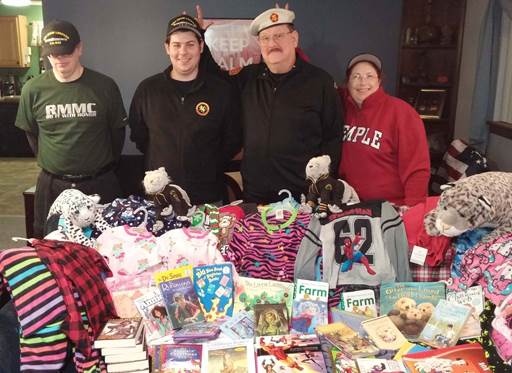 <![endif]>
The Crew and their Haul: Private Tim Grondahl, Ensign Adam Strickland, Captain (SG) Zach Frazer, and SCPO Jessie Karpf.
Pouncing on Pajamas
2015.01.28 CE / 346.09.35 AL (MNB) – The generosity of spacers knows no limits—from the First Lord of the Admiralty's Big Cat Rescue to 2nd Fleet Marines Toys for Tots, Manticorans are in the lead in helping those in need. Now HMS Snow Leopard in Connecticut has brought honor to their ship and 1st Fleet by holding a drive for… pajamas?
Senior Chief Boatswain's Mate Jessie Karpf took the lead in getting the crew mobilized for this particular project. She discovered the Pajama Program, which provides new books and new pajamas to children in need, many who waiting and hoping to be adopted. They chose these two items, because many of the children the program serves live in shelters and group homes, shuffling from one temporary home to another, often leaving many of their original clothes behind. Books are also important to serving this community, since many of the kids have been removed from school for long periods of time, and therefore do not have access to books to continue their reading practice. This means their reading skills are far lower than their peers.
With the help of Trinity Episcopal Church, HMS Snow Leopard was able to collect 39 pair of pajamas and 61 books! Even the treecats couldn't help put get involved, reveling in the happy children who would benefit... of course, it's entirely possible they just wanted to be in the picture. Once it was all gathered up, Chief Karpf transported to the loot to the program coordinators at the Connecticut chapter Janet Estevez-Filardi and Gerry Woods, who were thrilled in being able to distribute them. With warm pajamas and volunteers willing to read their new books to the kids, the mission was successful.
It's easy to forget that little things can make a huge difference in someone's life. Something like pajamas, that many people take for granted, can be a blessing for those who lost everything. It's wonderful that Captain (JG) Zachariah Frazier and his crew were able to find a need and fill it.
Article Copyright © 2015, Bureau of Communications, The Royal Manticoran Navy: The Official Honor Harrington Fan Association, Inc.
CAPT (JG) Marcus Johnston, Director of Publications, BuComm. All pictures used with permission or used in a way that qualifies as fair use under US copyright law.