<![if !vml]>
<![endif]>
Commander Joshua Bailey (right) laughs as he passes off the XO's job to Commander Chris Carter (left).
Meeting Your Extended Family
by Captain (JG) Marcus Johnston, OC, RMN
2015.01.21 CE / 346.09.28 AL (MNB) – As Chief Coonradt is fond of saying, "We're more than a fan club, we're family." So when I discovered that due to a scheduling snafu that I was stuck in Charlotte, North Carolina over the New Year holiday—the other side of the continent from my home—I decided to see if Third Fleet was having a party. Sure enough, HMS Kraken, based out of Winston-Salem, NC, was holding a Change of Command ceremony for their incoming executive officer… and it was less than a two hour drive away. Shooting off a quick message to their captain, I was welcomed, and given the address for the shindig.
Now I'll admit I was a little nervous—unlike the other ships in 3rd Fleet, I hadn't met any of these spacers, not even online—so I was coming to a party full of strangers with nothing more than my reputation and my old HMS Condor hat. So I decided to remedy that and arrive with a bottle of black rum, a case of Coca-Cola, and two tubes of Pringles. As I discovered, I shouldn't have worried. After asking permission to board, Captain (SG) Mark Polanis welcomed me with open arms, and gave me an honorary promotion to commodore (because you can't have more than one captain on a ship). The stewards put out an amazing spread of homemade bread, cheeses, and desserts of all shapes and sizes. The lady of the house, Ensign Tamara Massey, was very gracious and more than helpful in introducing me to the rest of the crew.
<![if !vml]>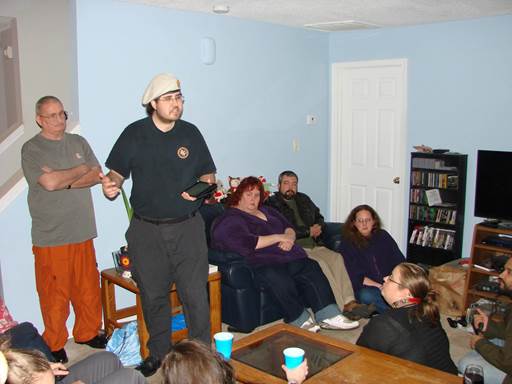 <![endif]>
Captain Mark Polanis (white beret) reading out the BuShips order to his crew.
The party officially started with the Change of Command ceremony, although I was already on my third Roman Coke by that point, elevating Chris Carter to the rank of Commander as Executive Officer on board the super dreadnaught. Carter shook hands with the outgoing XO, Commander Joshua Bailey, who kept going out the door once the ceremony was over. Then the drinking and conversations began in earnest. The Kraken was full of interesting people, including one who had just joined the crew. Private Craig Finley was the first Marine on their ship and Captain Polanis was thrilled to have him, hoping to add a MarDet to his ship's compliment. Craig was a career sergeant in the US Army, now retired and going back to school, with tons of fun stories… that I can't repeat here.
I had an especially long conversation with their chief engineer, Lieutenant Commander Darryl Hobbs, who currently serves in the North Carolina National Guard, who was very excited to see me. We discussed many ideas that he came up with that might help the association as a whole. I also got to meet his lovely wife, Steward 1/c Cynthia Hobbs, and we traded many fun stories about life, Army, and living in North Carolina. The cold weather had knocked out their car engine, so they were stuck for the night, whether they wanted to stay or not.
<![if !vml]>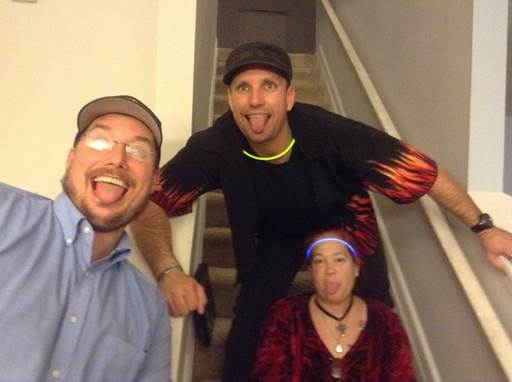 <![endif]>
Me, Lieutenant Commander Darryl Hobbs, and Steward 1/c Cynthia Hobbs after several drinks.
It wasn't the only casualty of the night—the swarm of crew members had caused a breach in the toilet, leading it to overflow. The engineers rushed quickly to fix the problem, with damage control cleaning up the mess. Amazingly, the rope chairs brought in for the event managed to take weight far beyond their structural guidelines. The new executive officer seized the most comfortable seat and held it for the remainder of the party; strangely, Captain Polanis was too preoccupied with the beautiful women of the party to challenge his authority.
We watched the ball drop in New York City on the television and all cheered for the New Year. However, the party didn't stop at the Polanis household for another two hours. Again, the captain was generous enough to let all those not sober enough to drive to spend the night. I camped out on his couch and woke up before the rest of the crew. I made sure to stay long enough to convey my thanks before making the long trip back to Charlotte.
I wasn't sure what I would find at the beginning of that trip, but what I found was that Chief Coonradt was right. Wherever there are spacers, there is community. Not only did I have a great time with the crew of the Kraken, but I found friends where I never expected them. I think their "insanity" matched mine. It makes me grateful to be part of the Fleet!
.
<![if !vml]>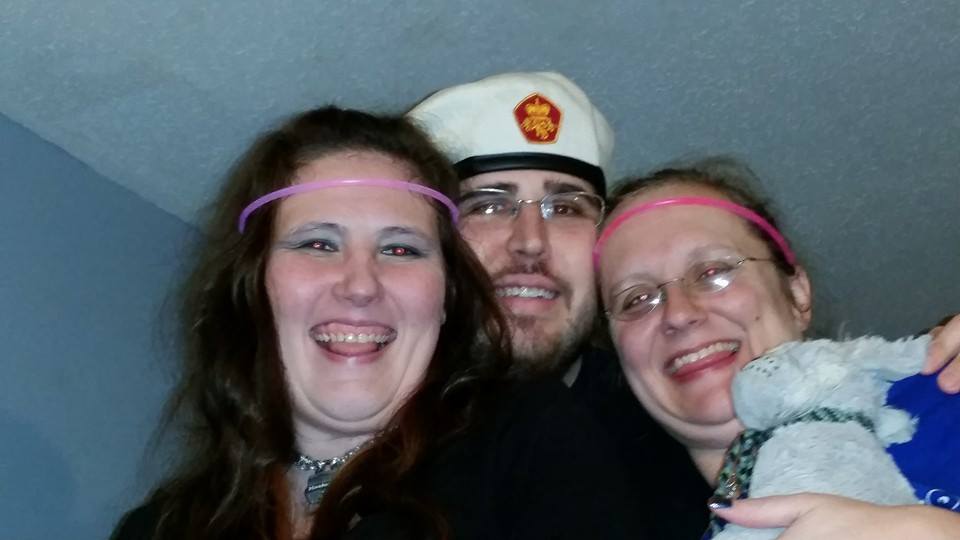 <![endif]>
The captain of the Kraken flanked by Chief Samantha Martin and Ensign Tamara Massey
Article Copyright © 2015, Bureau of Communications, The Royal Manticoran Navy: The Official Honor Harrington Fan Association, Inc.
CAPT (JG) Marcus Johnston, Director of Publications, BuComm. All pictures used with permission or used in a way that qualifies as fair use under US copyright law.